| | |
| --- | --- |
| National brand? Yes, but Tigers still recruit in "one big state" | |
---
| | |
| --- | --- |
| Monday, February 8, 2016 3:33 PM | |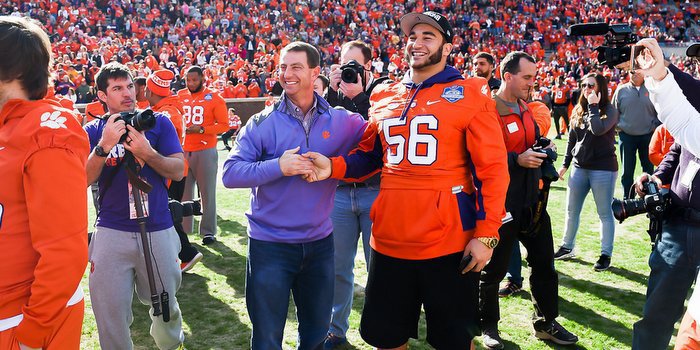 CLEMSON – If you want to see proof that Clemson is a national brand, look no further than the Tigers' 2016 recruiting class.
The Clemson coaching staff signed 23 players from 10 different states. The ten different states are the most in a class since 1994 when Clemson had 24 signees from 10 different states. The record is 14 different states in 1989.
Clemson even signed two players from the state of Kansas, but head coach Dabo Swinney said that the coaches still spend most of their time in their most fertile recruiting grounds.
"We are always going to win from the inside out. Always. If we are going to have a great program we have to be great in South Carolina, North Carolina, Georgia and Florida," Swinney said last week. "That is where it starts for us. We recruit South Carolina, North Carolina, and Georgia as one big state. We really put a lot of manpower and legs on the ground there in recruiting. That is the heart of our program and always will be."
However, the coaches will reach out to those special players who don't reside in those states. The key? Getting that recruit on campus for a visit.
"But as we've built our program and have had success and we've seen our brand grow nationally we have people calling us," he said. "We aren't just going to go on wild goose chases. There are plenty of good players out there. But then you have a kid like Christian Wilkins, for example. He's one of the top players, and he's interested, and now they aren't just interested, they are coming down. Once we get a guy on campus we know we have a shot. People are going to like Clemson. So that's really what it boils down to."
The Tigers even have a player from Hawaii on the roster in defensive tackle Scott Pagano.
"When Brent (Venables) first came to me about (Scott) Pagano, I was like what, do you just want a recruiting trip to Hawaii or something? We aren't getting that kid from Hawaii," Swinney said. "And he's like 'No, I am serious. His mom wants to talk to you and they want to come south.' They made the tour and he probably went to ten schools and he wanted to play in the Southeast somewhere. That's what he wanted to do and we just happened to be one of the schools they wanted to check out. And the reason for that is because of how our brand has grown and the success we've had. And as he went through that he felt like this was the place for him."
The Tigers have played in BCS bowl games and reached the College Football Playoff in 2015, eventually playing Alabama for the title. As a result, Clemson has had more national exposure than ever, and it's helped out in recruiting.
"It certainly has impacted the overall reach of our program but at the end of the day we have to get them on campus," Swinney said. "It's allowed us to recruit truly the best of the best. Sometimes you have a kid who is in California and he is a great player but he isn't interested in Clemson or we can't get him on campus or he's not the right fit. But we are always going to build our program from the inside out."