| | |
| --- | --- |
| NFL analyst thinks Bryant has second round potential | |
---
| | |
| --- | --- |
| Friday, May 2, 2014 1:19 PM | |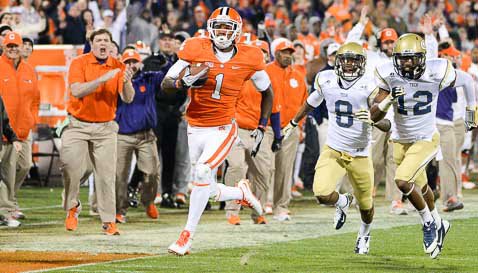 NFL Network analyst Mike Mayock thinks that former Clemson receiver Martavis Bryant

Martavis Bryant
Wide Receiver (2011 - 2013)
#1 6-5, 200
Calhoun Falls, SC
View Full Profile could go as early as the second round in week's NFL Draft, saying that Bryant has all of the tools that NFL General Managers look for.
Mayock had a conference call with the media early Thursday afternoon and he talked about the draft, which starts next week. The first round takes place Thursday, May 8, followed by the second and third rounds on Friday, May 9. Rounds 4-7 will be held Saturday, May 10.
Mayock admitted that while Watkins grabs all of the attention, Bryant has quietly seen his draft stock rise in recent weeks.
"Boy is he gifted," Mayock said. "Watching his Pro Day, it was he and (Sammy) Watkins putting on a show. Great hands, even though he had a bunch of drops at the beginning of the year. He still has great hands. He's long. He's fast. He jumps."
Bryant had 61 receptions for 1,354 yards and 13 touchdowns along with a 17-yard carry and 291 yards on 14 kickoff returns in 1,020 snaps over 37 games (13 starts) in his career with the Tigers. He had 42 receptions for 828 yards and seven touchdowns along with two kickoff returns for 36 yards in 580 snaps over 13 games (11 starts) n 2013, and his best game might have been on a Thursday night against Georgia Tech when he hauled in five passes for a career-high 176 yards and a touchdown on national television.
He also had a couple of nifty grabs against Ohio St. in the Orange Bowl. Despite those flashes of brilliance, however, many thought that Bryant would benefit from another season in college. He opted out of his senior season shortly after the Orange Bowl, declaring for the draft, and has been working to make his mark based on his physical tools.
However, he had just 10 receptions for 305 yards and four touchdowns along with a 17-yard carry and 210 yards on 10 kickoff returns in 245 snaps over 10 games in 12 games in 2012, and missed the Chick-fil-A Bowl win over LSU after he was suspended by head coach Dabo Swinney

Dabo Swinney
Head Coach
View Full Profile for missing study hall. As a result, Mayock said the fact that Bryant put together just one solid year in college is a concern.
"There's just a historical perspective that I get nervous about taking a one-year wonder in the first or second round," Mayock said. "The Stephen Hill to the Jets – there's a bunch of those guys. He has some kind of immaturity off the field issues that have to be addressed as well."
Mayock said that the San Diego Chargers might be a fit for Bryant in the second round, and then said that the Seattle Seahawks are another team that could take a chance that Bryant is just beginning to tap into his potential.
"They aren't scared away from guys who have minor issues or immaturities," he said of the Seahawks. "Bryant has first-round talent, but only has one year of college production. In the back of my mind, I think, 'What if Pete (Carroll) got a hold of that guy?'"