| | |
| --- | --- |
| NFL Network analyst says Sammy Watkins is "a special player" | |
---
| | |
| --- | --- |
| Wednesday, February 19, 2014 3:07 PM | |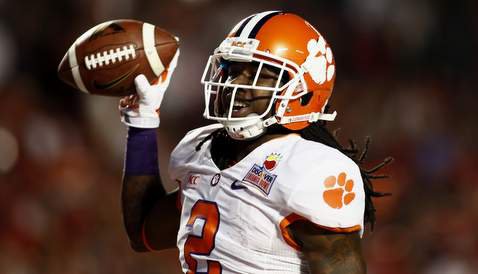 Wide receiver Sammy Watkins

Sammy Watkins
Wide Receiver (2011 - 2013)
#2 6-1, 205
Fort Myers, FL
View Full Profile counts several thousand orange-clad faithful among his biggest fans, but the former Clemson standout has another big fan in NFL Network analyst Mike Mayock.
Watkins is scheduled to attend the NFL combine later this week in Indianapolis, and on a call with the national media Tuesday, Mayock didn't hold anything back when talking about the receiver who owns several Clemson records.
"Sammy Watkins is a special player," Mayock said during the conference call. "I don't usually get too excited about wide receivers in the top 10, but this kid is different. He's physically explosive. He's got great hands. He's got good size. He's got very good speed. And what I really, really like about this kid is he's got the toughness. He'll go over the middle. He'll beat press coverage. He'll high-point the ball. He's got an attitude."
Watkins opted for the NFL following his junior season, but not before etching his name firmly in the Clemson record book. He caught 240 passes for 3,391 yards and 27 touchdowns during his three-year Clemson career. He also had 339 yards on 52 carries and one touchdown. On special teams, Watkins had 60 kickoff returns for 1,376 yards and one touchdown.
Watkins is also first in Clemson history in receptions, receptions per game [6.7], first in receiving yards, first in receiving yards per game [94.2], first in 100-yard receiving games [15], tied for first in receiving touchdowns, second in all-purpose yards [5,129] and fifth in kickoff return yards.
This year's wide receiver draft has definite star power – in addition to Watkins the class includes Texas A&M's Mike Evans, Marqise Lee of Southern Cal, Kelvin Benjamin from FSU and Wisconsin's Jared Abbrederis.
"It's the best wide receiver draft I've seen in years," Mayock said, then added that he loves Watkins' attitude. "He's got a little attitude about him. You can see him getting pissed off during games and going after cornerbacks."
Mayock also talked about this year's quarterback class, and said that former Tiger signal caller Tajh Boyd

Tajh Boyd
Quarterback (2009 - 2013)
#10 6-1, 225
Hampton, VA
View Full Profile is part of a new breed of quarterbacks entering the pro game.
"We are seeing more and more in the NFL reflective of the college game," he said. "And it's not just the ability to run a zone read or be that guy but also the ability to slide and move in the pocket and create opportunities by using your legs to throw the ball down the field. So as far as athletes are concerned, a guy like Teddy Bridgewater is an athletic kid but he slides and moves to find an opportunity to throw the football.
"We all know what is up with Johnny Manziel is all about. I think as you go down the list a little bit, there are guys like Stephen Morris and Tajh Boyd that are highly athletic and Logan Thomas to me is the wild card of this year's quarterback class. He's got tremendous talent and mobile skills but he might not go until late in the draft. I think you'll see that reflected throughout the quarterback class, there's a whole group of mobile quarterbacks that still have good arms and can throw from the pocket."
He then said that Boyd is better than some people might think, especially after last month's disappointing Senior Bowl showing.
"Tajh Boyd has better arm strength than people think, good mobility, won a lot of football games, has some inconsistency on tape but he's a playmaker and I like that," Mayock said. "He's a guy I think you get mid to late in this draft and you can try to develop him, so I like him."