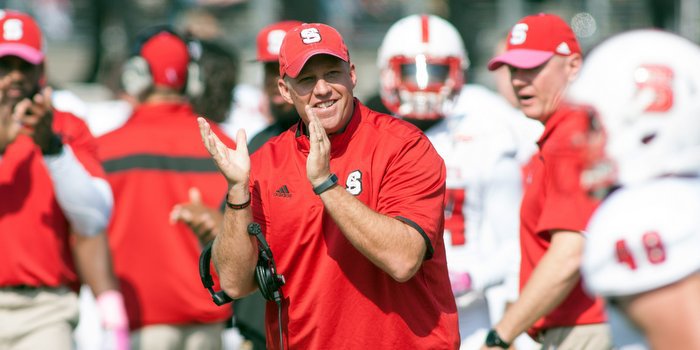 | | |
| --- | --- |
| NC State head coach hopes full moon works in favor of the Pack | |
---
North Carolina St. head coach Dave Doeren knows his team might need a little help in knocking off No. 4 Clemson Saturday afternoon in Raleigh, so he's asking for the fans to be loud and crazy while also hoping the full moon has a little Wolfpack magic.
Clemson and N.C. State square off in Carter-Finley Stadium Saturday afternoon (3:30 p.m., ABC) with the ACC Atlantic Division title on the line, and Doeren is hoping all of the external factors are in favor of the Wolfpack.
"Excited for Homecoming and hoping the crowd is like it was with the Louisville game," Doeren said earlier this week. "We need crowd noise in this game big-time to make them have to operate on their silent count. And it is a full moon, so I'm asking people to come out and be loud and crazy. The student section and all those things, all of it helps our football team play well. I know we'll be ready to play regardless of who can or can't. By Saturday the guys that are out there will play hard and I like forward to seeing that."
Clemson held on to win last year's game – Clemson feels like it should have blown out the Pack and N.C. State feels like it should have won. The Pack kicker missed three field goals, while Clemson turned it over five times.
However, Doeren says revenge for last year won't win this year's game.
"Remember it, but it's not last year. All that's going to do is serve how much they want to win it this year," he said. "They're two different teams and they had several players in that game that aren't on our team anymore and the guys that played in that football game remembered it well. I'm sure their players do too, it was a great game."
He does like the fact that State controls its own destiny.
"We want to control where we go and as a football team, a coaching staff, that's something you always want to do," Doeren said. "We're into November now and we want this conversation to continue. Every game we play brings us closer and closer and closer to where want to be at the end. It's just a short-term focus, knowing we've got to beat Clemson. To do that we've got to play much better than we did last week. It's just how do you get them from where they were to where they want to be. Focusing on those details and making sure we put a game plan together that the kids can play fast with and execute with and make the plays needed."
Doeren says Clemson will present a challenge both offensively and defensively.
"Clemson, a 7-1 football team with the number one ranked defense in the ACC and second in scoring defense, second in rushing, first in pass, first in total, first in sacks, so a really good defensive team that we're playing," he said. "Offensively, they're fourth scoring at 32 points per game
and very balanced, 200 plus in both categories with a very fast tailback and an excellent receiving corps, which Clemson always has. And Kelly Bryant's completing sixty seven percent of his passes. Great challenge and a game that our players are excited to play in.
"We've played well against them and obviously we want to find a way to win this football game. The guys will work their buts off to do that's."
On Clemson's rushing attack
"They're running the quarterback more, that's the biggest thing. Last year they ran the tailback and they had a great tailback last year, so they're really not that much different when you watch them other than Kelly Bryant is running the ball a little more than Deshaun (Watson) did. They're still taking their shots down the field, they're still running their perimeter screen packages, (Hunter) Renfrow's playing really good football in the slot for them. They rotate two different types of tailbacks and Etienne is scary with the ball. (Deon) Cain and (Ray-Ray) McCloud are really good football players; different outside guys, a bigger guy and a real quick guy. Both their returners, (Travis) Etienne's a returner and so is McCloud. They're going to take what you give them; they look at how you line up and then they're going to try get into the plays they want to be in and make plays on the ball for sure."
On Clemson's defensive success
"It starts with their players, they've got great players. They're huge up front and they're deep. They go 6'5, 6'5, 6'4, 6'5, 6'4, 6'5. All of them are over 300 pounds inside and the rotation at end is 260, 265, 255, 265 so it's big, long bodies which is what you want in your front. Their linebackers are super well-coached guys and he's got a couple guys that are making a ton of plays. Dorian O'Daniel has five sacks on the year, pressures, an interception and 58 tackles. Kendall Joseph has 66 tackles and those two guys are active. He's got three North Carolina kids in the secondary and I know this game will matter to those kids. It's going to be a great game, I've known Brent Venables a long time, we're both Kansas boys, he's a great coach and he'll have his guys ready to play."
On Dexter Lawrence playing near his home
"He's playing with a lot of confidence, I'm sure anytime he's playing back in his state it matters to him but the guys and incredible athlete at 6'4, 300 pounds. He's a really good football player and they put him over the center a lot where he can eat up two blocks and take two gaps up. He's the best player in the country coming out for a reason."

Upgrade Your Account
Unlock premium boards and exclusive features (e.g. ad-free) by upgrading your account today.
Upgrade Now