---
| | |
| --- | --- |
| Tuesday, August 19, 2014 2:17 PM | |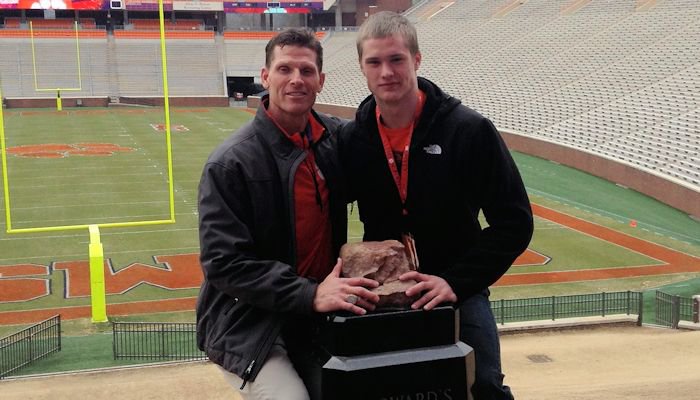 Chad Smith

Chad Smith
Outside Linebacker
6-4, 215
Sterling, VA
ESPN:


View Full Profile was one of the biggest movers in the latest 2015 Rivals 100 rankings, but that isn't going to change his mindset or his work ethic.
The Sterling (VA) Dominion linebacker moved up from No. 151 to No. 33 and is now the third highest ranked four-star prospect in the 2015 class according to Rivals.com
Smith told TigerNet Monday evening that he is thrilled with the ranking, but he knows he still has plenty of work to do to get ready for the upcoming season and his college career.
"I actually found at today before I went to practice," Smith said Monday. "I was taken aback by it a little bit. It was very humbling to be known as one of the best players in the nation and to be ranked that high. I can't let it get to my head, that's the big thing. I can't let that be the standard. I can't let me being ranked a certain rank be the standard for me, because I have to set my own standard for myself, as an individual, to keep getting better each and every day. I was very humbled by it and I'm excited to improve on it."
Smith's coaches are excited for their star pupil but told him not to let his recent successes go to his head, something he said they don't have to worry about.
"One of my coaches - Paul Troth - who was an Elite 11 coach and was up in Oregon with me said something about it when I got to practice," Smith said. "He really just congratulated me and told me that I still need to keep working. I know that I need to keep working. There's a lot that I can improve on. I can always get better and that's what I'm going to do."
Other schools know that Smith is 100 percent committed to Clemson - causing his recruitment to dramatically slow down - but that doesn't mean that the No. 11 linebacker in the country has stopped selling Clemson to other uncommitted prospects.
"It has slowed down. I still recruit a little bit for Clemson," he said. "That's something I use as one of the recruiting pitches- one thing that you get when you commit early is that the recruiting process slows down and it's a big relief off of your shoulders and you can really focus on the season. That's what I'm doing right now."
Smith's schedule will be full with his upcoming season, but he hopes to make it Clemson for at least one and possibly two games.
"It could be as early as September when I take my official or it could be a little bit later for the last game this season, because I really want to get down to Clemson," he said. "It may be an official or an official. I may take my official in September and take an unofficial to go see the South Carolina at Clemson game, because there is no doubt that I want to go to see that game"
As a junior, Smith had 94 tackles, 13 tackles for loss and six sacks.