| | |
| --- | --- |
| Mountaineers get offensive in Orange Bowl rout of Tigers | |
---
| | |
| --- | --- |
| 2012-01-05 01:38:55.0 | |
MIAMI, FLA. – Shades of 1981? Not quite.
The Clemson Tigers' return to the Orange Bowl after a 30-year absence was supposed to awaken echoes of the 1981 National Championship team. Instead, it brought back all of the nightmares of the past as the Tigers' defense looked lost, the offense turned the ball over at key times and the end result was West Virginia scoring a bowl-record 70 points in defeating Clemson 70-33 in the BCS Orange Bowl Wednesday night at Sun Life Stadium.
A game that was supposed to vault the Tigers back onto the national stage and possibly set up another title run next season, instead highlighted the deficiencies that have been highlighted on national television all too often recently.
West Virginia scored the most points ever scored in a bowl game by any team in college football history, and quarterback Geno Smith threw a BCS-record six touchdown passes.
"This is obviously a very, very disappointing finish for us," Clemson head coach Dabo Swinney
Dabo Swinney
Head Coach
View Full Profile said. "But at the end of the day, the season is over, and you've got to look at the big picture. We didn't play well in this game, but we had a good season. And again, accomplished a tremendous amount, and so much for us to build upon, and we can't let one game get our eyes off of that. We've got a good football team coming back, and we've got to focus on closing this thing out with our banquet, and sending these seniors off the right way and then refocusing on finishing off a really good recruiting class and getting back to work. And our goal will be to get back here. That will be our goal. That will be our objective."
The Tigers were up 17-14 at the end of a frenetic first quarter – a 68-yard run by Andre Ellington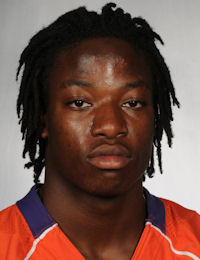 Andre Ellington
RS Jr. Running Back
#23 5-10, 190
Moncks Corner, SC
View Full Profile and a 27-yard touchdown reception by Sammy Watkins
Sammy Watkins
Fr. Wide Receiver
#2 6-1, 200
Fort Myers, FL
View Full Profile - but three turnovers in the second quarter doomed the Tigers as West Virginia outscored Clemson 35-3 in the deciding 15 minutes of the second quarter.
The first one came with the Tigers trailing 21-17 but driving for a go-ahead score. Running back Andre Ellington appeared to fall into the endzone with the touchdown, but as his teammates celebrated Mountaineer defensive back Darwin Cook ripped the ball out and took it 99 yards for the 28-17 lead.
Swinney admitted that was the turning point in the game.
"Well, it was a pretty huge moment," he said. "They hadn't really stopped us. We were scoring, but they were matching us, and we couldn't get a stop. We'd get momentum and lose momentum, get momentum, lose momentum. That was going to be a huge swing for us. Like I said, it was going to put us up 24 21, we're right back in this thing and still searching for a stop. But that was huge. I mean, that was a big, big play because now all of a sudden it was 28 17, and again, all of a sudden we continued to have another turnover here and there, and it just snowballed quickly. "
The Tigers added a field goal that made it 28-20, and then the Mountaineers went on a run that decided the game by halftime. West Virginia added another touchdown to go up by 15, Clemson quarterback Tajh Boyd
Tajh Boyd
RS So. Quarterback
#10 6-1, 225
Hampton, VA
View Full Profile then threw an interception that led to seven more West Virginia points, and a Boyd fumble just before the half led to another seven points as West Virginia led 49-20 at intermission.
The 49 points were the most ever given up by any Clemson team in any half, breaking the record of 41 scored by Alabama in 1931.
The Mountaineers tacked on 14 quick points in the third quarter, giving them the most points in Orange Bowl history just six minutes into the third quarter and the rout was on.
"There were too many mistakes," Swinney said. "We got off to a good start, but we couldn't keep the momentum on defense. Then we got to turning it over and that's about as good an offensive performance as I have seen from a football team. They've got some special skills and we couldn't stop them – it's as simple as that."
Swinney said he would do – just like last season – whatever it takes to make his program better heading into next season.
"Well, I'm as confident as I was last year standing here in a press conference at 6 7 and telling you we'd fix it," he said. "I'm as confident as that. We'll be better. We'll be better. No doubt in my mind that I mean, y'all have seen us play better. But we just did not put it together with three phases tonight, and it just was a perfect storm because we were having a hard time stopping them."

Score by Quarters     1  2  3  4   Score
-----------------    -- -- -- --   -----
West Virginia....... 14 35 14  7  - 70       Record: (10-3,5-2)
Clemson............. 17  3  6  7  - 33       Record: (10-4,6-2)



Scoring Summary:
1st 09:33 CU - Andre Ellington 68 yd run (Chandler Catanzaro kick), 6-96 1:39, WVU 0 - CU 7
    06:54 WVU - ALSTON, Shawne 4 yd run (BITANCURT, Tyle kick), 8-72 2:39, WVU 7 - CU 7
    04:38 CU - Sammy Watkins 27 yd pass from Tajh Boyd (Chandler Catanzaro kick), 9-62 2:16, WVU 7 - CU 14
    02:49 WVU - AUSTIN, Tavon 8 yd pass from SMITH, Geno (BITANCURT, Tyle kick), 6-57 1:49, WVU 14 - CU 14
    00:45 CU - Chandler Catanzaro 42 yd field goal, 6-40 2:04, WVU 14 - CU 17
2nd 13:25 WVU - AUSTIN, Tavon 27 yd pass from SMITH, Geno (BITANCURT, Tyle kick), 9-80 2:20, WVU 21 - CU 17
    10:28 WVU - COOK, Darwin 99 yd fumble recovery (BITANCURT, Tyle kick), , WVU 28 - CU 17
    04:49 CU - Chandler Catanzaro 43 yd field goal, 8-56 1:36, WVU 28 - CU 20
    02:29 WVU - SMITH, Geno 7 yd run (BITANCURT, Tyle kick), 6-64 2:20, WVU 35 - CU 20
    01:13 WVU - AUSTIN, Tavon 3 yd pass from SMITH, Geno (BITANCURT, Tyle kick), 3-32 0:52, WVU 42 - CU 20
    00:04 WVU - ALSTON, Shawne 1 yd run (BITANCURT, Tyle kick), 5-22 0:58, WVU 49 - CU 20
3rd 12:35 WVU - BAILEY, Stedman 6 yd pass from SMITH, Geno (BITANCURT, Tyle kick), 7-73 2:25, WVU 56 - CU 20
    09:18 WVU - AUSTIN, Tavon 37 yd pass from SMITH, Geno (BITANCURT, Tyle kick), 5-74 2:25, WVU 63 - CU 20
    01:37 CU - DeAndre Hopkins 28 yd pass from Tajh Boyd (Tajh Boyd pass failed), 5-41 1:39, WVU 63 - CU 26
4th 06:21 WVU - MILHOUSE, Willie 7 yd pass from SMITH, Geno (BITANCURT, Tyle kick), 12-66 6:14, WVU 70 - CU 26
    01:01 CU - Roderick McDowell 4 yd run (Chandler Catanzaro kick), 6-39 1:55, WVU 70 - CU 33



                                    WVU       CU
FIRST DOWNS...................       31       24
RUSHES-YARDS (NET)............   44-188   27-193
PASSING YDS (NET).............      401      250
Passes Att-Comp-Int...........  45-31-1  47-24-2
TOTAL OFFENSE PLAYS-YARDS.....   89-589   74-443
Fumble Returns-Yards..........    2-103      0-0
Punt Returns-Yards............     1--2      1-0
Kickoff Returns-Yards.........    5-117   10-190
Interception Returns-Yards....     2-24     1-24
Punts (Number-Avg)............   5-35.0   6-39.7
Fumbles-Lost..................      0-0      2-2
Penalties-Yards...............     4-40     6-65
Possession Time...............    36:55    23:05
Third-Down Conversions........ 10 of 16  3 of 13
Fourth-Down Conversions.......   0 of 0   2 of 2
Red-Zone Scores-Chances.......      7-7      1-2
Sacks By: Number-Yards........     3-14      0-0


RUSHING: West Virginia-ALSTON, Shawne 20-77; AUSTIN, Tavon 4-46; BUIE,
Andrew 13-45; SMITH, Geno 5-26; TEAM 2-minus 6. Clemson-Andre Ellington 10-116;
Roderick McDowell 4-34; Tajh Boyd 10-32; Cole Stoudt 1-5; D.J. Howard 1-4; Sammy
Watkins 1-2.

PASSING: West Virginia-SMITH, Geno 31-42-0-401; MILLARD, Paul 0-3-1-0.
Clemson-Tajh Boyd 24-46-2-250; Cole Stoudt 0-1-0-0.

RECEIVING: West Virginia-AUSTIN, Tavon 11-117; BAILEY, Stedman 5-82;
BROWN, Devon 5-71; BUIE, Andrew 4-32; MILHOUSE, Willie 3-71; MCCARTNEY, Ivan
2-13; WOODS, J.D. 1-15. Clemson-DeAndre Hopkins 10-107; Sammy Watkins 5-66;
Jaron Brown 2-24; Dwayne Allen 2-21; Martavis Bryant 2-20; Adam Humphries 2-12;
Brandon Ford 1-0.

INTERCEPTIONS: West Virginia-TANDY, Keith 1-18; MILLER, Pat 1-6.
Clemson-Rashard Hall 1-24.

FUMBLES: West Virginia-None. Clemson-Andre Ellington 1-1; Tajh Boyd 1-1.

Stadium: Sun Life Stadium      Attendance: 67563
Kickoff time: 8:30      End of Game: 12:18     Total elapsed time: 3:48
Officials: Referee: D.Witvoet; Umpire: J.Krogstad; Linesman: M.Dolce;
Line judge: D.Chesney; Back judge: K.Schwartzel; Field judge: M.Cannon;
Side judge: S.Hassel; Scorer: K.C.Colebrooke;
Temperature: 57        Wind: NW 9 Mph  Weather: Ptly Cloudy 56 %rh

Orange Bowl MVP- Geno Smith, QB, West Virginia