| | |
| --- | --- |
| Morris talks South Carolina, Tyshon Dye and Deshaun Watson | |
---
| | |
| --- | --- |
| Monday, November 24, 2014 12:42 PM | |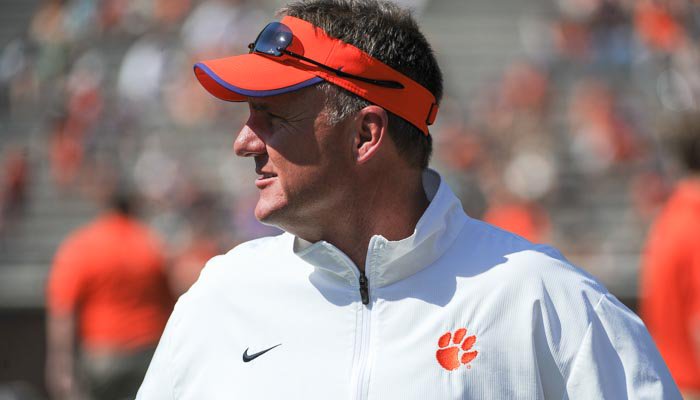 CLEMSON – Offensive coordinator Chad Morris

Chad Morris
Offensive Coordinator / QBs
View Full Profile has taken a lot of heat for his offense's lack of success against South Carolina during his tenure at Clemson, and he told the media Monday in the WestZone that he fully understands the passion associated with the rivalry.
Clemson's offense has scored a grand total of 43 points the last three seasons, and Morris said that turnovers tell the story in the three losses.
"I thought we played really well last year offensively," Morris said. "But we turned the ball over two times late in the game and were behind and began to press. I thought we ran the ball efficiently, but if you look at the history of the game the last five years it boils down to turnovers. You put yourself behind the 8-ball so to speak and it's hard to catch up. Turnovers have been a huge part of those ballgames, and we haven't played well as a unit, as an entire team."
Clemson put together a strong opening drive at South Carolina last season, but a trick play call saw wide receiver Sammy Watkins

Sammy Watkins
Wide Receiver (2011 - 2013)
#2 6-1, 205
Fort Myers, FL
View Full Profile throw an interception that killed the drive and the Tigers' momentum.
"It was opening drive, so it's hard to tell at this stage if it had an effect," Morris said of the play. "He had Adam open on the sidelines and he if throws it when he is supposed to Adam scores. But he throws it short and then they (South Carolina) go down and score and it had a little bit of an effect on momentum."
He was asked what the coaching staff can do to eliminate the turnovers, and he said it might come down to pressure.
"When you go and look and study the turnovers, we had two on punts last year and one where it bounces off a guy's helmet," Morris said. "Were they too tense? I don't know if that's the case. But if anyone can explain the turnovers and how and why they happen, a lot of coaches will subscribe to whatever you can offer on that. But this will be a fun week for us, and we are excited about it. You can't put pressure on these guys – we have to go out and have fun with it. We are going to come out and play loose and have fun with it."
Over the past three seasons, the marquee matchup in this game has been Clemson's high-profile offense against South Carolina's stout defense. That isn't the case this year and Morris was asked if that could finally give the Clemson offense an edge.
"They probably look at us and say same thing about us offensively," Morris said. "If you just compare stats and what they have been and what we've been yeah there is a difference. I think the biggest thing is the started the season in the 3-4 scheme and went back to the 4-3 scheme and tied to put their playmakers on the field to create a pass rush. They are playing a lot of people as well. They are trying to put their guys on the field and get speed on the field. They are playing hard and it will be interesting to see how they prepare for us."
One thing that might be able to help the Tiger offense is the emergence of freshman running back Tyshon Dye

Tyshon Dye
RS Fr. Running Back
#23 5-11, 214
Elberton, GA
View Full Profile , who broke the 100-yard barrier last Saturday and is listed second on the depth chart behind Wayne Gallman

Wayne Gallman
RS Fr. Running Back
#9 6-1, 209
Loganville, GA
View Full Profile this week.
"I thought Tyshon ran the ball really well, downhill and between the tackles," Morris said. "I thought he provided a spark and took a lot of pressure off other things. He gave us a boost, and it was good to see Tyshon run the ball. I thought he provided a spark took a lot of pressure off other things. It may take a complete spring and fall camp before he gets into the shape he was in prior to his original injury, but he is getting into better shape and he is feeling it and getting into more of a feel for the game. I think you will see those guys (Gallman and Dye) be a big 1-2 punch. He will play….at what magnitude I don't know, but he will play and be a big part of it."
Morris said that game planning for the Gamecocks will get a little easier once he knows if freshman quarterback Deshaun Watson

Deshaun Watson
Fr. Quarterback
#4 6-3, 204
Gainesville, GA
View Full Profile will play, something he won't know until he sees Watson in practice this week.
"You really don't know till he gets out there," Morris said. "Just to see what he can do. That's hard to tell at this point. He will get out there today and go. How much and how many reps and how fast? I don't know that. We don't know that and probably will not know that till the course of the week. We will see."
Morris said that is working on two game plans for South Carolina - one if Deshaun Watson starts and one for Cole Stoudt

Cole Stoudt
Sr. Quarterback
#18 6-4, 231
Dublin, OH
View Full Profile .
"We are kind of used to it [two game plans]," Morris said. "We have had a couple of situations this year where you prepare for one plan and be ready to use the next plan. We are actively preparing for any scenario that we have. We will know a lot more as the week unfolds. But we are going to have to do what we do. That's what we got to do. Obviously if Deshaun is in there to what extent can he do and function with? Is he 100%? Is he 90%? Those things nobody knows that right now and probably will not know that till later in the week. We know he feels good. He's running around."
No matter who plays, Morris said he understands the importance of the rivalry to Clemson fans.
"This is a great week. A fun week. It's rivalry week and pretty much a season within itself," he said. "I think this is one of greatest rivalries in college football, and just listening and being around and in college football and now living it for the last four years I understand it. There is as much passion in this season as there in the state of Texas, and it affects every household in the state in some shape, form or fashion. It's obviously the main game, and when we go out and talk to our fans and alumni they make sure we understand that. We live in it every day as well."