| | |
| --- | --- |
| Morris says meeting with Watson was "emotional" but also left him with peace | |
---
| | |
| --- | --- |
| Thursday, December 4, 2014 1:53 PM | |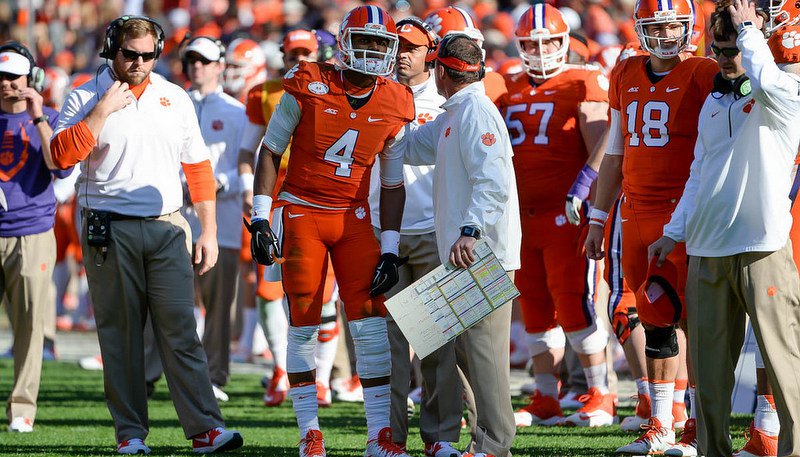 Former offensive coordinator Chad Morris

Chad Morris
Offensive Coordinator / QBs
View Full Profile experienced a wide range of emotions this past weekend, coupling a satisfying win over South Carolina with the bittersweet knowledge of the players and the memories he was leaving behind.
Morris coached the Clemson offense in the Tigers' 35-17 win over the Gamecocks Saturday afternoon – something he says is the high point of his Clemson career – and then on Sunday dealt with notifying his Clemson players that he was leaving to take the head coaching job at SMU.
The most emotional of those conversations occurred when he met with freshman quarterback Deshaun Watson

Deshaun Watson
Fr. Quarterback
#4 6-3, 204
Gainesville, GA
View Full Profile , a player that Morris recruited for an entire high school career and then coached him for one season with the Tigers.
Earlier this week Morris detailed the conversation with the talented signal caller and said that leaving Watson with offensive people he trusts – co-offensive coordinators Tony Elliott

Tony Elliott
Assistant Coach / Running Backs
View Full Profile and Jeff Scott

Jeff Scott
Asst. Coach (WR) / Recruiting Coord.
View Full Profile – made the decision easier.
"It was emotional. I had talked to him in-depth prior to talking to anybody," Morris said during a radio interview on the Roy Philpott Show. "He kind of knew - I knew deep down he knew - and he is a part of my family and has been. I spent so much time recruiting that young man, and building a relationship with him. For him to handle it the way he did, and to just say, 'Coach, I respect it. I obviously wanted you to coach me but I understand.' And then he told me he loved me. But knowing he is left in great hands in a system that I feel like is the best in the country he isn't going to have to learn anything new. I am stepping out of my comfort zone, but as long as he doesn't have to step out of his comfort zone then I have peace with it and so does he. It was tough."
Making sure that Elliott and Scott had the proper training to take over was something that Morris and head coach Dabo Swinney

Dabo Swinney
Head Coach
View Full Profile had planned for in the eventuality that Morris would leave for a head coaching job.
"Coach has a great plan and a great vision and we have talked extensively about that. We knew this day was eventually going to come, and we had talked about it through the process," Morris said. "Knowing those players are taken care of and knowing the system is there is big. If you tried to change the system those players believe in they would sit back and go, 'whoa.' I think there is a sense of comfort knowing that system isn't going to change. The only thing changing is the guy calling the plays. But all of our staff as we game planned and talked through it, everybody had input. That staff has been together and I am just glad to know I am a part of Clemson history."
Morris added that telling all of the offensive players of his plan to leave was hard, but feels peace because he feels like he left a better program than the one he joined in 2011.
"I always fall back into that same trap of getting so close to the players. But maybe that is what makes you so successful," Morris said. "They see who you are. It has been emotional, emotionally up and down for Paula and the kids. A lot of excitement but I shed a few tears, and did Sunday when I walked in and personally talked to each one of our players on the telephone to personalize it. Of course, I had talked to them in person before that but I wanted them to hear my voice and respond back to me. It's been up and down, but I am truly excited. But when I took off Sunday and went over to Death Valley, I left in peace because I felt that program was better after four years than it was before I got there, from an offensive standpoint. If you can ever leave a place and know that you left it better and the future is bright, there is peace in that. "
He was asked about what memory from his tenure at Clemson will stand out, and he quickly pointed out that Saturday's win was the high point.
"There are many, many great memories. But when you start looking I think the win Saturday was the climax of my four years there, without a doubt," Morris said. "And that includes the Orange Bowl the Chick-fil-A Bowl win over LSU and the come-from-behind wins that we have had to do. But that win Saturday - knowing how much it meant to so many people - and you could just sense it in TigerWalk as we were walking through.
"You could sense a lot of, 'it's time. We are ready.' And we saved our best game of the year offensively for the last game of the year. From a win standpoint, that was it. Bottom line. I thank the fans and the university and all of our players. It was an incredible four years. They were the best four years of my career. I remember not just the wins, but the friendships and the highs and the lows and that is what it is all about. It's been a lot of fun, but there are great things ahead for the Clemson Tigers and that gives me great peace, especially after the big win we had Saturday afternoon."