| | |
| --- | --- |
| Morris says Stoudt has what it takes to beat South Carolina | |
---
| | |
| --- | --- |
| Sunday, November 23, 2014 2:01 PM | |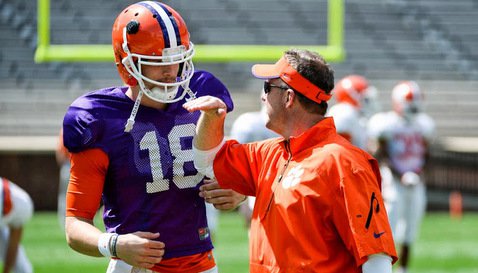 CLEMSON – Clemson and South Carolina renew acquaintances next Saturday at noon in Death Valley, and the biggest question surrounding Clemson's offense centers on whether freshman quarterback Deshaun Watson

Deshaun Watson
Fr. Quarterback
#4 6-3, 204
Gainesville, GA
View Full Profile will be able to play. If Watson isn't available, offensive coordinator Chad Morris

Chad Morris
Offensive Coordinator / QBs
View Full Profile thinks that senior Cole Stoudt

Cole Stoudt
Sr. Quarterback
#18 6-4, 231
Dublin, OH
View Full Profile has what it takes to lead Clemson to the win over the Gamecocks.
Watson is out – for now – with a sprained LCL and Stoudt started Saturday's win over Georgia St. and Morris was asked if Stoudt has what it takes to beat South Carolina.
"Absolutely. We have seen Cole at a high level, and again, he just has to keep preparing, and he has to play with the edge that he has about himself that we saw a little bit today," Morris told the media after the game.
He then said that the biggest issue with Stoudt is getting him to play with confidence.
"We talked about him just playing with confidence. We've seen him at that level," Morris said. "We've seen him play with confidence, and it's just been a few short weeks ago that we saw that against Georgia, and somewhere along the way he's lost his confidence. So that was our big focus this week is getting the confidence back, and not just him, but everybody, and in order to do that, you just have to execute your base stuff. You've got to be able to go out and execute, and if you're going to make a throw, make a throw with confidence. Right, wrong and different, don't hesitate. Let's throw it, and I thought he did that tonight. I was really pleased with the way he played."
Many wondered if backup Nick Schuessler

Nick Schuessler
RS So. Quarterback
#12 6-3, 195
Grayson, GA
View Full Profile would get to see more playing time this week, and Morris said that while the Grayson graduate got more snaps in practice the coaches really wanted to see what Stoudt could accomplish.
"Nick got a lot of reps this week in practice. Depending on how the game was going to come out, we knew we were going to try to get him some reps," Morris said. "We didn't know how much, but he's getting a lot of reps in practice and was ready to go at that point, but we felt like it was more important for us to have Cole out there and operating the system and playing with confidence, from body language all the way up, so I thought that was the most important thing right now, really."
With the Gamecocks on the horizon and the lingering uncertainty about Watson, Morris said that his offense will have to practice – and play – with an edge this week.
"I think it goes back, you've got to play with a chip on your shoulder, you have to play with a little bit of an edge and you have to play with some confidence on offense as you do every week," Morris said. "That's not just because of who we're playing next week. Everybody knows the implications of this ball game. No one's going to run from that, no one's going to run from the past history of this ball game, but what we are going to do is we're going to come out and prepare and play and go execute, and we're going to play with confidence. That's the thing we have to do, regardless who our opponent is."
He added that he thought Saturday's win was a step in the right direction.
"Well, it was the kind of game I want to see before any game, right now," Morris said. "Right now, we're not in a situation where we can look ahead for anybody. We have to take it day-to-day, and we have to try to build confidence in ourselves offensively. This has just been a year where we haven't played with quite as much confidence as what we need to have with what we've demonstrated here. This is a game we had to come out and execute and try to establish some of that confidence."