| | |
| --- | --- |
| Morris pleased the "hurry" staying in his HUNH | |
---
| | |
| --- | --- |
| Wednesday, March 12, 2014 8:58 AM | |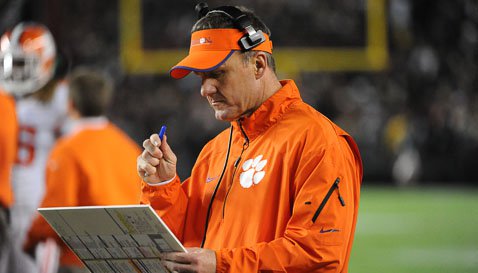 CLEMSON – Chad Morris

Chad Morris
Offensive Coordinator / QBs
View Full Profile has seen opposing defenses use all manner of tricks in an effort to slow down his fast-paced offense, but he didn't think he would see another coach use legislation to try and bring it to a halt.
Morris is to seeing opposing players fake an injury and fall to the turf in an effort to buy precious time for his defensive teammates. However, head coach Bret Bielema of Arkansas and Nick Saban of Alabama recently championed a proposed rule change that would have slowed down hurry-up offenses, citing the injury factor caused by the fast pace of the offense.
Last week, after three weeks of wrangling and controversy, the NCAA Football Rules Committee withdrew the proposal. In a teleconference last Wednesday afternoon, the 12-member committee voted unanimously not to send the proposal forward to the Playing Rules Oversight Panel.
The proposal would have required a 10-second delay before offenses could snap the football, allowing defenses time to substitute. The stated reason of the rules committee was safety, saying it was logical that with more plays, players were at greater risk of injury.
Clemson's offensive coordinator first learned that the rule had been tabled when he spoke with the media following last Wednesday's practice, and he made his thoughts evident.
"So there isn't a five-yard penalty for going too fast? No delay of game? I guess they will study it for a year," Morris said, tongue firmly planted in cheek. "It will be interesting to see what the study says. But it didn't pass so that is a whole other issue."
According to the USA Today, the rules committee received 324 official comments through the NCAA's web site. Seventy-four percent of commenters were against the proposal, 16% favored it and the rest were undecided.
Morris said that the proposed rule change was an agenda set forth by just a few coaches, and he was happy to see the majority of the nation's head coaches were on his side of the fence.
"I think there were some agendas out there that we all know," Morris said. "They were just kind of sprung on everybody. I think if there hadn't been concern, I don't think you would have seen as many head coaches rally as quickly as they did for this."
Clemson head coach Dabo Swinney

Dabo Swinney
Head Coach
View Full Profile agreed that there was a hidden agenda.
"I just think there's an agenda there," Swinney said. "Where does it stop? Are we going to say if a guy motions across, he can't stand still until the defense gets re-set? Where do these things stop? Our offensive guys are taking more snaps than our defensive guys. The truth of the matter is, it's not very often that we snap the ball inside 10 seconds, but there are times when we want to do it. It's a basic part of our offense."
Swinney said he doesn't buy the "player safety" gambit.
"So it's about player safety, but we wouldn't have it in the final two minutes?" he said. "Do we not care about our players in the final two minutes? Sometimes you're down three touchdowns with four minutes left. You want to go.
"Part of winning football games is strength and conditioning, mental toughness. We have guys in shape because we train that way. We're mentally tough because we practice that way. We have guys playing a bunch of snaps while defensive guys are rolling in and out. UCLA has a guy that plays both ways. Is that a player safety issue? I just don't buy into that."
Early last week, the University of Arizona's official Twitter account released a video parody of the movie "Speed," in which Arizona head coach Rich Rodriguez said, "I think there's some coaches that have a hidden agenda. … They're holding college football for ransom. … People want to see action. They don't want to see huddles, people holding hands and singing kumbaya."
)