| | |
| --- | --- |
| Morris encouraged in first scrimmage without Boyd, Watkins | |
---
| | |
| --- | --- |
| Tuesday, April 1, 2014 9:42 AM | |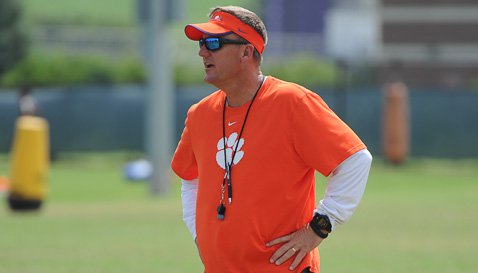 CLEMSON – Over the last three years, Chad Morris

Chad Morris
Offensive Coordinator / QBs
View Full Profile has grown accustomed to having star players like Tajh Boyd

Tajh Boyd
Quarterback (2009 - 2013)
#10 6-1, 225
Hampton, VA
View Full Profile and Sammy Watkins

Sammy Watkins
Wide Receiver (2011 - 2013)
#2 6-1, 205
Fort Myers, FL
View Full Profile on the field during spring practice, and without them it would only be fitting that spring scrimmages be run a little differently.
For the first time in his tenure, Morris and Swinney decided that it would be best for the entire team if the quarterbacks were live for Clemson's first stadium scrimmage of spring practice.
"Coach Swinney and I had talked about it before spring even started," Morris told the media after Monday's scrimmage. "It's a tough situation. It's always should you or shouldn't you, but I think there was a consensus that let's makes these guys live. It will help them. It will help our offense. It will help the defense. To be able to watch those guys go live today was really, really good. Hopefully we will get another opportunity during the spring to watch them go live again. I know they like it."
The trio of Cole Stoudt

Cole Stoudt
Sr. Quarterback
#18 6-4, 205
Dublin, OH
View Full Profile , Chad Kelly
Chad Kelly
RS So. Quarterback
#11 6-2, 210
Buffalo, NY
View Full Profile and Deshuan Watson didn't disappoint.
"We had three guys that are competing and they each moved the ball," Morris said. "They each scored touchdowns. They each battled. It's a healthy and competitive battle and we have that at every position."
Their performance on the field is making it less and less likely that a starter will be named by the end of spring practice.
"Whether we get a starter by the end of the spring, I don't know. I do know this – all three of them are doing really well," Morris said. "The encouraging thing is that all three of them are motivating each other. All three of them are competing against one another and they are all making plays. We are probably one of the more fortunate teams in the country to have the selection of guys we've got right now who are really pushing each other.
"The biggest thing coming into this spring was yes you are going to have a competitive battle, but can it be a healthy, competitive battle where you are seeing some encouragement and there's no anti in the room or dissension. Those guys are really working with each other. Each one of them is making plays. Each one of them is making mistakes. I was very encouraged and extremely encouraged with all three of them today."
A lot was made of the fact that Kelly was the first on the field, but Morris said that each of the three quarterbacks will have their chance to take the field first before spring practice comes to a close.
"He was and then Cole went out there. We rotated them with the first group," Morris said. "I don't even know the snap count total. Next week, Cole will be the first group out there. We just rotate them all out there. We try to keep as close to a running total – as equal as you can. I don't know until we break things down. I do know that they are all pretty equal. It was good to see each and every one of them."
Morris said that it was good to see Watson live for the first time in a Clemson uniform.
"Make him live. It's the first time he's been live since a playoff game a few months ago in high school," he said. "To see him come out there with live action coming at him, being able to step up and make plays and keep his eyes down the field, he did a really good job as they all did."
Morris said that he was encouraged by the play of not just the quarterbacks, but the entire offense.
"From a receiver standpoint, we had a lot of true freshmen out there. To see those guys making plays and doing some things," he said. "We're going to get better from the first scrimmage. Overall, I thought it was a good start for a first scrimmage. I'm going on my fourth year and you never know how you're going to look during your first scrimmage, but this might be as good as we've looked in a first scrimmage maybe since I've been here. There were a lot of encouraging things.
"I was very apprehensive because there are so many moving parts upfront. Our offensive line did a very good job today with a lot of different scenarios. I can't tell you how many different scenarios. Ryan Norton

Ryan Norton
RS Jr. Offensive Line
#58 6-3, 270
Simpsonville, SC
View Full Profile didn't play, so Jay Guillermo

Jay Guillermo
RS So. Center
#57 6-2, 290
Maryville, TN
View Full Profile was in there. There were a lot of moving parts. There were a lot positive things and that's what you hope for out of a first scrimmage. Zero turnovers – that was huge. I don't count sacks, but I don't think we even had a sack. When you have that many guys moving in and out and three quarterbacks moving around, to have zero turnovers that's huge. You can win a lot of ballgames with zero turnovers."