| | |
| --- | --- |
| Morris cautions his young quarterback on the perils of fame | |
---
| | |
| --- | --- |
| Monday, September 29, 2014 6:10 PM | |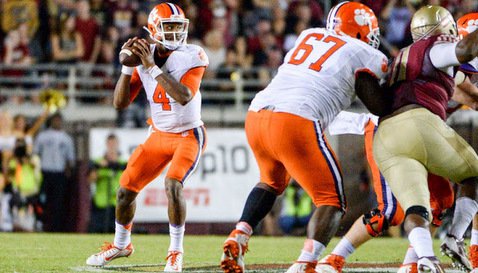 CLEMSON – Chad Morris

Chad Morris
Offensive Coordinator / QBs
View Full Profile understands the pressures that freshman quarterback Deshaun Watson

Deshaun Watson
Fr. Quarterback
#4 6-3, 204
Gainesville, GA
View Full Profile is beginning to face.
Clemson's offensive coordinator spoke with the media Monday in the WestZone, and he said that while Watson may have walked around campus as an unknown a few weeks ago, that will quickly change. What it doesn't change is how Morris and his teammates will treat Watson.
"Two weeks ago, nobody wanted to eat with him or sit beside him in class," Morris said of his young signal caller. "Now everybody wants to eat with him and sit beside him in class. We've talked to him about that. Everyone wants to tell him how great he is. Let me tell you, he did enough stuff wrong to keep him grounded and he knows that. He's a very humble young man and we're going to keep him that way. Shows us that the future's definitely bright for us at quarterback and him."
The Gainesville (GA) product earned ACC offensive back and rookie of the week Monday after rewriting multiple records in the 50-35 win over the Tar Heels. Watson threw for 435 yards and six touchdowns, rising to the top spot nationally in yards per pass (11.9) and ranks second only to Heisman contender Marcus Mariota of Oregon in QB rating (218).
Overall, he holds a 72.7 completion percentage with 914 yards, 10 touchdown passes, one interception, 75 rushing yards and a rushing touchdown.
"That's just a small sample size of what's come is what we try to share with him," Morris said. "We come out and play and we be smart with the football and take care of the football – all that stuff takes care of itself. The moment he starts reading how good he is and everybody in the country is going to talk to him."
Morris said he has cautioned Watson that fans will turn on you – quickly.
"That's just the way it goes. It comes with the position," Morris said. "Like I tell (Watson), those same people that want to sit by you in class and eat lunch with you will be the same ones that don't know you that next week and they want to turn their head at lunch. You will be sitting by yourself. Understand it is a week-to-week process. You have to stay humbled and grounded and know it is about getting better each week."
Watson told the media Monday he has already noticed a difference.
"When I am walking around now, a lot of people are taking pictures and saying, 'Good Game!' They are coming up and talking to me so it is kind of different," Watson said.
How does he stay grounded?
"Just really staying around the guys and around the team," Watson said. "They know who I am and that I just like to be laid-back and relax. Talking to my mom and my mentors and reading the Bible when I can."
Watson was asked how he can improve on Saturday's record-setting performance, and he said he doesn't think about that – just correcting the mistakes he made.
"Just (going to) build on it and know that I can better from it and from the mistakes that I made," he said. "Just know that we can do a lot more than Saturday."