| | |
| --- | --- |
| Morris breaks down Watson's injury, a simple offense and Stoudt's confidence | |
---
| | |
| --- | --- |
| Monday, November 17, 2014 1:29 PM | |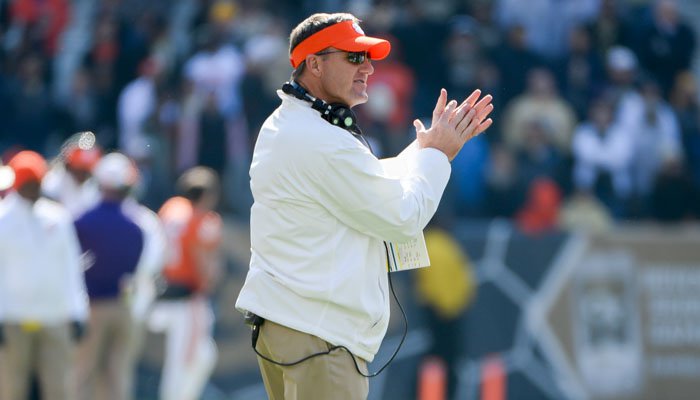 CLEMSON – Offensive coordinator Chad Morris

Chad Morris
Offensive Coordinator / QBs
View Full Profile faced the media Monday morning in the WestZone, and he answered a bevy of questions concerning the health of quarterback Deshaun Watson

Deshaun Watson
Fr. Quarterback
#4 6-3, 204
Gainesville, GA
View Full Profile , the struggles of Cole Stoudt

Cole Stoudt
Sr. Quarterback
#18 6-4, 231
Dublin, OH
View Full Profile and the plan going forward.
Morris started out by saying that the offense has to find a way to get up and move forward going into the final two games of the season after the less than stellar effort his unit showed last Saturday against Georgia Tech.
"We pull ourselves back up and get back to work. That's where we go," Morris said Tuesday in the WestZone. "Ain't nobody feeling sorry for us and we aren't feeling sorry for ourselves. You have to pull yourself back up. You get knocked down in life, and you have two choices - you can stay down or you can get back up. We have to get back up - there is one choice here and that is to get up and not make any excuses. Basically we've got 12 days left in this regular season before bowl season and there is a lot to be accomplished in the next 12 days that could change the way we all feel right now."
With Watson probably out for this weekend's game against Georgia State, Morris' biggest task at hand is to find a way to get senior quarterback Cole Stoudt's confidence level back to where it was at the beginning of the season.
"That's tough right now to say. I think definitely with him being a senior - and he and I talked about it last Monday - I told him that we were still going to go with Deshaun but there were still no guarantees that Deshaun is going to be at the level he could be at," Morris said. "We didn't know that and he needed to be prepared to play. It has been an up and down process for him, but we all know what he is capable of doing and he has played at a high level for us. I think there is a combination probably of a lot of things. We have to have everybody else around him - including coaches - step up. Each position has to play better than they've been playing. This hasn't been the Cole Stoudt that we have seen. But he is a senior that had an opportunity to get in there and go play. We have to be able to execute."
However, Stoudt is not going to be given the starting quarterback spot. Nick Schuessler

Nick Schuessler
RS So. Quarterback
#12 6-3, 195
Grayson, GA
View Full Profile will have his opportunity in practice.
"It's hard to say right now. He is going through the rehab process of it all. I don't know," he said. "There is a chance I am sure Coach Swinney will speak more in-depth on this later in the week, but as the coordinator you try to prepare for every scenario possible. As the coordinator I am preparing for him not to play. That is from my standpoint - if he plays he plays. But we don't know anything at this point. We haven't had any practices on it. Nick is a viable option. NIck is a guy that as you go through the season and he has been a third-team guy and has gotten limited reps. In fairness to him, he probably hasn't gotten a lot of reps in practice. He got in and performed and missed a few things. We could have gotten a few protections called another way."
Other notes
Getting confidence back for Stoudt
"I think it goes back to the fact that there a lot of things involved in it. We have to get Cole back to playing the way he did against Georgia and the confidence level he was playing at. The turnovers are unacceptable. We have been flirting with this situation the last couple of weeks and we were fortunate to not beat ourselves and it caught us this past week. We didn't play as well as we wanted to the last four or five weeks, but we played well enough to put drives together when we needed to to win a game. That is what felt Saturday - even though we had given them a touchdown - we told them if we don't give them anything else let's get to the fourth quarter. But you can't hand over touchdowns to them, especially with a ball control offense. Seven turnovers in two weeks is tough."
Deshaun's injury deflating the team
"I think it let the air out of some guys. You try to get those guys going and keep them upbeat as possible. We have to put it on somebody and somebody has to take this over. That has been our M.O. the past four weeks where everybody is waiting on somebody else to do it. And we couldn't do it or find a way to get it done. We just have to have somebody step up and be that guy."
On why the offense has to be simple with senior quarterback
"You try to do what you feel like you can execute Right now we aren't executing the base. The base, simple stuff we aren't able to execute and perform even though everything we have has answers built in to get us out of a bad situation. And we aren't able to execute even that right now. We've dialed way back and tried to simplify things. The other night we were more advanced than we have been, but when it came down to it we had to run our base offense. It's not all on the quarterback, and some guys that are around him have to pick up the slack and take some pressure off."
On whether they would limit what Watson can do
"You don't know until you get him out at practice. It's hard to say...will he be limited in what he can do? I don't know that but we will have a plan and do what we feel like he can do best. If he can play. To me, that's a long way off right now from my standpoint."