| | |
| --- | --- |
| Morris says "it's on" against the Seminoles this weekend | |
---
| | |
| --- | --- |
| Monday, October 14, 2013, 3:33 PM | |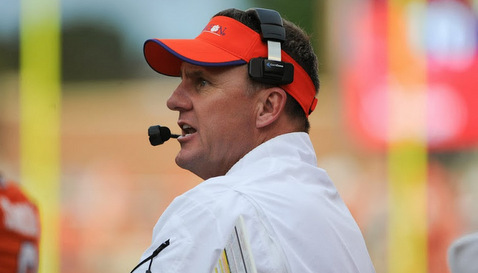 CLEMSON – Clemson players and coaches have followed head coach Dabo Swinney's mantra of the nameless, faceless opponent with absolute precision this season, but offensive coordinator Chad Morris didn't play any word games on Monday in the WestZone or try to make everyone believe that they don't know what is at stake this Saturday.
In the words of Morris, it's on.
No. 3 Clemson plays host to No. 5 Florida St. Saturday in one of the biggest games in the history of Death Valley, and perhaps even the ACC, and Morris admitted that the Tigers have to approach this game differently than they would other contests.
"It's on. This is what it's about. This is what you coach for," Morris said. "As a kid, you grow up wanting to play in a matchup of a top-five matchup like this. There aren't many times in your coaching career that you get this moment. It's the same way from a player's perspective. So, heck yeah, it's a big deal. It's the biggest game of the year. Our guys are excited to be on a big stage again. It's the second time this year that we've been on a stage of this magnitude. This is why you play the game."
Morris even admitted that he is already "jacked up" for the game.
"I'm jacked up right now. I'm ready. That's my personality," he said. "I was excited last week. It's just another opportunity to get better going against a great opponent. At eight o'clock or whatever time it is, it's go time. There's always a pep in my step, but we're just excited for the opportunity."
The Tigers lost a shootout to the Seminoles last year in Tallahassee, and Morris said he was embarrassed by the play of Clemson's receivers in that game.
"They were fast last year and they're fast this year. They were aggressive last year and they're aggressive this year," Morris said of the FSU defense. "There are a lot of similarities. They play extremely hard. They have a new coordinator, but they do a lot of the same things – scheme wise, they do some things that carry over from last year. I felt like last year, they physically whipped us at the wide receiver position. They embarrassed us.
"That's been a point of emphasis and will continue to be a point of emphasis. I thought that our wide receivers spent more time on the ground last year than the ball did – it has to start on the ground every play. It's something that we are stressing to our guys and a big challenge for those guys. We got out-physicaled last year. They play very physical. They are talented, fast, and they're aggressive."
Morris said the Clemson receivers will see a lot of press coverage from the Florida St. defensive backs.
"They are going to try to force you off of press coverage and beat you up before you get off the press. They are going to mix it up. They will show press and then press bail. They are going to try to keep you off guard," Morris said. "It's a mindset is what it is. There are different things that we can do to get off of the press and things that we can do technique wise, but it's a mindset."
On Boston College
"They did a good job.. There wasn't any pressure that they brought that we hadn't already seen. They did a good job disguising the pressures and coming on snap, which was good for us to see. I give them credit. They had a good plan and a good scheme. It's the same thing I did last week - it's about us. We had an opportunity and went on a 12-play drive to open up the game and we didn't get any points out of it, which is very uncharacteristic of us. Lay the ball on the ground twice with some simple center-quarterback exchange and our quarterback and running back, which is just not characteristic of us. And so, those things were just out of the norm."
The problems with Tajh and the fumbles
"He had a glove on. I think that affected him a little bit, but he had worked out with it all week long so it wasn't anything new. I don't know if the ball was getting caught on the glove when he tried to pull the ball on a read. It's just something we haven't done which is turn the ball over. Those are just things we don't do. We let them hang around and the longer they hang around the more momentum they get. It's tough to win when you play like that. "
Any concerns?
"There really aren't any concerns. We have to get some things cleared up as far as our center quarterback exchange as far as our quarterback and running back. We have to be more consistent at all positions up front from the tight end position all the way across the board. These guys saw film today. The really good thing that we've got going in our favor is that we've got a defense that is playing really well right now and gave us opportunities last Saturday."
On Sammy Watkins last year at FSU
"He got knocked down, I'll say it. You talk to your players about, 'you want to be an All-ACC player, you want to be an All-American, you want to be all of this and more.' Well, those guys show up every day and those guys show up in the big games. It's a big game, so let's see."
On Lamarcus Joyner
"I think he's a phenomenal player. We've got a lot of respect for him. He's extremely fast, aggressive and he's got a knack for the ball. You can turn the tape on, freeze it and he's in the tape somewhere. It's usually a blur because he's moving so fast. He's a really good player and very well respected. We're looking forward to going against him."
On Brandon Thomas
"Brandon Thomas is playing about as well as he has played since he's been here. Ryan Norton is another one that is playing extremely well. Kalon Davis has been playing well, but had some miscues the other night and didn't play his best game. Tyler Shatley – we know what we are getting in Tyler. Shaq Anthony is still missing on some things as a young player normally would. David Beasley and Giff Timothy – those guys are going to get some playing time this week. We'll start the five that we feel like practiced the best this week."