| | |
| --- | --- |
| Morris: Offense and waterboys ready to fight anybody and everybody | |
---
| | |
| --- | --- |
| Saturday, August 9, 2014 7:19 PM | |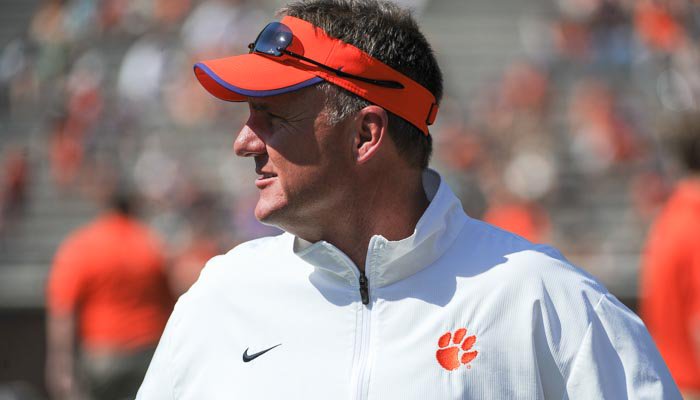 CLEMSON – Chad Morris continues to preach the "us against the world" mentality for his offense, and he included the waterboys following Saturday's scrimmage.
Morris has said since July that no one knows the players on his offense - or seems to care - and said Saturday that the entire group has to be ready to fight for respect.
"Yeah. Yeah. This is a group that nobody knows who they are. Nobody cares to know who they are right now, except for their parents and grandparents and all their relatives," Morris said. "They're a no-name bunch. As opposed to last year, everybody knew those guys. This is a bunch, nobody knows their name. That's great. That's what I told them over there. You've got to go earn the respect and play with a hard edge about yourself and play with a ticked-off approach that when you step on the field you've got something to prove. You're going to prove people wrong that are saying we can't do much, that we aren't very good. When they talk about Clemson, they ain't talking about us on the offensive side of the ball. We've got a really good defense, but we've got to use that to our advantage to make us better. Hey, we've got a little edge about ourselves. When we walk out there, we're ready to fight anybody and everybody. That's got to be these guys' approach. It doesn't matter. Water boys, it doesn't matter. We're coming out with a hard edge about ourselves, and that's the approach you've got to have every day."
The Tigers went through a two-hour scrimmage in Death Valley Saturday morning, and Morris reaffirmed what we've heard throughout the spring and the early part of fall camp – the competition at running back is too close to call.
"It's close. They're all three, all four working extremely hard," Morris said after the scrimmage. "When you start looking at D.J. (Howard) and Zac (Brooks) and Wayne (Gallman) and C.J. (Davidson), it's going to be who's got the hot hand. That's really going to be what it comes down to. I don't know if we'll be further along by the end of camp. It's going to be who has the hot hand, and it's going to create that edge in the running back room. 'Hey, you better stay on with it and you better be on your game.'"
Morris said the same thing applies with the young receivers, but a couple were worthy of a mention.
"I've been very, very pleased with Demarre Kitt

Demarre Kitt
Fr. Wide Receiver
#8 6-1, 183
Tyrone, GA
View Full Profile . He's had a good - not great – he's a long way from being great – camp. Good means he can go out to the practice fields and he can run the right routes and he's catching the ball. He's doing some good things. He's very coachable. He shows up every day. We always tell these guys, 'Be seen and don't be heard.' Very pleased with the way he's shined. Kyrin (Priester) had a couple of really nice catches today.
"He's been a little bit up and down in camp and to see him finish today I was pleased to see that. Germone Hopper

Germone Hopper
RS So. Wide Receiver
#5 6-0, 175
Charlotte, NC
View Full Profile , again, be seen and don't be heard. He's being seen right now. We'll see if that continues. That will be up to him. Artavis Scott

Artavis Scott
Fr. Wide Receiver
#3 5-11, 190
Oldsmar, FL
View Full Profile has had a good camp. Some of these guys are kind of hitting the wall right now, these young guys, and we're having to push them through it. But Artavis is doing some good things and will be a really good player for us this year."
He was asked if the 'wall' was physical or mental, and he laughed and said both.
"You've got so much install going in on them. You're trying to overload them," Morris said. "I mean I'm just trying to basically smother them and see what they can do and see if they can respond to the pressure. We're going to strain their little butts and see how they respond. Some of them will respond, and some of them will fold like a one-legged poodle. It won't be good. So you really try to stress to those guys to really hang on to that thing. We tell those young guys - Milan Richard

Milan Richard
Fr. Tight End
#80 6-3, 243
Savannah, GA
View Full Profile is going to be a phenomenal player for us. I just say hang on. Everybody has been in your shoes before. Just ride the wave and it will all come when it's supposed to."
Overall, he was pleased with the way the offense performed during the scrimmage.
"We came out and started well. We've obviously got a lot of stuff we've got to continue to work on," he said. "Very impressed with the way Cole (Stoudt) started. Very efficient. Ran hard. Guys had good energy coming out, really challenging those guys and stressing to them that nobody knows their name. So you just keep coming out and maybe somebody will pick your name up along the way. Playing with an edge, a sense of urgency. To see those guys come out with that sense of urgency that they had, challenging them."
The offensive line is obviously a question mark, and Morris said that he has been moving the players around to try and find the best five.
"A lot of different guys. Had a couple of guys out today. Lot of different rotations going on with different positions," he said. "Some to see if it's good and some to test them and say, 'Well, you don't belong there. You belong somewhere else.' Trying to get some continuity over the next eight to 10 days before we break camp. But we've been pleased with them for the most part. We've got to get better in some of the short-yardage game. But I can do some things to help them out in that regard. They'll be just fine. We'll have our guys ready to go.
"The big thing is making sure you care and it means something to you. There's something to be said about wearing the paw. We try to stress that all the time to them: 'You're not the first guy that's ever worn the Clemson paw on your helmet, and you won't be the last guy to wear the Clemson paw on your helmet. So you've got the duty and the obligation to uphold the standard that we've set here. And if you can't do it someone else will.' And that's not just them; that's everybody. Having that group just come together, over the next five to eight days, really trying to find that continuity. That's a group right there, they've got to be together. But I will say this: Effort has not been a problem with those guys."
One player who has stood out to Morris is tackle Joe Gore

Joe Gore
RS Jr. Offensive Tackle
#73 6-5, 283
Lake Waccamaw, NC
View Full Profile .
"I think Joe Gore is having a really good camp, I really do. I don't want to jinx him," Morris said. "It's time, though. He's been here long enough, and football in the past has just been something he's had to come over and do, we felt like. Now it seems it's beginning to mean more to him, he's caring a little bit more. And therefore his effort on the field is showing, therefore his performance is showing. Is he making mistakes? Absolutely. But he's got talent. He's got potential. This is a guy who's got to come on. And he's definitely done that through this point in camp."
Other notes
Could Charone Peake

Charone Peake
RS Jr. Wide Receiver
#19 6-3, 204
Moore, SC
View Full Profile be back next week?
"I don't know. We don't know. I have no clue on that."
Come out injury free
"The last I heard we were. I didn't hear anything else on it, so I don't know."
Are short-yardage issues caused by a good defensive line
"Very talented. Not very good today, we weren't very good. We've got to get better in that regard. Again, I can help with that. When you come into these first scrimmages, it ain't about trying to trick something. We're trying to see if we can knock somebody off the ball. Are we going to play on this side of the ball or that side of the ball? Well today we played on this side of the ball in the short-yardage game. So as a play-caller, we've go to figure out how to change that up. Maybe I'm asking some guys to do things they can't do. Or maybe I'm calling some things that are over-adjusted or whatever. It doesn't really matter. We've got to figure it out. Today was one of those where I kind of felt like that might happen, but I wanted to see how we'd respond."