| | |
| --- | --- |
| More on Mitch Hyatt and his "nasty" style of play | |
---
| | |
| --- | --- |
| Thursday, February 6, 2014 12:53 PM | |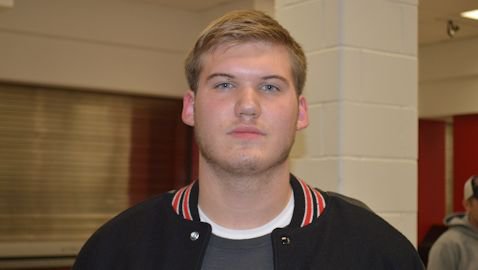 The Clemson coaching staff capped off a solid National Signing Day Wednesday evening when Suwanee (GA) North Gwinnett 5-star lineman and 2015 prospect Mitch Hyatt

Mitch Hyatt
Offensive Tackle
6-6, 270
Suwannee, GA
ESPN:


View Full Profile gave a verbal commitment to the Tigers.
Just to recap – Hyatt is considered the best offensive lineman in the nation in the next cycle according to many services, and ESPN has him rated as the No. 4 overall prospect regardless of position in the 2015 Top 300.
There wasn't a lot of drama concerning Hyatt's choice – his uncle is former Clemson standout Dan Benish, Hyatt has attended Clemson games all his life, and he showed up at the ceremony last night wearing a shirt that said, "A Clemson man needs no introduction."
The ceremony was actually held for the 2014 seniors who had signed national letters of intent, and they had their ceremony first. For those of you who waited with us during the live feed – thank you. We honestly didn't know it was going to take that long, or we wouldn't have rushed to get the live feed up and running.
The wi-fi at the school required a student to sign in, so those of us that were there covering the event were grabbing students and having them log us in. Once we got logged in, however, we noticed that the school's firewall wouldn't let us log in to social media sites or YouTube – which I understand – so we had to run the entire ceremony off of my laptop webcam and my cell phone signal. I understand it wasn't the best production, and Verizon is sure to send me a huge bill, but we wanted to make sure you had the chance to see it as it happened.
*As it turned out, the Clemson-South Carolina rivalry extends down to Georgia. One of the young men signing last night was 2014 defensive end Dante Sawyer, who signed with South Carolina. He had on a Gamecock vest, shirt, bowtie and hat, and when Hyatt reached the podium and announced he was headed to Clemson, Sawyer threw a "5-bomb" at his teammate. My guess is they will run into each other again in a few years.
*I spent some time with North Gwinnett head coach Bob Sphire, who said he was also relieved that Hyatt got his announcement out of the way. Sphire had nine players – nine folks – sign with D1 programs yesterday, and I asked him if was going to be missing a lot of leaders next season. He said that with the great programs, that happens every year, and he is looking for Hyatt to step into that leadership role right away. In case you missed it, here are some of his thoughts we ran on Hyatt last week. http://www.tigernet.com/story/recruiting/Hyatt-elite-prospect-lunch-pail-kind-guy-12453
To me, it seemed like Hyatt is one of the nicest young men I've met, and I asked Sphire if it was different once the lights came on, and he raised his eyebrows and whistled.
"The switch flips, that's for sure," he said.
Sphire said that last season, he thought the officials targeted Hyatt a little too frequently for playing through the whistle, and said one side judge told him it looked like Hyatt was trying to "bury people out there" and was just "playing nasty." Not dirty. Nasty. Gotta like that.
Sphire then told me that in three years, Hyatt hasn't missed a rep in practice.
*I also got the chance to talk to Hyatt's uncle – Dan Benish - who played for Clemson's national championship team and played in the NFL for the Atlanta Falcons and the Washington Redskins.
Benish said he was proud of the fact that another family member would wear orange.
"I've run down that hill, and I know what it's like," he said. "Now Mitchell gets to see what that's like. I can't tell you what it will be like to see him playing on the same field where I played. I would have worn a Georgia jersey or an Ohio St. jersey and supported him, but I will proudly wear a Hyatt Clemson jersey."
Benish said he coached Hyatt when he was younger, and that his nephew was always on the defensive side of the ball (it's where he gets that attitude). It wasn't until Hyatt got to high school that he moved to offensive line, but it didn't take him long to pick up the nuances of the position.
"He has great balance," Benish said. "He doesn't kick that leg back trying to get back quicker while he is pass blocking, and he stays balanced the entire time. He can run-block and he can pass-block, and I think with his build and athleticism, he is a natural tackle prospect."
Benish also said that Hyatt built a "man-cave" at his house that is more of a Clemson shrine than a man-cave – there are Clemson posters and pictures everywhere – and it's not hard to imagine that room will soon have some of Hyatt's own Clemson memorabilia adorning the walls.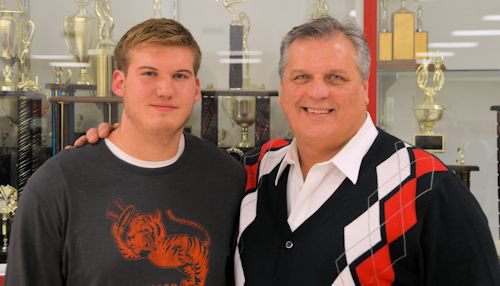 Hyatt with his uncle – Dan Benish - who played for Clemson's national championship team and played in the NFL for the Atlanta Falcons and the Washington Redskins.