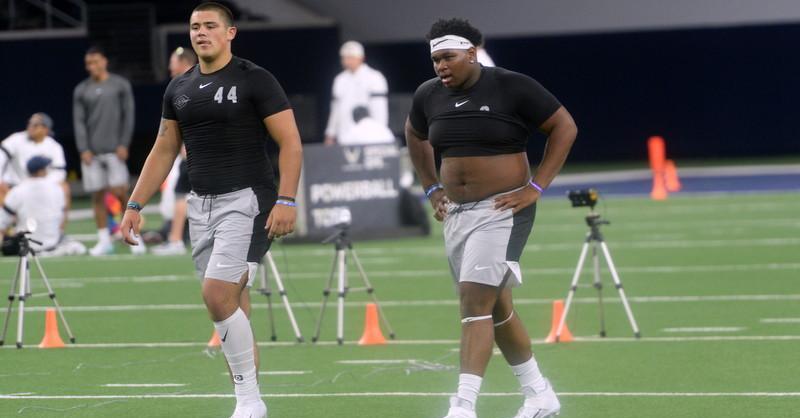 | | |
| --- | --- |
| More 5-stars to come? "Good players want to play with other good players" | |
---
FRISCO, TX – Bryan Bresee and Tre Williams and the rest of the Clemson commits gave the rest of the nation a glimpse into Clemson's future with their performances Monday at The Opening Finals.
"It felt really good because I know that's what's going to happen for years to come," Bresee said after six future Clemson linemen – three on offense and three on defense – put on a show during the 1-on-1 portion of Monday's workouts.
Williams was complimentary of Bresee, a player he's gotten to know better after they spent last weekend together at Bresee's house.
"He's a gifted athlete and he works on his craft a lot. There are not many flaws in his game," Williams said of Bresee. "He can move his hands, move his feet. His toolbelt is endless. Endless pass rush moves. We were in the room working on pass rush moves for today."
Bresee returned the compliment.
"We hang out. He lives like 45 minutes from me so I picked up," Bresee said. "We got some work in before this came. We just hung out. It's always good having him around, like my family, getting to know him, getting to spend some time together.
"He's a big dude. He's 6-3, 312 and can move like a deer. I think that's what makes him special. He can move super well for his size. He's strong as an ox."
Williams said the 2020 recruiting class isn't done and he is working on 5-star defensive lineman Jordan Burch, who will attend the All In Cookout later this month. He even gave a reason why Burch would choose Clemson over other suitors.
"Jordan is a very special athlete and has the potential to be a very gifted, special player. Good players want to play with other good players," Williams said. "I feel like if we get him, our d-line will be the best defensive line to ever come through Clemson."
Bresee is working on 5-star linebacker Justin Flowe.
"Justin is on C-4 pre-workout 24 hours a day," Bresee said of the California playmaker. "He might be the most active dude I've ever met in my whole life. He can play the game. Coach Venables, in that scheme - blitzing and in coverage - I think he would fit perfectly. With the d-line we have, we can hold blocks and he won't get touched. I don't know why he wouldn't come."
Whether Burch or Flowe attend Clemson or not, Bresee is still excited about the future of Clemson's defense and can't wait for the chance to play alongside Williams and Demonte Capehart.
"I think on first and second down, I'm probably more of an edge guy. When it comes to pass rush, I'll move down to a 3-technique, which personally I think I like to pass rush more from a 3-tech now that I've gotten used to it," he said. "There's less room for the offensive lineman to make things happen. I think it's easier to work from that position. I think Tre will go down to nose on pass rush situations, so we'll be on the field together. Jordan Burch and Myles Murphy. When we get Jordan Burch, they'll be on the edge."
As for this season, both players think the Tigers can repeat as National Champions.
"Trevor Lawrence is arguably the best quarterback in college football right now, Then, they have Tee Higgins and (Justyn) Ross and the d-line is still special," Bresee said. "Coach Venables will always have the defense looking right, and Coach Bates at d-line. They just work on their craft and develop players. I don't think they'll have a down season for a while."
Williams agreed.
"I don't see why they can't repeat. They didn't lose much besides the d-line. I know the guys up there are going to hold it down," he said.

Upgrade Your Account
Unlock premium boards and exclusive features (e.g. ad-free) by upgrading your account today.
Upgrade Now