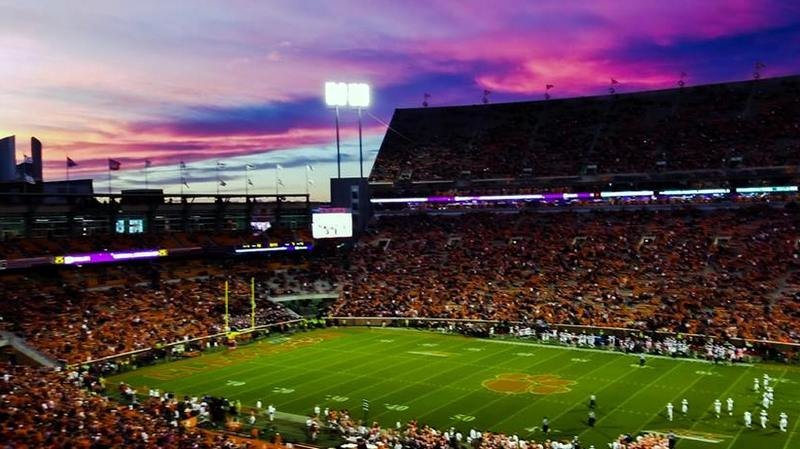 | | |
| --- | --- |
| Monday morning thoughts: Even the skies showed their Clemson colors Saturday | |
---
Saturday's game in Death Valley couldn't have been scripted much better.
Cooler temperatures moved into the area late last week, and even though a few showers moved into the area in the morning, by late afternoon there was brilliant sunshine surrounding Death Valley. As the day turned to dusk and the points continued to ring up on the scoreboard, the setting sun turned a few remaining clouds a dark shade of orange, purple, and red, a tapestry of color that thrilled those in attendance.
It was that kind of day.
Here are some notes and nuggets we picked up over the weekend that I wanted to pass along.
*Five-star 2020 quarterback prospect DJ Uiagalelei was supposed to be on campus for the game, but logistics got in the way. His high school team played in Orange County at Santa Margarita High School Friday, and the group was supposed to travel back to Los Angeles International Airport for a 10:59 PM flight. The game ran a little long in Bosco's 49-14 win. His coach told me they are all bummed but hope to make it back for the Duke game.
*Speaking of quarterbacks – several NFL scouts were on hand to take a look at NC State quarterback Ryan Finley. At halftime, however, the conversation didn't center on Finley but on Clemson freshman Trevor Lawrence.
I grabbed my usual burger and sat down to scroll through some scores when I overheard part of their conversation. One scout said it was impressive that Lawrence was on the far hash and throwing quick outs all the way across the field to the sideline.
"Those are 35-and-40-yard throws," he said. "And he is throwing them on a line. If you're playing man coverage you can't stop that, and he's taking advantage of it. Their other QB couldn't do that. You can't even get a flats defender over there."
We asked head coach Dabo Swinney about those throws during his Sunday teleconference.
"Puts a lot of pressure on a defense, that's for sure. He made some beautiful throws," Swinney said. "And protection was good. One of the best plays in the game was the third and 10. He picked one and should have gotten the first down. And he'll learn from that. He scrambled a couple of other times. People are going to have to start to respect him more there. He's getting more comfortable in all aspects. What he does best is throw the football. When you can get the ball on the perimeter as fast as he can, that stresses the defense and makes them have to defend all the zones.
"When you can run the ball, that only helps because there's a weakness to every defense. How he prepares every week gives us a great chance. He has good recognition of what defenses are trying to do. Just two games in a row we have run the ball and then we come back and throw for 380 yards on a team that was No. 2 in scoring defense in this league. It's a product of all of those things. His ability to get the ball down the field makes us explosive."
One national media member said Sunday that only one team in the country matches up with Alabama, and that's Clemson. He said that Clemson has the defense and the offense to make it a game.
For the record, only one team in the nation is in the top ten in both total offense and total defense, and that team has already played two ranked teams. That team is not Alabama, it's Clemson, which ranks fourth in total defense and ninth in total offense despite the slow starts and the quarterback rotation and Lawrence getting knocked out of the Syracuse game early.
Here is something to think about when it comes to Lawrence and the offense – we all know how good Deshaun Watson was in his freshman campaign. After passing for 308 yards against the Wolfpack, Lawrence (1,176) is just 290 yards shy of breaking Watson's school record for passing yards by a first-year freshman (1,466). Watson did it in eight games, and Saturday will be game number eight for Lawrence.

Upgrade Your Account
Unlock premium boards and exclusive features (e.g. ad-free) by upgrading your account today.
Upgrade Now