| | |
| --- | --- |
| Monday afternoon Orange Bowl practice observations | |
---
| | |
| --- | --- |
| Monday, December 30, 2013 1:33 PM | |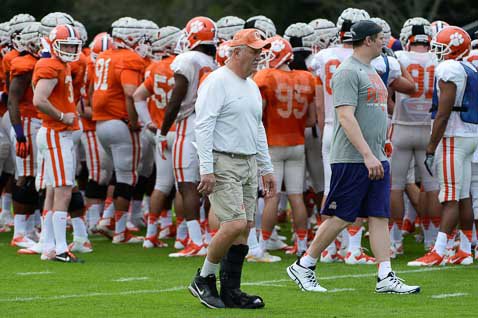 MIAMI SHORES, FL – The Clemson football team held the first Florida practice under cloudy but warm conditions at Barry University early Monday afternoon, and the media was allowed to watch the first portion.
The team gathered at the Barry University athletic facilities, where they will practice over the next four days, leading up to Friday night's showdown against Ohio State in the Discover Orange Bowl.
The media was allowed to observe the first 20 minutes of practice, which included the stretching and special teams periods.
News and notes
Punt returners?
During Clemson's finale against South Carolina, the Tigers turned the ball over twice on punt returns. The first was a muffed punt in traffic by junior Adam Humphries

Adam Humphries
Jr. Wide Receiver
#13 5-11, 190
Spartanburg, SC
View Full Profile after interference by Martavis Bryant

Martavis Bryant
Jr. Wide Receiver
#1 6-5, 200
Calhoun Falls, SC
View Full Profile , and the second was late in the game when Humphries fumbled after a significant return.
After the game, many questions were asked as to who would be returning punts in the bowl game, and as of Monday Sammy Watkins

Sammy Watkins
Jr. Wide Receiver
#2 6-1, 205
Fort Myers, FL
View Full Profile and Humphries both worked with the first team punt return unit.
Special teams coaches
The media has been allowed to observe the special teams periods several times throughout the season and Danny Pearman

Danny Pearman
Assistant Head Coach / Tight Ends
View Full Profile and Jeff Scott

Jeff Scott
Asst. Coach (WR) / Recruiting Coord.
View Full Profile are usually the two coaches handling most of the special teams duties.
However, Monday was different. Not only were Pearman and Scott involved in the coaching, but so were Marion Hobby

Marion Hobby
Assistant Coach / Defensive Ends
View Full Profile , Dan Brooks

Dan Brooks
Assistant Coach / Defensive Line
View Full Profile , Brent Venables

Brent Venables
Defensive Coordinator / Linebackers
View Full Profile and Tony Elliott

Tony Elliott
Assistant Coach / Running Backs
View Full Profile .
Police escort
The Orange Bowl and the Miami-Dade Police Department do a great job of getting the team to and from events and practice throughout the week, and the escorting police officers even go so far as to become fans of their team for the week.
As we were leaving the practice facility, the Miami-Dade patrol car driven by Sgt. Morales had a Clemson baseball cap in the dash and had even put Tiger Paw stickers on the windows to show his support.
It turns out that Sgt. Morales coaches youth football and is selected for Orange Bowl duty each season and he told us that he has escorted the Orange Bowl's winning team eight of the last nine seasons, with the lone exception being Northern Illinois in the 2013 game.
Injury updates
Linebacker Kellen Jones

Kellen Jones
RS So. Linebacker
#52 6-1, 215
Houston, TX
View Full Profile and wide receiver Charone Peake

Charone Peake
Jr. Wide Receiver
#19 6-3, 200
Moore, SC
View Full Profile were both at practice and without the bulky knee braces we've seen over the last few weeks. Both players tore ACL's early in the season, and won't be allowed to practice until the spring.
Running back Zac Brooks

Zac Brooks
So. Running Back
#24 6-1, 185
Jonesboro, AR
View Full Profile took part in all activities and looked pretty good, while freshman Tyshon Dye

Tyshon Dye
Fr. Running Back
#23 6-1, 205
Elberton, GA
View Full Profile (back surgery) continued his routine of walking laps around the practice field.
Dan Brooks
Defensive tackles coach Dan Brooks was walking around in a walking boot, and I asked how he was injured. It turns out he tore his Achilles tendon during the South Carolina game, kept coaching and didn't alert trainers about the injury until after the game.
Brooks also opted to wait until after the bowl game to have surgery – he didn't want to be on crutches during bowl preparations. Judging by the way he was running around the practice field, he made the right choice.
Wayne Gallman

Wayne Gallman
Fr. Running Back
#9 6-1, 195
Loganville, GA
View Full Profile
Bowl practice is really the first time many of us have gotten to see some of the redshirt freshmen in uniform, and running back Wayne Gallman was the one that caught my eye. He looks like he has added 15 or so pounds, and one of the staff told me that he wouldn't be surprised if Gallman won the starting job next season. To put it bluntly – Gallman looks like the big back Clemson has been wanting. He is tall and the added weight made me ask former Clemson player James Trapp who he thought Gallman resembled.
His answer? Former Southern Cal and Oakland Raiders star Marcus Allen.

Tags:
Adam Humphries
,
Brent Venables
,
Charone Peake
,
Dan Brooks
,
Danny Pearman
,
Jeff Scott
,
Kellen Jones
,
Marion Hobby
,
Martavis Bryant
,
Sammy Watkins
,
Tony Elliott
,
Tyshon Dye
,
Wayne Gallman
,
Zac Brooks