| | |
| --- | --- |
| Monday Orange Bowl Insider | |
---
| | |
| --- | --- |
| Monday, December 28, 2015 3:16 PM | |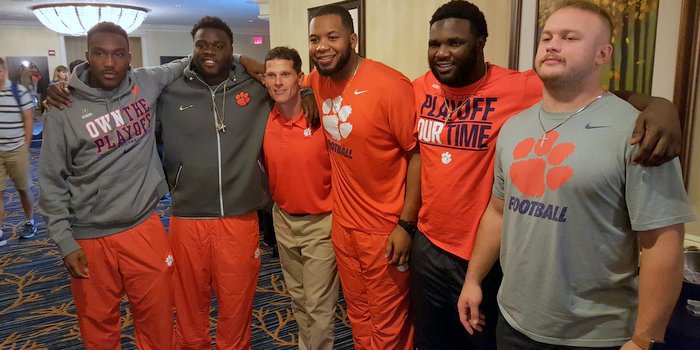 FORT LAUDERDALE, FL – The Clemson football team practiced for two hours at Nova Southeastern University Monday afternoon, but the sunny skies belied the fact that the stars were out.
Clemson held its practice in Florida – and next to last before Thursday's Orange Bowl – at the practice field at Nova Southeastern, and the arrival of head coach Dabo Swinney was eclipsed by the appearance of former Miami Dolphins quarterback Dan Marino.
Marino, who played for the Dolphins from 1983-99, was on hand with several Dolphins officials who attended the session, including Executive VP of Football Operations Mike Tannenbaum. Marino spoke to the Clemson team prior to the 2011 Orange Bowl (a 70-33 loss to West Virginia) but isn't scheduled to speak this time around and was more of an interested observer.
Marino wound up at Pitt, of course, but considered Clemson coming out of high school.
Shortly after Marino's arrival, former NFL defensive tackle Albert Haynesworth showed up. The Hartsville (SC) native played at Tennessee under current Clemson defensive tackles coach Dan Brooks, and the two greeted each other warmly prior to the session.
Haynesworth told TigerNet that he shows up just for Coach Brooks, and of course, we asked his thoughts on Clemson and the state of the program. Haynesworth said what Clemson has is what Tennessee needs – family. Haynesworth commended Swinney for the culture that surrounds the Clemson program and said that's what Tennessee needs to see if they want to climb back among the nation's elite.
Another visitor at practice was the father of Brad Scott. The original Coach Scott is also the grandfather of current co-offensive coordinator and wide receivers coach Jeff Scott. The Scott family posed for pictures with Swinney prior to the start of practice.
*I watched wide receiver Artavis Scott closely during the practice session, especially when he was returning punts. The sophomore had arthroscopic surgery on his knee after the ACC Championship Game and had been limited in practice. However, Swinney has told the media over the last week that Scott was back to normal.
He looked better than normal during punt return sessions. In fact, he looked as fast and elusive as I've seen him since fall camp. It looks like a little rest has not only helped the defense, but some of the offensive players as well.
*Tony Elliott recruited safety T.J. Green out of Alabama and we've seen Elliott take Green to the side for conversation several times prior to games and practices. Monday was no different – Scott grabbed Green and the two spent a few minutes having a private conversation before Green went to work with the defense.
*The team ate at a Brazilian steakhouse Sunday night – something Kevin Dodd talked about earlier in the day when he said he didn't eat like he wanted to because he knew the game was close – but one specialist who had trouble getting stretched turned to somebody and said, "That restaurant lost a lot of money on us last night."
For the record, someone told us that reserve end Austin Bryant was the champion when it came to "putting the food away."
*Elliott is a lot of fun to watch during practice, and when another running back dropped one of Elliott's throws, Elliott grabbed his shoulder and flexed it and said, "Man, you gotta catch that. I only have just so many throws left in me. Make it count." He then chided an equipment manager for not having the footballs ready for the start of the flex session, saying, "I thought you had forgotten about me. Don't forget about me."
*Interesting note from the morning interview sessions – we had Clemson's Brent Venables and five defensive players come to the media hotel at 8 a.m. for interviews, and they were followed at 9 a.m. by Oklahoma offensive coordinator Lincoln Riley and five offensive players.
The two groups passed in the hallway, but unlike in recent years when I've seen the players exchange pleasantries or stop to talk to each other, the two groups tried to ignore each other. Clemson's players made sure they got in the breakfast line ahead of the Sooners, and the groups avoided each other as they changed spots.
Thursday could get a little chippy.
*Oklahoma receiver Sterling Shepard said if there is any trash talking Thursday, it will be all Mackensie Alexander. The two had a famous clash prior to the Russell Athletic Bowl last year, but Shepard told me he's cleaned up his talk and just plays. "I'm a new player this year," he said with a big smile.