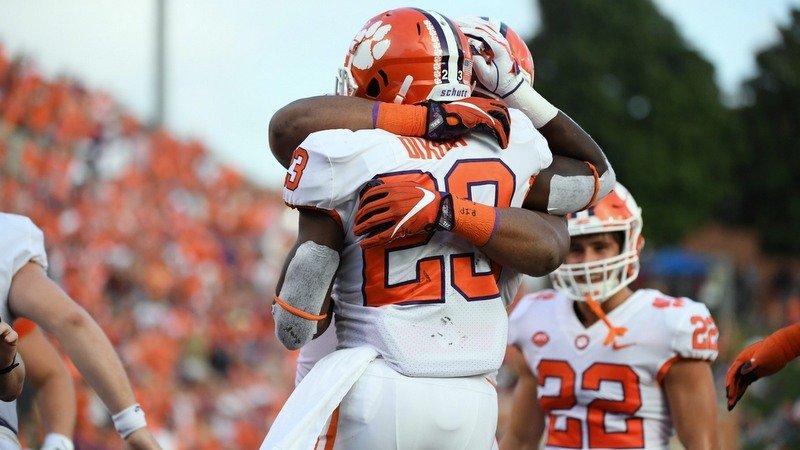 | | |
| --- | --- |
| Monday Insider: Joyous chaos on sidelines in rout of Wake, rushing numbers rise | |
---
What was it like on the Clemson sidelines late in the Tigers' 63-3 victory over Wake Forest Saturday afternoon in Winston-Salem? Joyous and controlled chaos.
Head coach Dabo Swinney let wide receiver Hunter Renfrow punt midway through the fourth quarter, and defensive tackle Christian Wilkins began to beg. Wilkins then saw Renfrow go into the game at quarterback and began to lobby Swinney for a chance to go in and play wide receiver.
Wilkins said last week that he feels like he is a viable option at quarterback and was miffed that Renfrow was getting a look. It looked like Swinney was about to give in but he saw big Dexter Lawrence buckle his chin strap – I'm going if he's going – and thought better of it.
Wilkins didn't have time to really beg – Lyn-J Dixon did his thing and scored a late touchdown and Wilkins sprinted across the field to celebrate with his teammate.
Running back Travis Etienne had 167 yards on just 10 carries and spent a majority of the second half begging for a chance to return to the action, but he was told he needed to let someone else have a turn. Adam Choice smiled when talking about that after the game, saying that everyone was going to give Tavien Feaster a hard time about missing out on all the fun (Feaster suffered a shoulder injury).
It was that kind of day at BB&T Field, a day that saw the Tigers break all kinds of rushing records and move up in the national rankings.
Etienne is now fourth nationally in rushing yardage with 761 yards on just 83 carries. To put that in perspective, he is tied for 51st in carries with his 83 yet is fourth in yards. Etienne got the Tigers rolling with a long touchdown run to start the scoring, and the offense never looked back in scoring 63 points.
Clemson gained 698 yards of offense, the fifth-most in a game in school history, and rushed for 471 yards. The 471 rushing yards are the fourth-most yards on the ground in program history and the most since Oct. 31, 1981, when the Tigers amassed 536 rushing yards against Wake Forest.
Clemson averaged 11.8 yards per carry, breaking the previous school record set on Oct. 17, 1903, against Georgia Tech (11.2).
Etienne is now fourth nationally in rushing yardage with 761 yards on just 83 carries. To put that in perspective, he is tied for 51st in carries with his 83 yet is fourth in yards. People have Kentucky's Benny Snell as a Heisman contender, but he has 128 carries (45 more than Travis) and 62 fewer yards.
Etienne is also sixth in average yards per carry, gaining 9.17 yards every time he touches the ball. Interesting to note, Clemson's Lyn-J Dixon now has enough carries to qualify, and he is SECOND nationally at 11.04 yards per rush.
Etienne surpassed last season's rushing total (761 yards) on his last carry, and he did it in 24 fewer carries.
Here is another stat for you - since losing at GT (the game that saw Deshaun Watson hurt his knee) on November 15, 2014, Clemson has gone 49-4. Yes, you read that right. Clemson has won 49 of its last 53 games. In that span are two losses to Alabama, the best team of our generation, and losses to Cuse and Pitt. That is staggering, a winning percentage of .924. That includes a National Championship and three ACC Championships.
Thanks to Tim Bourret, we also have this stat - last week Dabo Swinney went ahead of Knute Rockne on the all-time victories list. Against Wake Forest, he went ahead of Bear Bryant on the career winning percentage list.
As for the game – sometimes you have to sit back and see the method to the madness with the Clemson coaching staff. After one reserve offensive linemen blew an assignment Saturday, killing a drive, Twitter was flooded with condemnation. Heck, even I wondered if it would be smarter to let the starters play until the game is secure.
But that isn't Swinney's way. The Tigers used 56 players in the first quarter alone and played all 72 that made the trip. Most of those played when the game was still on the line, gaining valuable experience for later in the season. Injuries happen, and Swinney doesn't care as much about a first-quarter drive in October as he does about a fourth-quarter game late in November, or even early December or January.
You've also gotta admit – having players like Dixon, Xavier Thomas, Diondre Overton (who would start for most teams), Justyn Ross, and Kyler McMichael coming off the bench shows the depth of this program.
Speaking of Ross – on his touchdown reception, he caught the ball around the 30 or 35, saw a defender with the angle and kicked it into another gear. He was, as I put it on Twitter, a blur. When Dixon scored on one of his runs, you saw the same thing, the ability to just kick it to another level most players don't possess.

Upgrade Your Account
Unlock premium boards and exclusive features (e.g. ad-free) by upgrading your account today.
Upgrade Now

Tags: Clemson Football
,
Hunter Renfrow
,
Christian Wilkins
,
Dexter Lawrence
,
Lyn-J Dixon
,
Travis Etienne
,
Adam Choice
,
Tavien Feaster
,
Deshaun Watson
,
Xavier Thomas
,
Diondre Overton
,
Justyn Ross
,
Kyler McMichael