---
| | |
| --- | --- |
| Monday, December 30, 2013 4:11 PM | |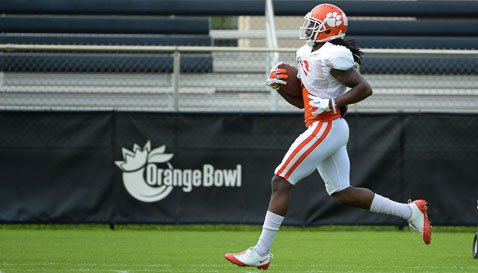 MIAMI SHORES, FL – Mo hotter, mo better.
Those were the words that Clemson head coach Dabo Swinney

Dabo Swinney
Head Coach
View Full Profile used to describe Monday afternoon's practice at Barry University as the Tigers held their first Florida bowl practice under hot and humid conditions.
"I love it. Mo hotter, mo better. I am gonna have t-shirt made up," Swinney joked with the media following the practice. "This is my kind of weather right here. I was busting on Kaylon (Davis) and (David) Beasley and those boys and telling them, 'I know you just love this heat and humidity.' It is a mindset. We are fortunate that we are in the south and our guys understand what heat and humidity is. We know how to deal with the heat, but that is where the depth and conditioning come in."
Swinney said he was pleased with how the team practiced.
"We had a good practice today. This is great. I love how our guys came out and competed today," he said. "This was a very important Tuesday-type of practice today. Obviously, we are little bit ahead of what we would normally be on a typical Tuesday, but this week is about details and really knowing what do to so you can go play well. That is what it is going to take when you have two teams that have had this much time to get a plan down. The execution part of it is what this week is about."
OTHER NOTES
On if Clemson has an advantage in the passing game
"They (OSU) are 24-1 and have lost one time in 25 games. They are a good team and we have to play well. People look at the fact that they are 100th or whatever in pass defense and think we have an advantage, but we look at it different. People have to throw the ball on them because they can't run it. They have a linebacker that makes every play, and if he isn't making the play he is touching the guy that makes the play. This game will be won by whichever team executes the best."
On the redshirt freshmen that have caught his eye
"A bunch of guys. We have had a lot of fun with that. I hate it that we lost O.J. ( Oliver Jones

Oliver Jones
RS Fr. Offensive Tackle
#65 6-5, 325
Ninety Six, SC
View Full Profile ) to a foot injury, because he was having a good little December for us. But we have those young linebackers that have done well. Seeing guys like (Tyrone) Crowder and Maverick (Morris) get out there and compete. Wayne Gallman

Wayne Gallman
Fr. Running Back
#9 6-1, 195
Loganville, GA
View Full Profile . Adrien Dunn is a little guy that just makes play. You better remember that name – that guy is going to sneak up on some people. He has four years left. He will carve a niche in this program before it is all said and done. But that is the privilege of being in a bowl is seeing these guys and they will be that much further along in the spring."
Tyshon Dye

Tyshon Dye
Fr. Running Back
#23 6-1, 205
Elberton, GA
View Full Profile 's health
"The thing with him is we did the ankle surgery as well – he had a little lingering problem he has had since high school - and we did that as well while he has rehabbing. Everything is on pace and we will monitor him closely because he is a special talent."
Martavis Bryant

Martavis Bryant
Jr. Wide Receiver
#1 6-5, 200
Calhoun Falls, SC
View Full Profile
We got a chance to talk to receiver Martavis Bryant, and he was non-committal on making a decision about whether he would turn pro. He said that he will make his decision after the bowl game, and that he isn't leaning one way or the other. He said he really isn't listening to anyone's advice except his own – he said it is his decision to make and he will make it.
Practice notes
Clemson's practice was similar in its format with the bowl practices at Clemson. The Tigers had a 10-minute walk through to start practice, had 10 minutes of calisthenics, then 17 five-minute period of practice, followed by a 15 minute JV practice….The Tigers were in full pads today, will be in shells on Tuesday. Wednesday will be similar to a normal Thursday practice….among the visitors at practice was former Clemson defensive back Charles Hafley, a starter on Clemson's 2000 team that played Virginia Tech in the Gator Bowl….Hafley is now a high school head coach in the Miami area…other visitors included former Florida State wide receiver Kex McCorvey and former University of Miami head coach Randy Shannon….one of the highlights of the practice was a 50 yard touchdown reception by walk-on receiver Andrew Maass. Maass has been out with a broken ankle most of the year…after he made the catch he dunked the football over the goal post, making the post tilt to the left….many of his teammates ran on the field to congratulate Maass, who had been on crutches most of the year