| | |
| --- | --- |
| Mitch Hyatt shines in battle of Georgia powers | |
---
| | |
| --- | --- |
| Sunday, August 24, 2014 5:48 PM | |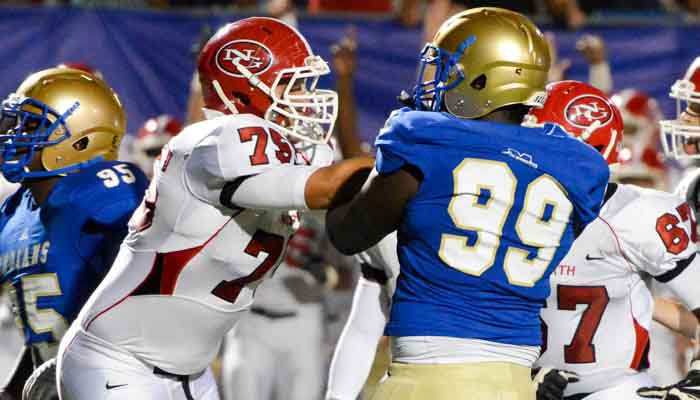 POWDER SPRINGS, GA – As the final seconds ticked off the clock early Sunday morning, Mitch Hyatt made one last sprint across the field, giving a hug to his uncle before heading up the walkway into the North Gwinnett locker room.
Hyatt is the 5-star offensive tackle commit from North Gwinnett, and the Bulldogs had just knocked off McEachern 52-49 in a battle of state powers at McEachern's Walter H. Cantrell Stadium in the finale of the Corky Kell Classic. Hyatt's uncle – former Clemson player Dan Benish – slapped his nephew on the helmet before sending Hyatt off to celebrate with his teammates.
Hyatt played both ways during the contest – moving to defensive end a good bit in the second half – and with the temperature still hovering near 90 degrees as the game ended around 1:30 a.m., he told TigerNet that he should have taken better care of his body earlier in the day.
"I should have drunk more water earlier in the day," an exhausted Hyatt said after the game. "This was a lot of fun. It's always good to go up against great competition. This was fun."
Hyatt said playing defensive end isn't anything new.
"I have played there my whole life, right up until ninth grade," Hyatt said. "They decided to have me there just in case they needed a bigger body in there, and then they will throw me in there for a series or two. I am just tired."
Hyatt went up against McEachern's Julian Rochester – a massive defensive line prospect who might be the best player in Georgia for the 2016 recruiting cycle – and said he felt like he more than held his own.
Rochester – who still has Clemson on his list – was matched up against Hyatt early before the McEachern coaches started moving him around in order to create a better matchup. A late roughing the passer penalty against Rochester was one of the big plays of the game.
Hyatt was dominant for the majority of the contest, and it was common site for him to be on top of a defender after driving him to the ground during a play. Hyatt slipped out to block on screen passes and pulled on several other running plays, and it was obvious how athletic he can be.
One of the officials turned to me on the sideline and said, "That left tackle plays through the whistle. He's really, really good."
Quick notes
*McEachern's Taj Griffin, already committed to Oregon, was definitely the best skill player on the field Saturday . He had a couple of touchdown runs that kind of left me shaking my head, and the joke going around the sideline was that he was too fast for the SEC and had "Pac-12 speed." I can neither confirm nor deny I was the one who started that phrase. The kid is fast – really fast – and has that extra gear the Oregon coaches are going to love.
*Another McEachern standout was offensive lineman Chuma Edoga, who is committed to Southern Cal. Another big body who uses his hands and his feet, can use his strength to move defenders away from the line of scrimmage but also has the speed to pull and get outside to block.
*Brothers Daniel and Joshua Imatorbhebhe play wide receiver for North Gwinnett. They both seemingly caught every pass that was thrown their way and showed good speed and route running abilities. Daniel is a 3-star 2015 prospect who is committed to Missouri, while Joshua is 3-star 2016 prospect with offers from Michigan, Ohio St., and Missouri, among others. After watching both of them, it's a little surprising that they don't have any offers from the local schools like Clemson or Georgia.
The brothers are basketball players, and they had to be talked into playing football.
NOTE: We will have more from Hyatt and Julian Rochester later – we have interviews with both and an in-depth interview with Hyatt's offensive line coach.