| | |
| --- | --- |
| Mike Reed: "We are going to be the old Clemson we used to be" | |
---
| | |
| --- | --- |
| Tuesday, July 29, 2014 1:45 PM | |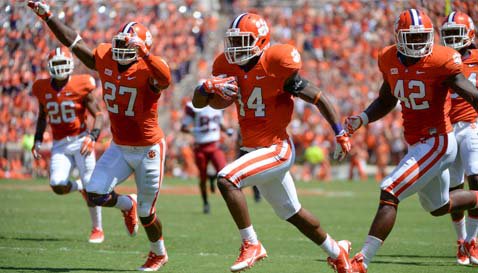 SUNSET, SC – Clemson's secondary has been much-maligned over the past few years, but the members of that group and position coach Mike Reed

Mike Reed
Defensive Backs Coach
View Full Profile hope that the Tigers' defensive backfield is a "No Fly Zone" in 2014.
The online dictionary states that a No Fly Zone is "a designated area over which aircraft may not fly without risk of interception, especially during a conflict." That conflict will be the 12 to 14 games the Tigers will play this season, and Reed hopes that his group has plenty of chances at interceptions.
In part two of our conversation with Clemson's secondary coach, Reed says he understands the perception that outsiders have of his group, but he feels like they are up to the challenge.
"Everybody is going to pinpoint there is a problem here and a problem there, but you know what? What the heck. I like the challenge," Reed said. "Be what it may, we are going to deal with it and we are going to make plays and we are going to be the old Clemson that we used to be. "
Reed said that he feels like he has the younger players in place to make a difference, including safeties Jadar Johnson

Jadar Johnson
So. Defensive Back
#18 6-1, 180
Orangeburg, SC
View Full Profile and T.J. Green

T.J. Green
So. Athlete
#82 6-2, 189
Sylacauga, AL
View Full Profile and corner Cordrea Tankersley

Cordrea Tankersley
So. Defensive Back
#25 6-1, 190
Beech Island, SC
View Full Profile .
"You have Jadar and Cordrea, and those are two young men that played a little bit but didn't play a lot. You have T.J. Green who is coming over from the offense and he is somebody that I tried to recruit all day every day last year because I always said he was a defensive back. But who comes to a school that throws the ball around like we do and doesn't wanna play on offense? Every kid wants the ball in his hands. I think he has settled in very well, and I think he will do great things for us in the secondary."
Senior Robert Smith

Robert Smith
Sr. Safety
#27 5-10, 210
St. George, SC
View Full Profile is the unquestioned leader of the group, and Reed said it makes his job easier to have a player like Smith on hand.
"It's good, because you have someone who can mentor these kids and has been through it," he said. "He has been a redshirt and he has been a freshman. It's good for them because the kids will have questions, and when I'm not there he is a guy that they can go to and trust that he will give them some great insight."
Senior Martin Jenkins

Martin Jenkins
RS Sr. Cornerback
#14 5-10, 180
Roswell, GA
View Full Profile looks to be healthy after an injury-plagued 2014, and Reed said that Jenkins can't be overlooked in the conversation about who will play the corner spots.
"Right now, he is 100 percent. The doctors have cleared him and he is good to go," he said. "He is going to fit in very well, and he is going to give me an experience level that I don't have a lot of at corner. He has played maybe every position except the safety position in the back end. He is battle tested. I loved him when I first got here, and it hurt me dearly when he got injured because he was a young man I was counting on very much to play last year."
Jenkins' experience will be needed in the opener at Georgia – the Tigers will be without the services of senior Garry Peters

Garry Peters
RS Sr. Cornerback
#26 6-0, 195
Conyers, GA
View Full Profile , who has been suspended for that game by head coach Dabo Swinney

Dabo Swinney
Head Coach
View Full Profile after a violation of team rules prior to the start of spring practice.
"It's a situation where he won't be playing with us the first game," Reed said. "That is one of those things where it has given one of those younger kids that hasn't had a lot of playing time an opportunity to play. It is one of those situations where day by day and week by week and game by game guys are competing."
Reed said that he has another versatile player in sophomore Korrin Wiggins

Korrin Wiggins
So. Defensive Back
#12 6-1, 185
Durham, NC
View Full Profile , who gained valuable experience as a freshman last season.
"He is multi-purpose. You can plug Korrin in anywhere and he will be ok," he said. "He can play some nickel and he will come back and play some safety, and because of his flexibility I can put him virtually anywhere on the back end except for corner."
Of course, the secondary's job should be easier because the Tigers' have an experienced, deep and talented front seven that should put pressure on opposing quarterbacks, but Reed said his group can't depend on those players to make plays for them.
"I will tell you this – I am not depending on Vic Beasley

Vic Beasley
RS Sr. Defensive End
#3 6-3, 225
Adairsville, GA
View Full Profile . It's good to have him, but for me I have to take care of my guys and my guys have to be in the right position," he said. "If all things work together, then if Vic does his deal, then the ball comes out and we make a play."