---
| | |
| --- | --- |
| Friday, October 17, 2014 7:01 AM | |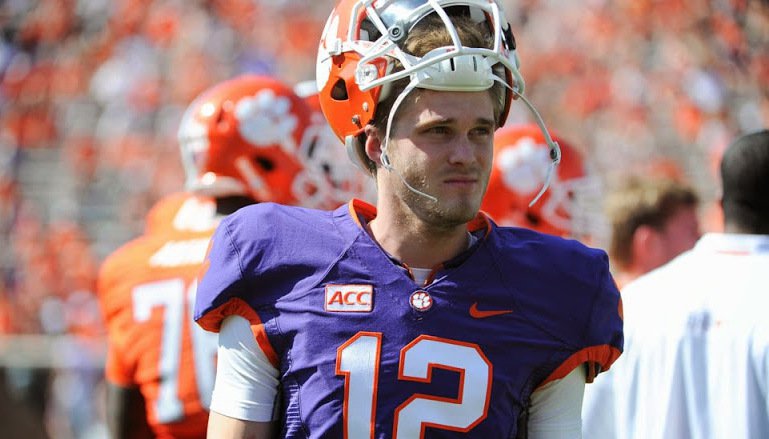 CLEMSON – When the average fan hears the name Nick Schuessler

Nick Schuessler
RS So. Quarterback
#12 6-3, 195
Grayson, GA
View Full Profile , their immediate reaction is, "Who?" but if they think about it long and hard they get flashbacks to 2013 and the Robert Nkemdiche saga.
Many Clemson fans and national pundits believed that Schuessler was a throw-in to try and keep Nkemdiche committed to the Tigers. However, Schuessler is out to prove all of those people wrong and show just what type of quarterback he can be and that he earned his scholarship on his own merits.
The 6-3 redshirt sophomore spent the last two seasons as the scout team quarterback, but finds himself listed as Clemson's backup quarterback due to the injury of Deshaun Watson

Deshaun Watson
Fr. Quarterback
#4 6-3, 204
Gainesville, GA
View Full Profile .
Schuessler told the media Monday afternoon that he's excited about the opportunity that lies ahead.
"As cliché as it sounds, this is something that you kind of always wait for, despite the circumstances that Deshaun and Cole have had," Schuessler said Monday in the WestZone. "I definitely have full confidence in myself. I believe that I can win at this level. If that time comes and I'm needed to step in and lead, I have full confidence in myself that I could step in and lead and get the job done."
After transferring from Mississippi State, Schuessler was often called upon to play the part of Jameis Winston, Jacoby Brissett and Logan Thomas in the often unheralded role of scout team quarterback, but the Georgia native said that he appreciates the chance he had to help make the team better.
"It's a position that gets under appreciated but you have coaches on this staff that appreciate everything," Schuessler said. "That's something that starts with Dabo and works its ways down. You appreciate everybody's role. That's something that we've really prided ourselves on this season - whether that's somebody giving us water, to scout team to first and second string. It's a tough role to do because you don't get as much praise but I think it's fun to go out there and throw it around against one of the top defenses in the nation."
Now that he sits at second on the depth chart his passion and desire to do whatever it takes to be successful on the football field is further fueled by the critics who still believe that he's only at Clemson because of Nkemdiche.
"That's something that I feel like motivates me every day," he said. "A lot of people might have thought that. I don't ever think too much into that because I'm confident in myself and I know the reason why I decided to come here and I know that Dabo would've been honest with me. He's honest with me to this day. I use that as motivation every day. It's like a chip on my shoulder that I always have to show them - and I want to show them - that I can play. I'm not some package deal that we were trying to get Rob. I'm waiting for that opportunity to show everyone that I can play."
If his time were to come on Saturday or at some point this season, Schuessler has no doubt in his ability because of the time he has taken to prepare for the big stage.
"No butterflies. I don't really get too nervous," he said. "I'm anxious to get out there and to have a chance. You wait an entire football career to get the opportunity to play on a big stage like this. Nerves? No. I pride myself in that I feel like I lead the team in mental reps. I just try to take as many reps mentally as I can. I just feel like I've prepared myself for a situation like this. I'll be ready whenever the time comes."