| | |
| --- | --- |
| McCloud family reacts to Florida rumors | |
---
| | |
| --- | --- |
| Wednesday, August 20, 2014 3:17 PM | |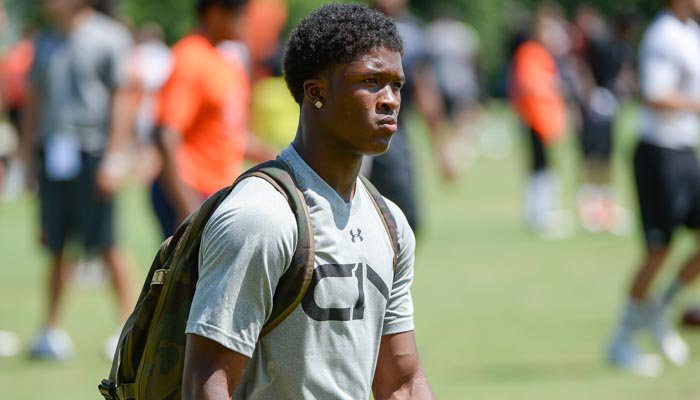 The drama surrounding the recruitment of Ray-Ray McCloud never seems to end, but the father of the 5-star athlete out of Tampa (FL) Sickles says that Clemson coaches and fans shouldn't listen to the noise from all the people who really don't know and that there is one thing he knows for certain: Ray-Ray will enroll in Clemson in January.
McCloud committed to Clemson in late July – surprising many of the experts who expected him to commit to either Florida or UCLA – but that hasn't stopped the media circus surrounding his recruitment. Two weeks ago, McCloud's visit to Florida was seen as a sign of his wavering in his commitment, and another recruiting analyst came out Monday and said he expects McCloud to flip to Florida at some point this season.
The report angered McCloud's family, and McCloud responded with a tweet early Wednesday that made his feelings quite clear.
Nothing like waking up a tiger ?????????????? #Allin #WeTooDeep pic.twitter.com/jOC1KXibJG

— LT Gutta??an™ (@RM3_legendz19xx) August 20, 2014
McCloud's father, Ray McCloud, Jr., said he has told the Clemson coaches and wants all of the fans to know that his son is 100 percent committed to Clemson.
"I talked to Coach [Tony] Elliott and told him not to listen to the media," McCloud, Jr. told TigerNet Wednesday afternoon. "Ray will be at Clemson. He knows me. He knows he doesn't have to question it."
McCloud, Jr. realized that his career of helping young athletes in the recruiting process causes some of the misinformation, but that Clemson is the place for his son.
"Ray did a good job and he kept people surprised," he said. "That's why they keep going on about it. All of the schools keep recruiting him. With what I do - I take a lot of kids places - I work for a recruiting service. So, people see me here or there and they get all of these ideas. Clemson is the perfect place for him spiritually and everything."
As a matter of fact, all of the formal paperwork required for Ray-Ray to apply and enroll at Clemson for the spring semester has already been submitted.
"He is planning on enrolling at Clemson in January and he has already submitted his application and all of his paperwork," McCloud, Jr. said. "He is good to go on everything with Clemson. Y'all don't listen to what people say, some people just don't have anything better to do."
McCloud has 4.224 all-purpose yards during his three-year career, and could be a game changer for Clemson.
As a junior, McCloud carried the ball 300 times for 2,316 yards and 26 touchdowns, averaging 7.7 yards per carry and 178.2 yards per game
As a sophomore, he carried the ball 162 times for 1,319 yards - 8.1 yards per carry - with 12 touchdowns.