| | |
| --- | --- |
| Mauldin QB with 11 TD's in a single game will visit Saturday | |
---
| | |
| --- | --- |
| Thursday, November 21, 2013 6:21 PM | |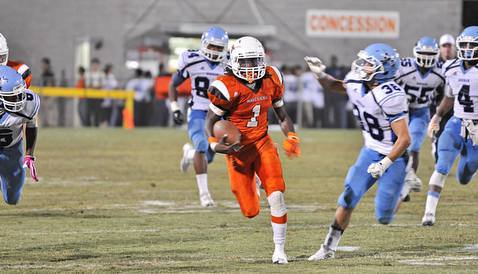 When you think of Region II-AAAA high school football, you probably think about Byrnes, Gaffney, Hillcrest and Dorman; and, players like Shuler Bentley and Shaq Davidson

Shaq Davidson
Wide Receiver
6-1, 175
Gaffney, SC
ESPN:


View Full Profile .
And, if you had to guess you would probably say that either Bentley - Byrnes' quarterback or Davidson – Gaffney's wide receiver and a South Carolina commit - was named player of the year for the Region.
If you guessed that, you would be wrong.
The region player of the year completed 205-of-324 passes for 2,793 yards and 28 touchdowns and rushed for 2,043 yards and 34 touchdowns. He averaged 25.4 yards on seven punt returns and 24.7 yards on 11 kickoff returns, including a kickoff return for a touchdown.
Those stats belong to Mauldin's senior quarterback Dre Massey, who is being recruited by Clemson as a wide receiver.
Massey is a 6-0, 175-pound athlete that finally caught the attention of programs like Clemson, South Carolina, Maryland, N.C. State and Georgia after rushing for 354 yards, passing for 213 yards and scoring 11 touchdowns in Mauldin's 83-70 win over Boiling Springs earlier this month.
Massey sent his film from the Boiling Springs game to Clemson defensive tackles coach Dan Brooks

Dan Brooks
Assistant Coach / Defensive Line
View Full Profile – his recruiter of record – and will now be visiting Clemson for this weekend's game against The Citadel.
"Coach Dan Brooks called and invited me to come to the Clemson game," Massey told TigerNet Wednesday evening. "I sent him my last game where I had 11 touchdowns and he called and told me that they were impressed and that he wanted me to come for the game. I've talked to Coach Brooks a lot. We've been talking since last summer and we've talked throughout the entire season. He said that the staff wanted to see what I could do this season and that they were interested in me."
Despite only having one offer from Marshall, Mauldin head coach Lee Taylor said that he has no doubt that Massey is Division I athlete.
"There is no doubt," Taylor told TigerNet Wednesday evening. "I honestly think that he can play quarterback and any Division I school. He would definitely be an asset to any school as an athlete – wide receiver or running back."
Taylor said that the biggest reason for Massey's success is that he is a student of the game.
"Dre's biggest strength is his knowledge of the game," Taylor said. "He spends a lot of time watching film and preparing for each and every team so that he knows exactly what to expect on Friday night."
His weakness, however, is his academics, and Massey will most likely have to attend a junior college or a military school.
"Dre's biggest weakness is on the academic side," Taylor said. " I've had JUCOs calling me from the west and Midwest, but Georgia Military Academy has recently called. Georgia Military might just be the best route for him."
As a three-year starter, Massey accounted for over 11,000 all-purpose yards and 126 touchdowns.
Massey was also recently named to the Coach David Gutshall's North roster for the North-South All-Star game.