| | |
| --- | --- |
| Matt Ryan: "There's no place that compares" to Clemson | |
---
| | |
| --- | --- |
| Monday, January 25, 2016 7:01 AM | |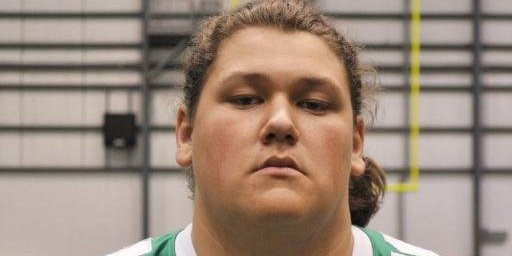 Clemson's newest commit not only bring some strong football bloodlines to the table, but he's also bringing a great attitude to the Clemson campus.
Matt Ryan, the 2-star New Orleans (LA) Isidore Newman offensive lineman, accepted a walk-on spot with Clemson Saturday afternoon while on an official visit.
The official visit wasn't even a blip on Ryan's radar until Thursday afternoon when he received the offer from the Clemson coaches. Ryan told TigerNet that the decision to cancel a visit to an SEC school and come to Clemson may be one of the best he's ever made.
"Both of my parents made the trip. We all came up," Ryan told TigerNet Sunday afternoon. "We flew in on Friday. We decided on Thursday to make the trip when they asked us to come up on the official visit. I originally had an official visit scheduled to Mississippi State and then I cancelled with them just so I could come to Clemson. That was probably the best decision I've made because as you know I'm now committed to Clemson. I'm really excited about next year."
Ryan wasn't totally sure what to expect of Clemson, but he said he was completely blown away from the moment he arrived on campus.
"The visit was great. We came in Friday. We drove in from Atlanta," Ryan said. "It's a drive to get there, but once you're there you can see the whole campus, and you're just like, 'Wow! This place is magnificent compared to any other college campus out there.' We were there for a whole 48 hours. We were shown the whole campus, the football facilities and everything. There's no place that compares academically and athletically."
Ryan is the son of Buffalo Bills' defensive coordinator Rob Ryan, nephew of Bills' head coach Rex Ryan and the cousin of Clemson holder Seth Ryan. He said that one of the reasons he committed to Clemson was because of the opportunity to play with his cousin.
"It makes a difference because you have family there. It helps with the whole college process and getting used to everything," he said. "He gave me some advice and told me don't do this or don't to that your first year. Just make sure to do the simple things and do things right. He told me some things that I should do. I'm really excited to be with my cousin, too. I wasn't seeing that in my future, but when I heard about Clemson and that they were giving me an official visit I knew I had to go. It was fun to hang out with my cousin and we had a great time. It was fun."
Another selling point was the opportunity to play for offensive line coach Robbie Caldwell.
"Coach Caldwell is a great guy. We talked, and he seems like a straight up coach. He's a heart-to-heart type of guy," he said. "We're both very compatible. We go well together, and I can't wait to have him as my coach for the next four our five years of my life. I'm very excited about being coached by him. It's just going to be really fun."
So what is Clemson getting out of 6-4, 315-pound prospect? Someone who is willing to work hard on the field and do whatever it takes to help his team win.
"What I bring to the program is a lineman with heart, who will do stuff for the team and not for himself," he said. "I'm a very unselfish player. I do things that need to be done. I just bring heart to the team. I'll bring loyalty. I'll bring the ability to help in the running and passing game. Pass protection, I'm very prepared at. I'm willing to work hard and, hopefully, get to the next level. That's my aspiration in life, to be in the NFL. Hopefully, I can bring that to them and potentially be on the Ring of Honor in Death Valley. I have big aspirations for myself and I feel like if I work hard enough I can make those aspirations a reality and really just become a great player for Clemson. That's what I hope I can bring to a great university."
I've decided that the next chapter of my life will be spent at Clemson University! pic.twitter.com/D0u9Lc6Cr0

— The Real Matt Ryan (@Matty_Ice_78) January 23, 2016