---
| | |
| --- | --- |
| Tuesday, August 5, 2014 1:48 PM | |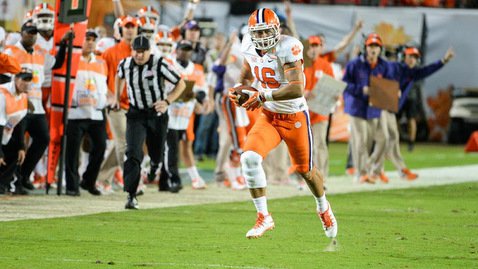 CLEMSON – Jordan Leggett

Jordan Leggett
So. Tight End
#16 6-5, 251
Navarre, FL
View Full Profile should be a matchup nightmare for opposing defenses this season.
Clemson's sophomore tight end told the media that he weighed in at 253 pounds prior to the start of Monday's practice, and appeared to be standing closer to 6-foot-6 than his listed 6-foot-5. Add in his speed and ability to catch the football, and it will be hard for linebackers to stay with him in coverage and even harder for smaller safeties to properly defend him deep.
Leggett even hinted Monday night that the 2014 season might see him play somewhere other than his customary 3-back role, a possibility that will give opposing defensive coordinators nightmares at the thought of Leggett perhaps lining up against a smaller corner.
"We still have Mike Williams

Mike Williams
So. Wide Receiver
#7 6-5, 208
Vance, SC
View Full Profile and he's a playmaker. I can't tell you in detail, but I'm going to be playing a lot more positions than just 3-back," Leggett said with a hint of a grin. "They want to have a guy that can actually run routes and then if they have to bring in him into the backfield to pass block and stuff like that. As soon as we get good at that, we're going to be a great offense."
Leggett had 12 receptions for 176 yards and two touchdowns in 166 snaps over 10 games a year ago, and his athleticism alone dictates he will get a shot at the most snaps. However, he has competition from veterans Stanton Seckinger

Stanton Seckinger
RS Jr. Tight End
#81 6-4, 241
Isle of Palms, SC
View Full Profile and Sam Cooper

Sam Cooper
RS Sr. Tight End
#86 6-6, 250
Brentwood, TN
View Full Profile , an equally athletic Jay Jay McCullough

Jay Jay McCullough
RS So. Tight End
#89 6-3, 248
Fort Mill, SC
View Full Profile and freshman Milan Richard

Milan Richard
Fr. Tight End
#80 6-3, 243
Savannah, GA
View Full Profile .
"It's definitely a whole lot different. We have four healthy tight ends that Coach (Danny) Pearman always talks about that he can trust going into the Georgia game right now," Leggett said. "As of right now, we're just really working with each other and trying to stay healthy as much as possible and trying to get everybody better, bring the freshmen along as we can. Other than that, we're still competing, but at the same time we're trying to make each other better."
One of the criticisms of Leggett's play last season – in addition to the lazy moniker he earned due to poor practice habits – was his lack of interest in blocking.
"They said that if I wanted to get on the field and be a more complete player and play 50 snaps a game, I'm going to have to be a route runner and a blocker because Coach (Chad) Morris said that he's not just going to put me in for the fade routes on the sidelines anymore," Leggett said. "I have to become a better blocker to play more often. I still have a long way to go [to be a complete tight end]. I'm still learning from Cooper because he is one of the best blocking ends we have. With time and definitely before the season starts, I'll be that complete tight end."
Catching the football is still the name of the game for the Navarre, FL native, but he said he takes pride in his blocking.
"Catching is definitely more fun. I like to score, but I can definitely take pride in blocking because it's just what I've got to do to get on the field," he said. "I was out here a few minutes ago throwing with Cole Stoudt

Cole Stoudt
Sr. Quarterback
#18 6-4, 231
Dublin, OH
View Full Profile , just working on my goal line throws and stuff like that. I know that I really need to focus on my blocking. I've got my route running down pat, but I really need to focus on my blocking."
Leggett then said that his increased size is an effort to combat the defensive ends he will have to block.
"We had a big weigh in the other day and I weighed in the most of all the tight ends," he said. "I was really trying to eat better, better nutrition. I was really trying to work on my nutrition. I've gotten stronger. My bench has gone up. I'm really just trying to give myself a chance against these defensive ends and stuff like that. It has definitely helped me. I'm standing my ground out there. It's been going really good."
His teammates might call him Lazy Leggett now, but only in jest as Leggett has taken the advice of a former Clemson tight end to heart.
"That's what Dwayne [Allen] told me - it's a mentality thing. Anybody can do it," Leggett said. "You just need the will to do it. That's what I've been really focused on - trying to get my mind right, trying to figure out why I play football. I have it written up in my room every day so I can look at it.
"I had the offense last year, but I was trying to memorize every play. If one guy wasn't in a certain spot, I didn't know what else to do. Now, I have a hold of the offense. I know what the people beside me are doing, what the line is doing, and different pass protections. It has really helped me because I know what everyone is doing. I know when I'm getting the ball and when I'm not getting the ball and coverages."
With so many options, Clemson's offense might be more difficult to defend this season despite the loss of playmakers like Sammy Watkins

Sammy Watkins
Wide Receiver (2011 - 2013)
#2 6-1, 205
Fort Myers, FL
View Full Profile and Martavis Bryant

Martavis Bryant
Wide Receiver (2011 - 2013)
#1 6-5, 200
Calhoun Falls, SC
View Full Profile .
"I guarantee it. Sammy Watkins came in and nobody really gave him a chance because he was just a freshman," Leggett said. "He knocked it out of the park. Now we have a lot of great freshmen wide receivers - Artavis Scott

Artavis Scott
Fr. Wide Receiver
#3 5-11, 190
Oldsmar, FL
View Full Profile , Kyrin Priester

Kyrin Priester
Fr. Wide Receiver
#17 6-1, 186
Lilburn, GA
View Full Profile . I feel like they aren't giving us credit, but we're going to go out there and turn some heads."