| | |
| --- | --- |
| Mars and Pluto: Swinney says he and Spurrier are different | |
---
| | |
| --- | --- |
| Tuesday, October 13, 2015 1:22 PM | |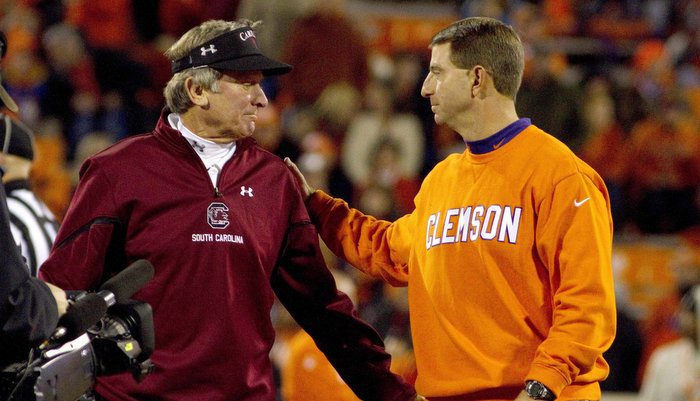 CLEMSON – Steve Spurrier is from Mars and Dabo Swinney

Dabo Swinney
Head Coach
View Full Profile is from Pluto, and there's just no simpler way to say it. They're just that different.
Swinney and Spurrier have had their differences on and off the football field, but no matter the jabs thrown or the final scores of the seven Clemson- South Carolina rivalry games between the two, both head coaches have always respected one another.
Spurrier announced his resignation from the University of South Carolina Tuesday afternoon, and Swinney took some time during his weekly press conference to reminisce on their relationship and the years of coaching against the Head Ball Coach.
The first Clemson memory of Spurrier turned out to be the Tigers 31-14 win over South Carolina, a game that ultimately sealed the deal for Swinney to become Clemson's head coach, however, the two have a long history dating back to Alabama and Florida.
"Coach Spurrier and his retirement – I had a chance to talk with him this morning and I'm really appreciative of the opportunity to visit with him," Swinney said of Spurrier. "It's ironic that the birth of my head coaching career is the day he will retire. I guess we are kind of forever linked in that regard. He is great for college football and I have a lot of respect for him and what he's done for the game of college football. Coach Spurrier and I have been competing against each other since 1989 when I was a player. I remember vividly when he came to Florida because he was different and he brought a different philosophy to the game and changed a lot of things in college football. All of those years he was at Florida I was at Alabama. I actually sacked his punter in the first SEC Championship Game and I think he threw his visor."
Since the two have been on opposite sides of the Clemson-South Carolina rivalry, there have been jabs traded throughout the years, but for both coaches, it's never been anything more than friendly banter.
"There were probably some tense times. I had just never really been a part of that. That's just who he is. He's been that way his whole career," Swinney said. "You never know what he's going to say. He'd say something and you'd be like, 'I can't believe he just said that.' I'd make a comment back. I think I mentioned this, he'd call me from time to time and reach out. He's reached out a couple of times to offer me a little bit of encouragement. He called me a couple of years ago when we got beat down there in Columbia and just dominated the game and somehow lose. He called me after the game and said, 'Man, y'all just kicked our butt. You just couldn't hang on to the football.' Then he called me after the Georgia game last year. There's that side of him because of his persona that people see. He is who he is and sometimes he probably says things like all of us that he probably wished he hadn't said or said in a different way, but never to a point that I don't have respect for him or vice versa."
The best repartee may indeed be the conversation about planets – Mars and Pluto.
"He's had a bunch of them. I go way back - all of my years recruiting at Alabama against Coach Spurrier as the head coach at Florida when they were rolling. It was always a difficult challenge," he said. "He's had a ton of them. Probably the funniest one to me was I went up to ACC media days or ESPN but somebody asked me about me and Coach Spurrier. I say what's on my mind and I never really know what's going to pop into my head, but I just said we get along, we're fine, but we're just different. He's from Mars and I'm from Pluto. I said we're just different in ways. It was really an easy comment and the next thing I know it's all over ESPN that he's from Mars and I'm from Pluto, and he comes back and says, 'I don't think Dabo knows that Pluto ain't a planet anymore.' I'm like, 'Well, dadgum, it was a planet when I was in Alabama. I missed that newsflash somewhere along the way.'
"And, then low and behold, we finally beat them suckers last year and guess what happened? Pluto has made a comeback. Pluto is a planet once again. It's unbelievable. It was in the USA Today. I told Tim (Bourret), 'Tim, look at this. Pluto is a planet.' He's one of the best when it comes to picking up on things that somebody says and having some fun with it. He's one of those guys that has always said what is on his mind, but I think he's always tried to do things the right way. I've never known him as a cheater, all the way back to Florida. I always felt like Coach Spurrier tried to do things the right way"
At the end of the day, however, Swinney said Spurrier has been good for the Clemson-South Carolina rivalry and bringing it to the national spotlight.
"This isn't a negative to South Carolina, it's just a reality, their program - all you have to do is look at the history and the facts, they only had one 10 win season in a 100 years before Coach Spurrier," Swinney said. "This game nationally was not that big of deal. People would ask me all the time, 'What's the difference between Alabama and Auburn and Clemson and South Carolina?' I'm like, 'Well not a lot. They hate each other. The biggest difference is they're not in the same conference. Alabama-Auburn is the same and same division, but Alabama-Auburn nationally always had bigger implications.' The rivalry part is the same.
"With Coach Spurrier did at South Carolina, I guess I'm the fortunate one to be at Clemson during the greatest run in the history of the school. He took them to a level that they've never been. How many top 10 matchups have you had in the Clemson-South Carolina game? Clemson historically has been the better team. There's been some runs either way along the way, but heavy, heavy Clemson, even from a ranking standpoint. You look at the games we've had - the top 10 matchup in 2013 was the first time ever. Now all of a sudden the national implications from that game change drastically. Certainly with the personality of Coach Spurrier and the success he's had, it brought a much more national audience, and now people are much more aware of it."
Everyone has an opinion on whether Spurrier made the right or wrong decision in deciding to resign, but Swinney is focused on one thing - one upping the FORMER Head Ball Coach.
"People are going to have their opinions and everybody is entitled to their opinion on what they think, but at the end of the day everybody has to make their own decision and live with that decision and do what you think is right in the moment," Swinney said. "Sometimes what you think is right, other people vehemently think is wrong. That comes with the territory. I'm not going to sit here and try to put myself in those shoes and judge Coach Spurrier. He coached to 70 years old, so I'm going to have to coach to 71 so I can one up him. I've got a long way to go."