| | |
| --- | --- |
| Mark Fields: South Carolina's loss might be Clemson's gain | |
---
| | |
| --- | --- |
| Thursday, December 18, 2014 7:01 AM | |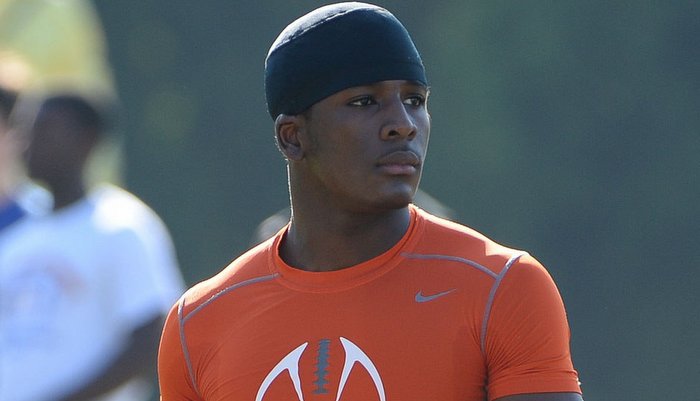 South Carolina's loss might be Clemson's gain.
Consensus 4-star cornerback Mark Fields

Mark Fields
Cornerback
5-10, 185
Charlotte,
ESPN:


View Full Profile of Charlotte (NC) Hough is one of the nation's elite defensive prospects for the 2015 recruiting cycle, earning "Fastest Man" honors at Nike's The Opening over the summer by running a 4.33 in the 40-yard dash.
Fields decommitted from South Carolina on Tuesday - citing being uncomfortable with the Gamecock's coaching situation – and as a result Fields has set an official visit with Clemson for Jan. 17. The Tigers were by to see him during the contact period. He will also try and set a visit to Texas.
Fields told TigerNet Wednesday evening his reasons for looking elsewhere, but said South Carolina was still in the mix.
"There is just a lot of uncertainty surrounding the South Carolina program right now and I'm not sure that I want to get into all of that right now," Fields said. "Really it's between Texas, Clemson and South Carolina"
What does he like the most about Texas?
"I have a good relationship with the coaching staff out there. I like the situation," he said. ""I like that situation where they'd have me coming in and competing. It has a lot to do with what they tell me I'd be able to do."
His good feelings toward Clemson begin with secondary coach Mike Reed

Mike Reed
Assist. Coach / Defensive Backs
View Full Profile , and that relationship kept Clemson in the mix even after he committed to the Gamecocks.
"I have an outstanding relationship with Coach Reed," he said. "When Coach Reed first offered me as a sophomore, that's when our relationship really started to build and ever since Clemson has always been in the loop. Obviously I committed to South Carolina back then, but now I'm decommitted and I really like the way they play. I like the people there. I think they are on the rise. I'm just generally exploring my options.
"I think Coach Reed's coaching style is tailor made to help me get where I want to get in life and that's obviously to play on the next level. I really feel like his coaching style will really, really help me get to where I want to get and the type of defense that Clemson runs is perfect. It's great."
Another plus for Clemson is cornerback Mackensie Alexander, who is just completing a stellar freshman campaign.
"Absolutely. I think Mackensie Alexander is the best cornerback in college football, to be honest. I really think he's a great player," Fields said. "I watched him a lot and I think he's an outstanding player. Mackensie reminds me a lot of myself. We're built the same way and honestly it would be a crazy duo if I were to go to Clemson.
"It would be a great honor to play with somebody that I can learn a lot from. He plays the same position as me. I watched his film and he's an outstanding player. Being able to talk to him and learn from him and play alongside him and practice with him, I think that would allow me to take my game to a whole new level."
What will Fields be looking for when he visits Clemson next month?
"To be honest with you, I'm not really looking for anything," he said. "I've been there so many times and I know what it's like. I know the people. I know Coach Reed. I have a good relationship with Coach (Danny) Pearman and Coach (Tony) Elliott. I'm not going to look for anything. I'm just going to kind of restart those relationships."