| | |
| --- | --- |
| Man on the Edge: Austin Bryant hopes to contribute right away | |
---
| | |
| --- | --- |
| Friday, April 17, 2015 4:41 PM | |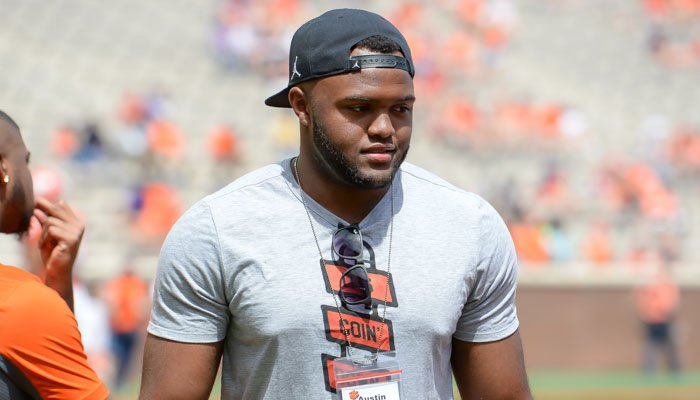 It's been no secret that Clemson's defense must replace the experienced depth at defensive end after Vic Beasley, Corey Crawford and Tavaris Barnes have all departed for the NFL.
Because of those departures, incoming freshman Austin Bryant has a chance to play meaningful snaps and contribute right away – his main goal when he committed to Clemson several months ago.
Bryant told TigerNet Tuesday evening that he made the trip to Clemson for the annual Orange and White game to scout the depth at defensive end.
"I got there Saturday morning and I left Sunday morning," Bryant told TigerNet recently. "I was just looking at the depth of the defensive ends. They told us that they were losing a lot of guys but I actually got to see what the depth was really like. Shaq [Lawson] and [Kevin] Dodd played a ton of snaps. Ebo [Ebenezer Ogundeko] played a ton of snaps. There are spots to be taken. The defensive ends coming in just have to work when we get there and earn some playing time."
What he saw was a different looking defensive line without the playmakers of 2014.
"They are definitely different without No. 3 (Beasley) coming off the edge," Bryant said. "The defense played a good game with Shaq (Lawson), (Kevin) Dodd, and Ebo. I think we'll be fine and we'll have a strong defense."
The good news for Bryant, however, is that the lack of experienced depth means that he'll have the opportunity to compete for playing time right away.
"For sure. They told us that they don't have a lot of depth at the spot, so they're looking for us to come in and be able to take reps and be ready to play," he said.
Bryant has a bright future ahead on the playing field after registering 64 tackles, five sacks and three caused fumbles as a junior before missing the last part of his senior season due to a foot injury, but said he was a bit surprised when Clemson fans were already asking for his autograph.
"The fans - they knew who we were when we were being recruited, but now that we've signed they really knew who we were," he said. "I've never played a snap for Clemson and I had fans - all of the 2015 recruits there had fans wanting us to sign autographs. I thought that was different and kind of stood out."
The 6-4, 260 pounder said his hope for the future is that fans will want his autograph because of his play and not just his potential.
"Just being able to contribute in some kind of way to the team and being able to get on the field as a freshman, that's my ultimate goal," he said. "I don't want to just get on the field, I want to do a good job because it's what I've prepared for it. That will be the biggest reward for me - being able to get on the field and see my hard work pay off that I put in on the offseason."