---
| | |
| --- | --- |
| Wednesday, December 23, 2015 7:01 AM | |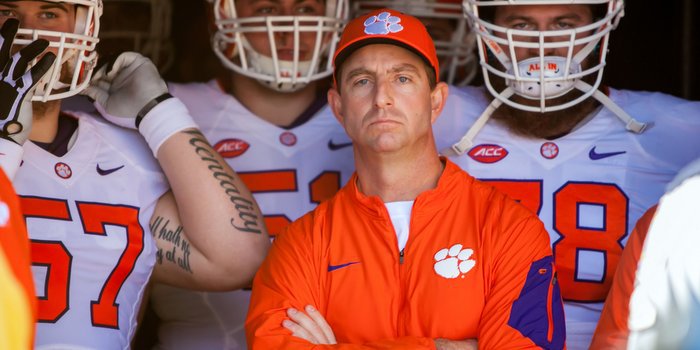 He's all about bringing your own guts and being all in and dancing in the locker room, and it's hard to look anywhere on television or social media and not see his face.
He's Dabo Swinney, he's everywhere, and he has to be Clemson's Man of the Year.
It was announced Tuesday that Swinney won the George Munger Collegiate Coach of the Year Award for the 2015 season, the fifth national coach of the year award for Swinney. He has also been named by Associated Press, Walter Camp Foundation, Sporting News, and Home Depot (ESPN).
Swinney won the Associated Press award in a runaway – he received 35 of 60 votes from the AP Top 25 media panel. Iowa's Kirk Ferentz was second with 10. Michigan State's Mark Dantonio and Houston's Tom Herman each received five votes. Oklahoma's Bob Stoops received three votes, and Notre Dame's Brian Kelly and Florida's Jim McElwain each had one.
With Swinney at the helm, the Tigers recorded wins against three Top 10 teams (Notre Dame, Florida State and North Carolina) in 2015, and posted nine straight games with at least 500 yards of total offense. The Tigers are coming off a 45–37 victory over the North Carolina Tar Heels in the ACC Championship Game.
Swinney looks to extend the nation-leading 16-game win streak as Clemson faces the Oklahoma Sooners in the Orange Bowl, which serves as a College Football Playoff semifinal game. With a victory, the Tigers would face either the Michigan State Spartans or Alabama Crimson Tide as they seek to win their first national title since 1981. Swinney has compiled a 74–26 record as the Tigers' head coach since taking over for Tommy Bowden in 2008.
ESPN's Todd Blackledge told TigerNet Tuesday that Swinney has turned the Tigers into one of the nation's elite programs. Add in another top-notch recruiting class to the talent already on campus and the Tigers are poised for an extended run at the top.
Already a bit of a media darling, Swinney has gone from a "cheerleader" coach known more for his sayings and exuberant attitude to a coach respected as one of the nation's best. Under Swinney's guidance, the indoor practice facility was finished and plans have been set in motion for a new football operations center that is Swinney's vision for the program.
Since the win over Notre Dame in early October, news outlets across the country have been running essentially an extended infomercial extolling the virtues of not only Swinney, but the football program in general and the university itself.
He probably won't win Time Magazine's Man of the Year Award, but he's already made his mark on the Clemson program. Three Sports Illustrated covers in one season, with an ESPN The Magazine Cover on the way Friday.
The success is shared by former Athletic Director Terry Don Phillips (who had the guts to take a chance on a wide receivers coach), current Athletic Director Dan Radakovich and the coaching staff Swinney has put in place.
At the Orange Bowl the Tigers will be revisiting the site of two of Swinney's signature moments – the win over Ohio St. two years ago that gave Clemson a BCS win and the loss to West Virginia two years prior.
Many wondered if the Clemson program – just beginning to gain momentum under Swinney's guidance – would be able to rebound from that debacle. Since that game the Tigers have gone 45-7 and are riding a nation's best 16-game winning streak. Swinney said earlier this season that the good old days are now, and he's right. This run of unprecedented success starts with Swinney, and that's why he is our Man of the Year.
The award doesn't come with a shiny trophy and the winner doesn't get a new car. It's my hope this is the first of many end-of-year awards we here at TigerNet can give out. For this inaugural award, however, it's a no-brainer.
Man of the Year. Who can argue?
Some of the numbers for the Clemson program under Swinney are staggering, and the program is operating at perhaps its highest level in history:
*CLEMSON HAS FIVE STRAIGHT YEARS OF AT LEAST 10 WINS: The victory at Syracuse gave Clemson a 10-0 record for 2015 and assured Clemson of a school record fifth straight season of at least 10 wins. Clemson became just the 15th different school in college football history (current FBS schools) to have five consecutive seasons of at least 10 wins. Alabama has done it twice. Clemson is now 13-0 after the win over North Carolina.
*CLEMSON RANKED HIGH IN GRADUATION SUCCESS RATE: Clemson's football program recorded an all-time best 84 percent for its Graduate Success Rate score released by the NCAA on Wednesday, November 4. Swinney's program has made an improvement in its GSR each of the last five years. Clemson ranks fourth among Power Five Conference public institutions and is tied for 11th among all Power Five schools. The program was tied for sixth in GSR Score among the top 25 teams in the nation announced November 3 by the College Football Playoff Committee. "This is the number-one ranking when it comes to our program," said Dabo Swinney. "This is our mission, to help these young men be successful in life after they leave here. That means doing everything we can to help them in their education. "I am passionate about this. I keep a list of former players who still have to get their degree and I write them a letter each year asking them what they have left. I stay after them. "The most important accomplishment for our program since I have been head coach is the fact that 114 of our 120 seniors have earned their degree from Clemson. Five of the six are in the NFL and one is in school currently."
*TIGERS SET HOME WINNING STREAK RECORD: Clemson established the school record for consecutive home wins with the 34-17 win over Boston College on October 17, its 14th straight victory. Clemson's last home loss was against Florida State on October 19, 2013. Clemson extended its home streak to 15 in a row with the win over Florida State. The streak was at 16 after a home finale win over Wake Forest. Only Florida State has a longer home winning streak than Clemson at the moment. The Seminoles have won 21 in a row.
*37 STRAIGHT OVER UNRANKED FOES: Clemson has won 37 consecutive games against unranked opponents (either poll), the longest streak of its kind in school history. The streak is 39 in a row over teams not ranked by Associated Press. All 37 of the wins have been by at least three points, the longest active streak in the nation. Alabama has the longest winning streak in the nation in terms of consecutive wins over unranked opponents regardless of the scoring margin with 60. Since Clemson's last loss as a ranked team to an unranked team at NC State in 2011, 54 different schools have lost 126 times as a top 25 team in the AP poll to an unranked team. The South Carolina game was Clemson's last game against an unranked team, so this streak will carry into next year.