---
| | |
| --- | --- |
| Wednesday, October 9, 2013 11:27 AM | |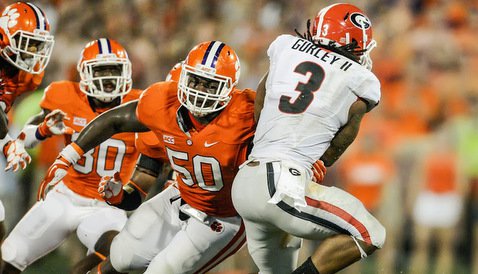 CLEMSON – When the 2013 season began, no one in the national media could name a player on the Tigers' defensive unit, but after five games stars are beginning to emerge.
Grady Jarrett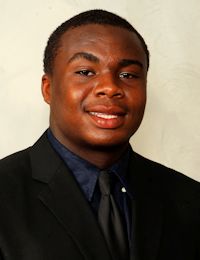 Grady Jarrett
Jr. Defensive Tackle
#50 6-1, 290
Conyers, GA
View Full Profile is one of the stars.
Opposing players rave about him. Opposing coaches can't say enough about him, and commentators say he is the best player on Clemson's defense.
Yet he is still unheralded by many fans, who love the glitz and glamour of the quarterback sack.
The Georgia native is third on the team with 32 total tackles and is first on the team with eight quarterback pressures, but he only has one sack.
It's no secret that Jarrett is a force to be reckoned with in the middle of Clemson's defensive line, but he said that he doesn't want to be known as just a "run stuffer" because he knows that he is capable of so much more.
"I feel like I've always been a pretty disruptive player," Jarrett told the media Tuesday. "Being my size and my position, people probably do think that I'm just a run stuffer. I feel like I do everything pretty good, but I still feel like I have to get better in every area. I've had a lot of quarterback pressures, but I'd like to get some sacks so I've got to get there a little faster. I've got a lot of work to do. I think I get good penetration so simply being a run stuffer - I don't like that label."
Jarrett may not be the biggest or the fastest guy on the field, but for everything he lacks, he makes up for with hustle, intensity, effort and heart.
"I always hustle to the ball because you never know what can happen," Jarrett said. "Effort is a great equalizer because the ball might pop out or the runner might still stay up and I have to get him down. I feel like if he's within reasonable distance from me, then I can go get him. I just want a piece of that action."
Jarrett is his own toughest critic and he doesn't want to take plays off and have those show up on film so he forces himself to play through fatigue and fight through weakness.
"It's just something that has always been in me – playing with effort," Jarrett said. "I take pride in that. When I see myself not giving good effort on film then I feel bad about it. That's always on my mind – just get to the ball. I don't' want to be seen as a slacker or somebody who is not known for getting to the ball. Even if I feel myself getting tired, I just tell myself to keep going. That's how I train during the offseason – even if I am tired, I'm not going to tell you I'm tired. That's my mindset and it has really helped me over these past years."
All of those qualities combined with the leadership that he brings to the field, led Clemson head coach Dabo Swinney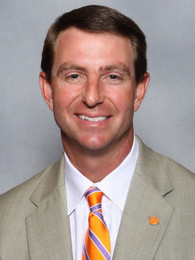 Dabo Swinney
Head Coach
View Full Profile to call Jarrett "the heart and soul of the defense."
"Everybody knows Vic [Beasley] now. He's got nicknames," Swinney said during his Tuesday press conference. "They are a blue collar bunch that is very unselfish. They take a lot of pride in what they do. But Grady is the heart and soul of the defense. Relentless in his preparation. Relentless in his effort. He made a play in the game the other night, and we stopped the tape, the quarterback got loose and scrambled, Grady got cut, flies around and throws his body to make this tackle. That's Grady Jarrett. He's that way every day. Plays with a chip on his shoulder. He's really become a great leader for us."
That label is one that Jarrett works hard every day to maintain.
"It means a lot to me. It's something that I take great pride in," Jarrett said. "I come to work everyday and try to help my teammates come to work everyday with the right mindset that we have to keep focus on where we want to end up. As long as I'm doing my job and coming with a hard edge everyday, I believe that others will follow. We just have to get it done."