| | |
| --- | --- |
| Mack Truck: Mackensie Alexander shuts down Will Fuller | |
---
| | |
| --- | --- |
| Monday, October 5, 2015 8:01 AM | |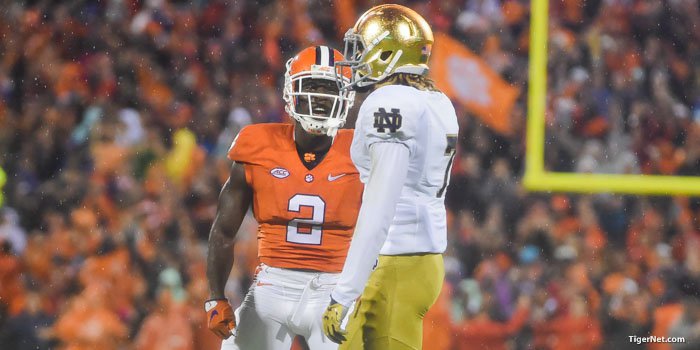 CLEMSON – Mackensie Alexander

Mackensie Alexander
RS So. Cornerback
#2 5-10, 189
Immokalee, FL
View Full Profile didn't like the fact that his defensive coordinator wasn't sleeping prior to Clemson's matchup with Notre Dame, so he decided to do something about it.
The Tigers' mercurial cornerback was matched up with Notre Dame wide receiver Will Fuller in Clemson's 24-22 victory Saturday night. Fuller entered the contest as one of the nation's leading receivers with 22 catches for 454 yards and six touchdowns.
Fuller was also on the receiving end of a Hail Mary pass that helped the Irish defeat Virginia, and Clemson defensive coordinator Brent Venables

Brent Venables
Def. Coordinator / Linebackers
View Full Profile told the media last week that Fuller was undoubtedly the best in the country.
Alexander didn't like the fact that Venables was so worried about Fuller.
"My defensive coordinator, I was worried that he wasn't sleeping this week," Alexander said after the game, nodding his head towards Venables in the hallway outside of Clemson's locker room. "I took that personal, and I wanted to go out there and take Fuller out of the game. Our defense and our offense heard how great Notre Dame was for two weeks. It was big for us to come out as a team and dominate those boys and show what we are really about. It was great. It was fun."
Fuller was held to just two catches for 37 yards – only one while matched up with Alexander – and Alexander said it was a matchup he has been looking forward to since the schedule was announced.
"It was a greatly anticipated matchup. I had been hearing about it for two weeks," Alexander said. "I knew this matchup had been coming since before the season started. Will Fuller is a great competitor, and he's been killing everybody every week. He has been dominating every week and having a hundred yards every week. I don't think he had a hundred yards this week. He had one catch against me? That's it."
Alexander said his plan was to show Fuller something different.
"This guy, if you look at his film, his performance, his numbers, he's been killing it, killing guys that are considered some of the best," Alexander said of Fuller. "I talked to him tonight and I told him, 'I showed you a whole bunch of different looks, didn't I?' And he said, 'Yeah, man, you showed me so much stuff I didn't know you were even doing.' I said, 'I know, that's what I do.' Fuller's a fast guy with a lot of ability to run deep vertical. I can run too, And I'm more physical than he is. He tried to come up on me. He noticed. It's tougher than you thought. Heading into this week my defensive coordinator and everybody was talking about he was the best in the country. I've been hearing about it for two weeks, so it was great to go out there and take him out of it and just turn around and laugh. This is what I do."
Swinney said it was good to have a player of Alexander's caliber on the roster, but that Alexander still has things he needs to improve on.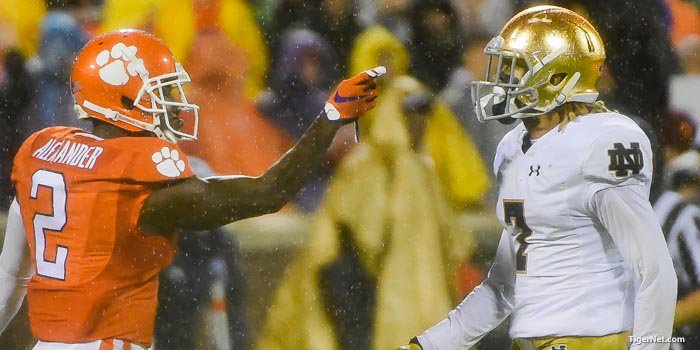 "It's comforting to have great players anywhere. He's certainly a great one," Swinney said of Alexander. "He made a lot of mistakes, too. We have a lot of coaching we will be able to do. There were things where he didn't do his job. Shoot, you want as many great players as you can have. But there will be a lot we can coach him from off of this game. And he loves to be coached and wants to get better."
Alexander was in Fuller's face for much of the night, and Swinney said he wants Alexander to channel that energy in a positive direction.
"We don't need that mess. We have to stay focused on what we're doing," Swinney said. "Emotions are part of the game, but you can't get so emotional that you get outside of yourself and risk getting a penalty. Let your play do the talking. Everyone is prideful and that's one of the things that makes him great. He's ultra-competitive. Just make sure you channel your energy."