| | |
| --- | --- |
| MacKensie Alexander: A different kind of cat | |
---
| | |
| --- | --- |
| Tuesday, October 28, 2014 2:14 PM | |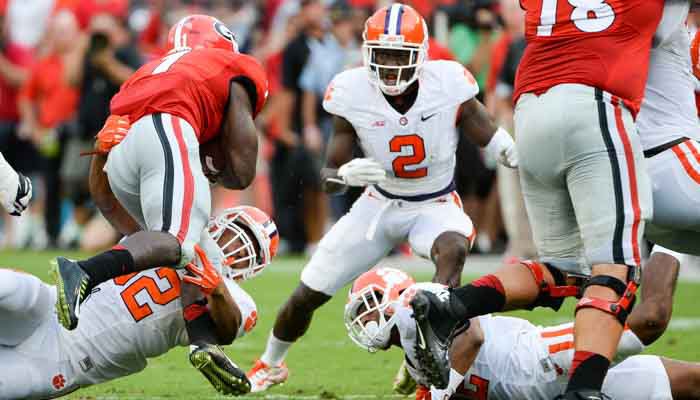 CLEMSON – Following Clemson's win over Syracuse last Saturday, coaches and players were leaving the WestZone and turning out the lights on another successful football day when someone noticed a noise and a flickering light in one of the film rooms.
A quick check revealed redshirt freshman cornerback MacKensie Alexander

MacKensie Alexander
RS Fr. Cornerback
#2 5-11, 190
Immokalee, FL
View Full Profile already hard at work, watching the game film in an effort to make sure he's the most prepared player on the field each week.
In other words, he's a different kind of cat. That's the phrase that's heard the most when you ask Alexander's teammates about the Florida native – they shake their head, give a hint of smile and say, "That cat's just different."
Alexander has rebuffed all interview requests this season, telling Clemson's sports information staff that he won't do an interview until he's accomplished something or feels like he is worthy of being interviewed. That knowledge made defensive coordinator Brent Venables smile when he was notified of that Tuesday morning.
"Good. He's in there watching film. He's mature," Venables said. "He lets you coach him hard. He coaches himself hard and holds himself to a very high standard. He has the focus and maturity to do his job and to work on fundamentals and technique. Very competitive and likes to win and takes it to another level."
Opposing quarterbacks haven't tested Alexander much this season – not that they have time with Clemson's defensive line – but he does have three passes broken up and 11 tackles.
Venables was asked what catches his eye with Alexander, and he said there are times when Alexander plays the game with a physical nature, much like a lineman.
"You'll often see a shoving match like a nose guard and a center – he's out there playing with that same type of edge," Venables said. "He's a little bit different but he's always staying hungry and realizing there's opportunity every day. He has a desire to be great – not good – but great. There are guys that are always hungry for more – desire for more knowledge, more coaching. He's not perfect. There are days that he has his guard down."
Alexander's work ethic is even rubbing off on the older players,
"He's been helping Garry (Peters) who had a really good game last week," Venables said. "Other guys are trying to emulate his consistency, focus and pride."
Senior defensive tackle Grady Jarrett

Grady Jarrett
Sr. Defensive Tackle
#50 6-1, 290
Conyers, GA
View Full Profile said the older players – even defensive tackles – take notice of what makes Alexander special.
"Mackensie is going to be one of the more special players to come through this program," Jarrett said. "Since he got here, things didn't go his way with the injuries, and he definitely would have played for us if he hadn't gotten hurt. But he prepares like no other player I've ever seen, and he is steadily watching film. He was here after the Syracuse game and already had the film uploaded and was watching. He and I have 1-on-1 talks and he knows what he wants. He is a special talent with a special work ethic, and when those two combine you get a superstar. Which is what he is in the process of becoming. When he gets that experience, he will become one of the better corners in the nation."