| | |
| --- | --- |
| Mac Lain will "cry like a baby" during emotional Senior Day | |
---
| | |
| --- | --- |
| Thursday, November 19, 2015 7:01 AM | |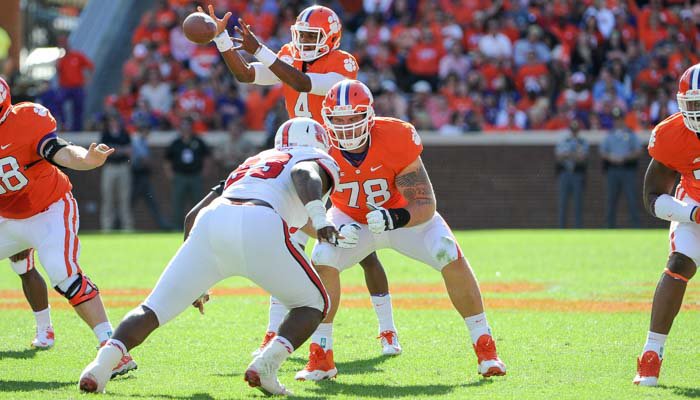 CLEMSON – Senior offensive lineman Eric Mac Lain wears his emotions on his sleeve, and those emotions are evident whether you're talking to him one on one, noticing the hug he gives his parents during Tiger Walk, seeing him in an interview session or watching him man the left guard spot for the Tigers on college football Saturdays.
So you'll forgive him if he gets a little emotional on Saturday, which will mark his last time running down the hill and playing in a game in Death Valley.
He even knows what he will be doing when he stands at the top of the hill as a player one last time.
"Crying like a baby. I've been here five years, so it's going to be a very emotional day," Mac Lain said earlier this week. "But, at the end of the day, we have a football game to play. When we get down that hill, we are going to be ready to go. It's going to be a great moment. I'm going to be crying for hours, it should be real fun. I can't wait to play. I'm an emotional guy. All of the emotions - anger and sadness. It's all going to be jam packed, unfortunately, for Wake Forest."
Sharing the moment will be fellow senior linemen Ryan Norton and Joe Gore, and Mac Lain said the trio has been through it all together.
"It's been a long journey and I couldn't do it without him (Norton) honestly. Ryan, Joe, those guys have really helped me throughout my career and molded me into the lineman that I am today," he said. "It's a very difficult process and something that I think takes a lifetime to be a good lineman. You are constantly learning new techniques and perfecting your trade, so there is no doubt I couldn't do it without Ryan Norton and Joe Gore."
Mac Lain said the group knows the finish line is in sight, and they want to savor every moment.
"I think we took a brief moment yesterday to lift our heads up and look at the finish line. Just for the realization that we are right there," he said. "But, our mentality now is, keep our head down and sprint through it. We can't have any kind of let-up and we're just looking to have a great performance Saturday."
Mac Lain said he's seen a culture change during his time as a Tiger.
"It's definitely a culture change and something Coach (Dabo) Swinney has been trying to do his whole time as a head coach," he said. "I think he finally has all of the people that he wanted in this program - whether that's staff, coaches or players - and I think we are all doing our best every week to keep making those changes. It's a constant process and there are headaches and hiccups along the way, but it's been great for this program what he's been able to do. Hopefully, in years to come, it will be the same thing."
Clemson is 10-0 and staring at a berth in the College Football Playoff, something that he says he knew was a possibility.
"It's amazing. We always knew from the spring, just watching all of us to play together, that was when Isaiah (Battle) was here at the time. We knew it was going to a special year for us," Mac Lain said. "With his departure, I think that's when the lackluster for the offensive line set in, and people were thinking it wasn't going to be a great year. But, we knew we were still the core of that and we had guys step up and fulfill their roles.
"I think we have a unique thing. When you have 39 guys that can come in and play. We have so many freshmen on this team. I'm not sure how many we've red-shirted, but it's not a lot. I think normally, teams red-shirt their freshman class, so it's pretty special what these guys can come in and do - so many of them be ready to play."
Sharing the final home game will be Mac Lain's brother Sean, who is walk-on wide receiver that is also a part of the Pershing Rifles and a member of Clemson's ROTC. Sean will carry the flag down the hill on what will also be Military Appreciation Day.
"I'm so excited - to jam pack all of that emotion in one day - it's going to be incredible," Mac Lain said. "I'm pretty sure my brother is going to be on top of the hill with the flag and I hope I can be at the bottom just waiting on him to come down and seeing my father in the stands. He'll be in some type of uniform. I'm not sure if he's decided yet, but it's going to be very emotional."