| | |
| --- | --- |
| Mac Lain understands the rivalry, thrown batteries and all | |
---
| | |
| --- | --- |
| Wednesday, November 25, 2015 1:25 PM | |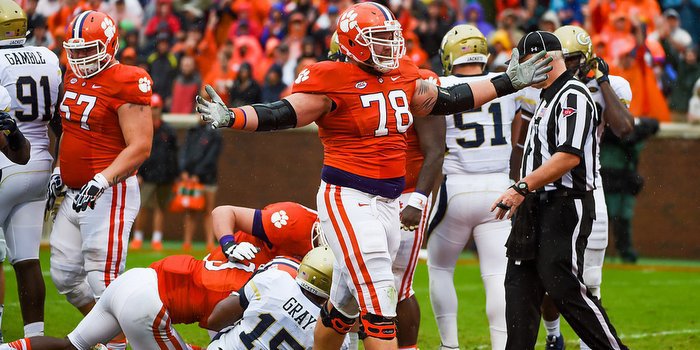 Clemson senior tackle Eric Mac Lain said this week he got an early indoctrination into the Clemson-South Carolina rivalry in his first game in Columbia.
That continued with his second trip to Williams-Brice Stadium.
And he is expecting even more when Clemson plays Saturday at South Carolina.
"When we walked into that stadium, and I see lighters or batteries or cans and stuff being thrown at players, I was like, 'Wow, this is something else,' " Mac Lain said. "And then the next year that we went there, it was the same thing, just a constant reminder that this is a real deal type thing, and you better be ready."
Mac Lain said he grew up around the Tennessee-Florida rivalry, and his grandmother attended Alabama so he knows the Tide's Iron Bowl rivalry with Auburn well. He said the only other time he has seen things thrown at his teammates was at Georgia.
But he said the Gamecocks' fans save their best comments for the Tigers.
"Not as funny, more derogatory and make you want to go cry," he said with a laugh. "They're not as creative as some of the other places we've been."
For most of this rivalry, Clemson has gotten the best of South Carolina, owning a 66-42-4 series lead. But the Gamecocks won five straight games until quarterback Deshaun Watson led Clemson to a 35-17 win last year.
"That was one of our goals that we hadn't met in so many years. To finally accomplish that last year was great for our program, and we have a chance to hit all of them this year, and that's what we're excited to do," Mac Lain said. "Last year, the only question that we got running around campus or walking anywhere was, 'Are we going to beat Carolina? Are we going to beat Carolina?' It was like, 'We've got Florida State this week, let's focus on that.' But people were still focused on that game.
"I think it's kind of changed this year. I was talking to Deshaun and some of the other guys, and they said they hadn't gotten that at all until this week, so I think that our fan base was definitely relieved."
The Tigers are 11-0 and ranked No. 1 in the College Football Playoff rankings, The Associated Press poll and the coaches' poll. South Carolina has stumbled to a 3-8 record with head coach Steve Spurrier resigning in the middle of the season.
"I'm upset. That takes away from our strength of schedule. I'd rather them be No. 2 in the nation and this be an 8 o'clock game on ABC. So I don't have any satisfaction from them losing other than to us," Mac Lain said. "When you talk about a rivalry game, it doesn't matter at all, especially going there. Their fans are going to bring it. I'd be disappointed if they didn't.
"When you play a rivalry game, you can just throw the records out of the book because it really is a season of its own."
From 1970 to 2008, Clemson didn't lose consecutive games to South Carolina. But the Gamecocks won at home in 2009, the first of their five straight wins (and they weren't really even close). The Tigers, who had won three straight trips to Columbia starting in 2003, haven't won in there since 2007.
"These last couple of years, it's been very loud. They bring it every single Saturday when we come," Mac Lain said of the Gamecocks' fans. "I think that us being at a noon game, I hope that doesn't take away from the environment; I don't think it will. Obviously, with such a big game for both them and us, we hope their fans bring it. When they're at their loudest, they're probably right up there next to us, when you're talking about home-field advantage. Their fans really bring it."
*Daniel Shirley is the sports editor of The Telegraph in Macon, Ga., and co-host of The Morning Show on FoxSports 1670 AM. Follow him on Twitter at @DM_Shirley and read his blog at macon.com/peachsports.