| | |
| --- | --- |
| Mac Lain says "the moment" won't be too big for Tigers | |
---
| | |
| --- | --- |
| Friday, November 6, 2015 3:25 PM | |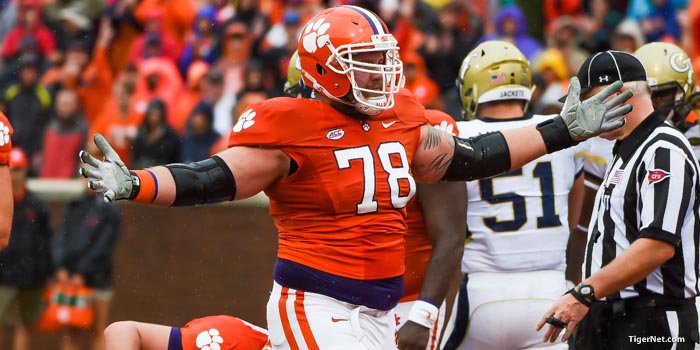 CLEMSON - The rankings don't matter and Clemson has only been a few plays away from beating Florida State the past few years – Dabo Swinney has preached this message, and offensive guard Eric Mac Lain is following in his footsteps. The redshirt senior was loose, yet confident this week as the team prepared for yet another game that could help define the 2015 season.
Many Clemson fans are haunted by the disastrous 2013 game in Death Valley against the Seminoles, and that sentiment isn't lost on the players. However, Mac Lain believes the current leadership is more prepared to lead the team to victory this time around. Additionally, there are fewer distractions: The GameDay crew has come and gone, the intrepid Famous Jameis has left the NCAA, and the Tigers have adapted (and succeeded) during high-pressure situations.
"I think the moment was almost too big for that [2013] team. We weren't ready or mature enough to handle the amount of energy," Mac Lain said. "GameDay was here and all the hype that was around that game, I think it was just more of a distraction and we let it play into their hands."
Mac Lain also mentioned that great teams find a way to win, even when the opposing team appears to be leading on the field – which is what Florida State has done in recent years. However, Clemson has played the role of the gritty winning team during its 2015 season. The defining moment thus far being a defensive stand in the final seconds against Notre Dame.
At this point in Clemson's football season, the nation has seen the offense and defense experience highs and lows. Even so, Mac Lain sees that as a bright spot for the team. The opposite side of the ball has stepped up each time its counterpart has had a rough day.
"I think that's a great testament to this team. We can rely on offense, defense, running the ball, passing the ball. It's great when we can really help the defense out. There's been numerous times when they've had to bail us out so it's been great to be on the other side of that and just pull out a great team win."
What's better, is that the Clemson offensive line has dominated more than most predicted this year. The group has formed a special bond.
"The chemistry this offensive line has developed is special. The love and appreciation that we all have for one another is second to none that I've been a part of," Mac Lain said.
The O-line is still feeding off of the energy of injured senior Ryan Norton from the sideline – and likewise feeding off of junior Jay Guillermo's sense of humor when times get tense.
"It's great when you can have such a great player like Ryan [Norton] go down and have someone else step right up," Mac Lain said. "Ryan is great at being on the sideline and looking at what the defenses do. He's going to be a great coach one day because he can just see things and pick it apart, and really help us on the sideline. It's been great to have his eyes out there."
And then there's Guillermo, who's open about asking star quarterback Deshaun Watson to tell him, "Hey man, tell me you love me," when the QB gets stressed. Clemson has a future life coach in Guillermo and a future football coach in Norton on its sidelines.
So how has the team prepared for Saturday and the recent rankings? Mac Lain was hoping for a #5 College Football Playoff spot to really get his team inspired.
"Best case scenario: We're number five. You know they might as well cancel the game on Saturday if we're number five because they will have no chance with the amount of disrespect and energy we would feel from that."
Unfortunately for Mac Lain, Clemson appeared at number one. Of course, he was also ready to help put everything in perspective for the team and fans.
"Until December 6, nothing really matters," he said. "I find it very interesting to see how they rank us against the AP and Coaches Poll, but other than that they don't really matter except for enjoyment and entertainment."
This Saturday will clarify a lot of things for the Clemson faithful, the media, and all other college football fans. Can Clemson take the ACC crown from FSU, and are they truly a contender for the big one?