| | |
| --- | --- |
| Mac Lain and Hyatt excited about chance to play The U | |
---
| | |
| --- | --- |
| Friday, October 23, 2015 9:18 PM | |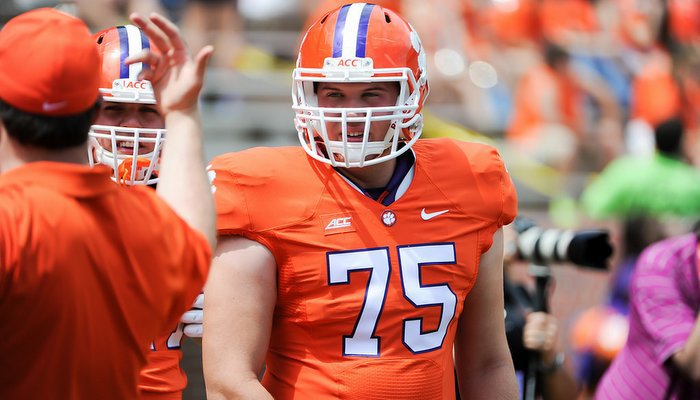 Clemson guard Eric Mac Lain hasn't played against Miami during his time with the Tigers.
He gets the chance to change that Saturday afternoon when the Tigers and Hurricanes meet for the first time since 2010. Clemson's last trip to Miami came in 2009.
"It's a very storied program. (I'm) extremely excited to finally get to play them," Mac Lain said. "I've been here five years, and this is first time that we get to go there and play them. Even (co-offensive coordinator Tony) Elliott was talking about (this week) that he's extremely excited to go against The U, so we're extremely excited about our opportunity.
"I think it's similar to (Notre Dame) and just playing another brand school. We're excited to get the opportunity, and it's going to be a fun time taking our talents to South Beach, like (head coach Dabo) Swinney said."
Mac Lain joked that he no longer gets to show off his receiving talents. The former tight end saw current tight end Jordan Leggett catch a touchdown pass for the fourth straight game last week against Boston College.
"Sadly, yes, all the time," Mac Lain said when asked if he thinks back on his tight end days. "I envy Jordan. Not sure if you guys noticed, but every time he scores, I don't even celebrate. I just walk away from him and say, 'Man that should have been 88 over there.' But no, I'm extremely excited about that. It's awesome for him to accomplish."
While Saturday's game is Mac Lain's first trip to Miami, it also offers 15 Tigers a chance to head back to their home state.
The game also has a bit of a different feel with the first noon start of the season for Clemson, although the first two games against Wofford and Appalachian State kicked off at 12:30 p.m.
"Until we're 15-0, we're going to have something to prove each week," Mac Lain said. "We're excited to go down to Miami, and having a noon game is going to be a little bit different. We haven't done that yet on the road. But we have so many guys from Florida, so many guys excited to play against The U, we're going to bring energy, and the hype for that game is going to be phenomenal. I really don't think it's going to be too much of a problem. Obviously, it's very different, something we haven't done yet, but we're going to be prepared."
The Tigers certainly have been prepared for pretty much anything they have seen in recent years. Clemson's winning streak against unranked teams is up to 34 games, dating back to a loss to N.C. State in 2011.
"It's awesome to see the young guys handling it so well, but I really think it's just our coaches, the way they have downgraded the success and diminished the hype. 'Yeah, we're No. 6 in the nation. Yeah, we're undefeated,' " Mac Lain said. "But it really doesn't feel that way. We're just coming in week to week and continuing to work. So they're doing a tremendous job of helping us not let our heads get too big."
The game marks just Clemson's second road trip of the season. The Tigers beat Louisville in their third game.
They are also on the road next week against N.C. State and after that have two more games at home (Florida State and Wake Forest) and two more games on the road (Syracuse and South Carolina).
"Definitely, going to Louisville, and some of the guys have been to Miami, and they have said it's definitely a different atmosphere," true freshman tackle Mitch Hyatt said. "I would just say what I take from Louisville, we're going to be going down there, the atmosphere down there won't be anything like it is here, so I think it will be a good game. I don't think it will be too much of a difference."
The Tigers have faced some good defenses in Louisville, Notre Dame and Boston College, but Mac Lain said Miami offers a different kind of challenge.
"Athletes all over the field, offense and defense," he said. "There's NFL talent everywhere you look. You're watching film, and you see one guy make a play, and the very next play, you see two different guys that you didn't see before make a play. So we're going to have to be extremely alert and extremely obvious to where their guys are lining up and different things they present. They're very athletic, and they don't give away their blitzes because they're fast enough to do so. They can align the same way every time and do something different every time, so it's something to be a big challenge for us this week."
Daniel Shirley is the sports editor of The Telegraph in Macon, Ga., and co-host of The Morning Show on FoxSports 1670 AM. Follow him on Twitter at @DM_Shirley and read his blog at macon.com/peachsports.