| | |
| --- | --- |
| Loss in title game stings, but Scott focused on team's heart | |
---
| | |
| --- | --- |
| Tuesday, January 12, 2016 4:24 PM | |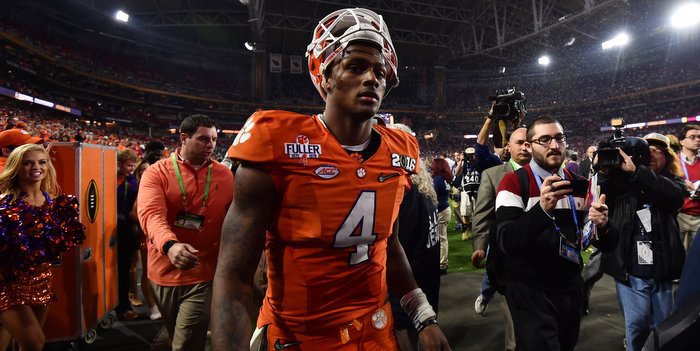 GLENDALE, AZ - Clemson co-offensive coordinator Jeff Scott certainly was disappointed that the Tigers came up short against Alabama on Monday in the national championship game.
But that's not what Scott will take out of the 45-40 loss.
"Any time you come up short, you're always going to go back and second guess, but that's not really what I'm going to remember about this game," Scott said. "I'm going to remember these guys didn't quit, and any time they faced adversity, they came right back. That last drive (a late touchdown to pull the Tigers within five) really said a lot about this group, what we have in this locker room.
"Any time you play a good team like Alabama, you're going to have opportunities to make plays, and they're going to make plays, and it goes back and forth. Unfortunately, for us, we just ran out of time (Monday)."
That fight is something Scott said he saw from the offensive unit all season, and he credited the players up front for a lot of that.
"Each and every week, our guys have shown up," Scott said. "There have been some doubters out there any time we've played a good group. I just couldn't be happier for this offensive line, and what they have shown this year has just been remarkable. One of the best years in Clemson football, and those guys up front deserve a lot of that credit. They were battling their butts off (Monday) just like all the guys were, so we were proud of those guys this season."
Quarterback Deshaun Watson completed 30-of-47 passes for 405 yards and four touchdowns, and he also ran for 73 yards on 20 carries. Watson moved the Tigers quickly down the field in the closing seconds and hit Jordan Leggett with a 24-yard scoring pass with 12 seconds left to give the Tigers a chance for an onside kick, which went out of bounds.
"Deshaun performed like he has all year long," Scott said. "He's one of the best players in the country. He's proved that all year. And he proved that (Monday) versus one of the best defenses in the country. Deshaun is just one of those special players, and he battled (Monday). He took some hits, a very physical game, and he's just a competitor.
"He's got a big heart, and I'm proud to see the way he finished the game, going down there and driving the team for a score and at least giving us an opportunity for an onside kick and never quit."
Wayne Gallman was held to 45 yards on 14 rushes, but the sophomore added three catches for 61 yards, including a catch and run that helped set up Clemson's final score.
"Wayne's just got a lot of heart, and I think you saw that on that last drive, just a will-not-be-denied attitude," Scott said. "We're watching a very special player here; he's kind of come on this year, and Wayne is one of the best running backs in the country. Really proud, he was battling an injury (Monday), and he was banged up a little bit, but you couldn't keep him off the field because of his heart, and that showed (Monday)."
Scott wasn't ready to look ahead to 2016 and Clemson's prospects for that season just yet. Even with Monday's loss he wanted to take time to appreciate the 14-1 campaign, which included Clemson's first ACC title since 2011.
"I think there will be time for that," Scott said of 2016. "Right now, just thinking about this season, just a remarkable year, the way the guys have played all year. We've got a team that's talented enough to be back, and that'll be our goal whenever we get back and started next week."
Daniel Shirley is the sports editor of The Telegraph in Macon, Ga., and co-host of The Morning Show on FoxSports 1670 AM. Follow him on Twitter at @DM_Shirley and read his blog at macon.com/peachsports.