| | |
| --- | --- |
| Lipstick on a pig, Watson shoved and other thoughts from Raleigh | |
---
| | |
| --- | --- |
| Sunday, November 1, 2015 2:01 PM | |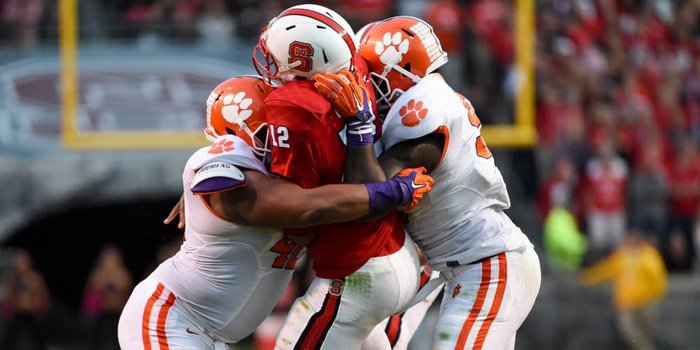 RALEIGH, NC – I didn't quite know what to expect when I walked into the tunnel outside of Clemson's locker room following the victory over N.C. State Saturday evening underneath Carter-Finley Stadium.
The Tigers had just put the finishing touches on a wild and dramatic 56-41 victory over the Wolfpack, moving to 8-0 on the season and setting up next Saturday's ACC Atlantic showdown with Florida St. However, the defense showed signs of vulnerability and the special teams were once again a mess. A team that looked like one of the most complete in the nation over the past few weeks won a game in which it really won just one phase of the game, using an unstoppable offense to overcome the defensive and special teams miscues in earning the win.
I settled into the hallway outside the locker room, watching as players filed past to head to the buses and the sports information staff grabbed certain players for interviews. What I didn't see were a lot of frowns and worried faces. What I saw was a group of players smiling over a win, and I heard one of Clemson's linebackers tell a bystander, "It's a win. And wins are hard to come by, especially on the road in the conference. The other guys have scholarship players, too, and they have coaches that are paid to win. We just have to go back and correct what we did wrong."
That sounded a lot like head coach Dabo Swinney, who tells the media every week that wins are a highly sought after but hard to get commodity in this day and age. Miami beat Duke on the road in a miracle a week after getting lambasted at home. A talented Notre Dame team was taken to the wire at Temple. Ole Miss lost a few weeks ago at Memphis. Florida St. lost at Georgia Tech last week in indescribable fashion, losing to a Tech team that has lost six of its last seven games since a 2-0 start to the season. It's hard to explain, but it's why those special seasons – the ones where your loss column doesn't have a blemish – are hard to come by.
Swinney rushed by us on his way into the cramped and crowded interview area, and I think after covering the man since mid-2008 I can get a read on his postgame feelings. I've seen him angry after wins and I've seen him reflective after losses, and I've learned that the scoreboard is really never a true indicator of his feelings. He walked past us with a big smile, and then said what the rest of us were thinking.
"Back to back road wins is not easy, and it's not always going to be beautiful like last week," Clemson coach Dabo Swinney said. "Sometimes you've got to put lipstick on a pig and roll with it. We made enough mistakes to lose the game, but made plenty of plays to win it. If you're going to have a great year, you've got to win all kinds of different ways."
It wasn't pretty, but it's a win on the road in the conference against an opponent that was ready for a fight.
Speaking of fight – kudos to Deshaun Watson for walking away after an NC State coach shoved him. Pack assistant Des Kitchings appeared to shove Watson in the back, and after watching replays I thought to myself it was a wonder it hasn't happened sooner. Watson is – simply put – on fire. The pass he dropped into Deon Cain for a second half touchdown was a thing of beauty – a dime in today's parlance – and he's been lights out the last four games.
In wins over Georgia Tech, Boston College, Miami and now N.C. State Watson is 86-for-120 for 1,211 yards and 11 touchdowns. The deep ball is back, and he's also making plays with his legs. With every game he plays, he looks more and more comfortable in the pocket, and that has to be scary and frustrating for opponents. It's not worth a shove in the back, Des – you have to be classier than that – but I see where you're coming from.
Finally, lost in all the hoopla of the win is that Clemson is in some rarefied air these days. Clemson has won 11 in a row dating to last year, the Tigers' longest winning streak since the Tigers won 13 in a row between 1980-82. Clemson has won 17 of its last 18 games for the first time since the 1938-40 era when Banks McFadden starred for the Tigers.
Clemson has started 8-0 for the first time since 2011, but just the fifth time in school history. The other years Clemson started at least 8-0 are 1948 (11-0), 1981 (12-0) 2000 (8-0), and 2011 (8-0). In 2011, the Tigers' undefeated season ended on a miserable night at Georgia Tech, and that was on October 29th. This is the latest the Tigers have been undefeated since…….1981.
None of it matters, however, if they don't beat Florida St. next weekend. Style points don't matter – all that matters for Clemson is the win. Even if you have to put lipstick on a pig.