| | |
| --- | --- |
| Like Sammy Watkins, Artavis Scott is a different kind of cat | |
---
| | |
| --- | --- |
| Thursday, April 16, 2015 11:48 AM | |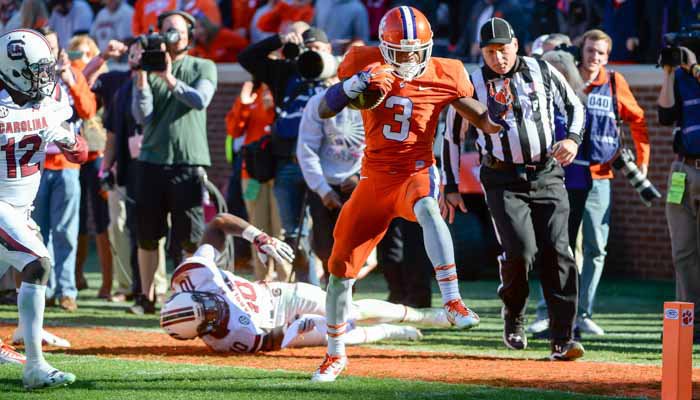 CLEMSON – It doesn't matter if he is making plays on the football field, studying film when everybody else is out having a good time or undergoing an interview session with the media it's instantly obvious that Artavis Scott

Artavis Scott
So. Wide Receiver
#3 5-10, 190
Oldsmar, FL
View Full Profile is just a different kind of cat. Just like Sammy Watkins

Sammy Watkins
Wide Receiver (2011 - 2013)
#2 6-1, 205
Fort Myers, FL
View Full Profile .
The rising sophomore wide receiver hails from the same state as Watkins – Florida – and earned a starting job his freshman season. He was named as a First-Team All-American by USA Today after leading Clemson with a team-high 76 receptions for 965 yards and a team-high eight touchdowns. Along the way, Scott passed a number of Watkins' milestones, and put an exclamation point on his season by torching South Carolina with seven receptions for 185 yards and two scores, the most receiving yards in the history of the rivalry by a Clemson player and the most in any game by a Clemson freshman.
His reception total was third-best in the nation among freshmen and ranks second in school history for a freshman. Only Watkins and his 82 receptions in 2011 rank higher among Clemson freshmen.
The native of Oldsmar, Fla. became the first player in Clemson history to record 10 receptions in consecutive games when he had 10-66 in the win over Louisville, then had 10-72 the following week in the victory over Boston College.
So what makes him tick? Scott is measured in his answers, but admits that being a Florida native and seeing what Watkins was able to accomplish as a Tiger fed his ambition. He then said that Florida's top recruits wind up at Clemson because of the winning environment.
"I think it's the success that we have had here. I think that just builds," Scott said recently. "Clemson is a different place and not like normal places and you'll see that once you come here as a recruit. You see and visit here and it's a different type of place that you don't see every day. And, once you come here it's like a family and you get that feeling. That's why I think most of us coming from Florida come here because they want that type of thing to happen."
Scott arrived on Clemson's campus last season ready to make plays, saying that he had the confidence he could help the offense right away.
"That's always my mindset. If you go in there and say, 'Oh I can't do this,' then you shouldn't be playing. I know I can play football and this is about confidence," he said. "If you think you can't do something, then you aren't going to do it. It's about how you think. I knew coming in here that I was going to have to pick up on new things and I already knew that. Coming in early as a player it just helped me more and Coach (Jeff) Scott going there and learning things and other players helped me out with a lot of things. My mindset is just different. I'm never going to come into something saying I can't do it. My confidence is high and I just went out there and did what I had to do."
Head coach Dabo Swinney

Dabo Swinney
Head Coach
View Full Profile says the coaches won't let Scott think he has arrived, and have pushed him this spring to be a more complete player.
"We challenged Artavis. They don't have sophomore All-American teams,'" Swinney said. "That freshman All-American is stuff is great if you play a little bit. Get on TV a couple times you get freshman All-American. He needs to really grow and develop into a more complete receiver. In particular, making plays downfield. That's what we went into this spring – we all know he can make plays with the ball in his hand and all that stuff. But high-pointing the ball, holding lines, his releases, and route technique and finishing plays with great body control when guys are leaning on him, that's what he needs to do and you saw that (in the spring game)."
Offensive coordinator and wide receivers coach Jeff Scott

Jeff Scott
Co-Offensive Coordinator / WR
View Full Profile compared Scott to Watkins in that both can take a quick screen for a touchdown, but said Scott needs to learn to be able to make plays down the field.
"Obviously last year he showed what he could do with the ball in his hands," Scott said. "And we wanted to challenge him to be a complete receiver and don't just be known as a guy who can catch a quick screen or a speed sweep and take it the distance. Can you develop and be a downfield threat? That's something that we've had at that position. Sammy Watkins obviously could do very well with the quick screens, but if they wanted to come up and get in his face you could go over the top with the deep balls. That's something Artavis has really had to develop and work on. He's stayed after practice and worked on that."
Scott said that last season was just the beginning.
"I want to get better than I was. If I go in there each day and think about what I did yesterday, that's not going to help me," he said. "Last year's stats are not going to win this year's battle. So, I just go out there every day and think about what I have to do as a player and critique my game. Last year was just the beginning. I can't just stop there, I have to keep grinding and doing what I got to do. And, I just have to work on my craft as a complete player, not just one part of my game. I just got to work on everything."