| | |
| --- | --- |
| Lesson learned: Deon Cain helps fuel win over Florida St. | |
---
| | |
| --- | --- |
| Monday, November 9, 2015 12:02 PM | |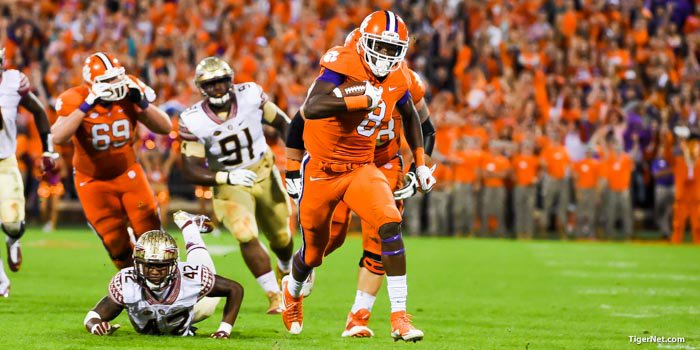 CLEMSON – During the first ten weeks of the season, Deon Cain has learned what it means to play Clemson football – the system on the field and what it takes to be a student-athlete at Clemson University.
The freshman seamlessly made the transition from quarterback to wide receiver but was forced to sit out the Miami game for what he called disciplinary issues. However, the lessons he learned off the field led to a more focused and determined player on the field, culminating a touchdown against his favorite childhood team.
The Tampa (FL) native told the media after top-ranked Clemson's 23-13 win over Florida State Saturday night that the experience of sitting out at Miami helped him mature and grow as a player and a person.
"It was just something from a discipline standpoint. I learned a lot from that experience watching my teammates play without me," Cain said Saturday night. "It made me better, and going into that next week at N.C. State I wanted to prove to them that I'm still that guy. I wanted to show out and go hard for my team. It wasn't hard [not being out on the field in the Miami game] because I wanted to show them my effort and that I'm improving and that I'm maturing. I was mostly supporting them. If you saw, I was probably the first person that was there to congratulate someone after they scored. I was always trying to encourage them on the sideline and tell them good things and help them keep their head up."
As a result of the way Cain responded, the coaches and quarterback Deshaun Watson have gained more trust in him and put the ball in his hands early in the third quarter, as Cain caught a screen pass from Watson and followed a wall of blocker 38 yards to the endzone giving the Tigers their first lead of the game.
When Cain saw Jordan Leggett, Eric Mac Lain and Jay Guillermo in front of him, he knew he had hit pay dirt.
"It was just a typical screen play. I had a feeling that they were probably going to bust because of the way they lined up towards it," Cain said. "Leggett gave me a great block and also going down the field you saw my great linemen making great blocks. I just saw the crease and my mindset is to go ahead and attack it, so I gave it all of my heart and just ran to the end zone. All I saw was one blocker in my way, and I saw one of my linemen take them away, so after that I knew it had to be six. I just put on the burners and kept going forward."
The touchdown was just the second of Cain's young career, but it was just as special as his first because of the opponent.
"I'm from Tallahassee, so it's good to get a touchdown against my hometown team. I moved to Tampa when I was like six years old, but I was born and raised in Tallahassee," he said. "I was always a Florida State fan because those are the games that I used to go to when I was little. Deon Sanders was probably my favorite player. He's my all-time favorite. A lot of my people are Florida State fans, but now they've kind of switched over because they know Clemson is better than Florida State. All I used to hear is, 'Go, Noles,' so I had to prove them wrong."
As excited as Cain was to score a touchdown against the Seminoles, he couldn't quite describe his jubilation when he saw Wayne Gallman break free into the endzone to seal the win and the division title.
"It was a great experience. To actually put the game away and to win the ACC Atlantic Championship, you guys have to know that we've worked too hard," he said. "We deserved this win. I was on the sideline, but I should've been on the field. I was live."