| | |
| --- | --- |
| Leggett says freshmen have to experience the rivalry to understand it | |
---
| | |
| --- | --- |
| Wednesday, November 25, 2015 11:29 PM | |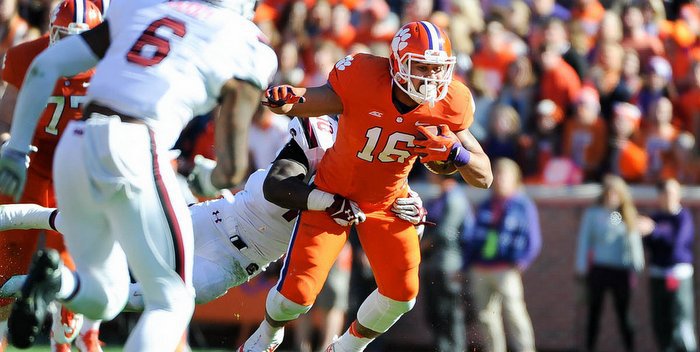 Clemson junior tight end Jordan Leggett said the team's young players have to experience the Tigers' rivalry with South Carolina to understand it.
There's no way to do it justice just by talking about it.
Leggett is entering his third game in the rivalry, suffering a loss two years ago in Columbia and celebrating a win last year in Clemson.
"You really can't tell them what the rivalry is like until they actually make that trip up to Columbia because I had to do that my freshman year," Leggett said. "And they legit hated us. That's basically when I found out why the rivalry is the way it was. There's nothing we can tell them. We can hype it up as much as we want to, but really they won't understand it until we get into that atmosphere down there in Columbia.
"It was just crazy. After we lost, we were so down, and walking off the field, people were throwing stuff at us. I just felt like they really hated us, so I was really excited to play them again the next year, and we ended up winning, so it felt good."
Leggett is a Florida native, so the rivalry doesn't have the natural importance to him that it does for the instate players. He enjoys it nonetheless and is looking forward to doing his part to help those instate players get that big, emotional win.
"I feel like this rivalry is more for like in-the-state players. Me being from Florida, I had my rivalries back home, but this is kind of a rivalry where I'm just here to help out and help the team win kind of thing," Leggett said. "I don't have any friends up here to brag to about it or anyone who goes to South Carolina."
Leggett is looking forward to his second trip to Columbia and said the Gamecocks fans' reaction to the Tigers helps him get excited for the game. Clemson hasn't won in Columbia since 2007.
The Tigers snapped the Gamecocks' five-game winning streak with a 35-17 win last year.
"When we get there, when we pull up on the buses, they will be rocking the buses, all the fans and stuff like that," Leggett said. "It's definitely a hostile environment. It definitely makes you think if we have enough police escorts and stuff like that.
"Other than that, it definitely gets you ready for the game and hypes you up because I like when people talk mess about us because it ends up in us playing better."
The Tigers certainly have played well this season, winning all 11 of their games and sitting first in the College Football Playoff rankings for the fourth straight week. Clemson is also once again ranked No. 1 in The Associated Press and coaches' polls.
Clemson head coach Dabo Swinney said Tuesday that this has been an enjoyable team to be around. Leggett agreed.
"I think he just means all the guys are so willing, and they've bought into the process, and they're just all really coachable," Leggett said. "We don't have any more distractions on the team. I agree, this team is a whole lot better as far as taking coaching and applying it to every day at practice. I definitely agree that this team is a lot more coachable than the last couple."
That has led to a historic season with the program's third 11-0 start. Clemson is followed in the College Football Playoff rankings this week by Alabama, Oklahoma and Iowa.
"Alabama has definitely earned their reputation in college football just from winning so many national championships back to back," Leggett said. "I feel like if we make this run this year, we'll start building our reputation. A lot of teams have it. We have one national championship, so we've just gotta keep building on that, and I feel like we'll get the respect that we deserve."
Leggett is getting plenty of respect among the nation's tight ends.
On Tuesday, he was named a finalist for the John Mackey Award, which honors the top tight end in the nation. The other two finalists are Arkansas' Hunter Henry and Stanford's Austin Hooper.
Former Clemson tight end Dwayne Allen won the award in 2011. Leggett has 27 catches for 345 yards and six touchdowns this season.
"There's really no case to state except for just a watching me play kind of thing, so we'll see," Leggett said.
*Daniel Shirley is the sports editor of The Telegraph in Macon, Ga., and co-host of The Morning Show on FoxSports 1670 AM. Follow him on Twitter at @DM_Shirley and read his blog at macon.com/peachsports.