---
| | |
| --- | --- |
| Sunday, December 29, 2013 12:42 AM | |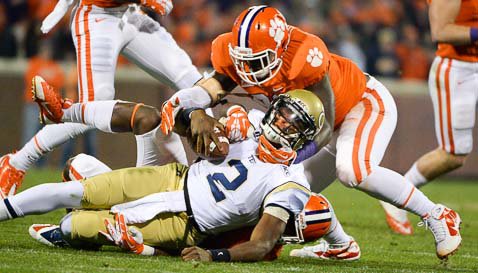 CLEMSON – Five days after the completion of the Orange Bowl, the Clemson coaching staff will sit down with the players that are returning next season and go over the winter schedule and expectations.
Conspicuous in their absence will be many of the team's leaders from the past few seasons – quarterback Tajh Boyd

Tajh Boyd
RS Sr. Quarterback
#10 6-1, 225
Hampton, VA
View Full Profile , running back Roderick McDowell

Roderick McDowell
Gr. Running Back
#25 5-9, 195
Sumter, SC
View Full Profile , offensive linemen Brandon Thomas

Brandon Thomas
Gr. Offensive Line
#63 6-3, 305
Spartanburg, SC
View Full Profile and Tyler Shatley

Tyler Shatley
Gr. Offensive Guard
#62 6-3, 295
Icard, NC
View Full Profile and linebacker Spencer Shuey

Spencer Shuey
Gr. Linebacker
#33 6-3, 230
Charlotte, NC
View Full Profile . Juniors like Sammy Watkins

Sammy Watkins
Jr. Wide Receiver
#2 6-1, 205
Fort Myers, FL
View Full Profile and Vic Beasley

Vic Beasley
RS Jr. Defensive End
#3 6-3, 225
Adairsville, GA
View Full Profile – should they opt to head to the NFL – will also no longer be in the meetings.
With all of that leadership heading into new chapters in their lives, who will be the leaders of the 2014 Clemson Tigers?
"That's always interesting to see," Clemson head coach Dabo Swinney

Dabo Swinney
Head Coach
View Full Profile said Friday. "I will have a team meeting the week they start back, and that is really the first time that it starts to set in that those guys (seniors) aren't in the room anymore, and it's a new team. There is recruiting going on, and there are mid-year guys coming in and new guys showing up. It takes a few weeks, I think, for it to start settling in and everybody to start adjusting to different roles. The guys they have been listening to are no longer there."
Swinney said that he hopes leaders will begin to emerge once the off-season programs commence.
"Once they start to roll into that off-season program the next week, and when we get back with them and get to going on the mat drills and all that kind of stuff, that is when your football team starts to gel a little bit," he said. "And then you carry that over into spring ball. It is a continual process. Even with this team this year – we changed drastically from January to the team we started with in August.
"Coach (Joey) Batson will have accountability teams and we will accountability leaders, and those guys will draft their teams. And it has nothing to do with football. It's all about who they want on their team from an accountability standpoint, and we carry that all the way through the semester, whether it is academics or study hall, tutors, wearing the right things to workouts, everything counts. There is a point system, and everything counts. That is the way we develop our team within the team, and it's kind of fun to see how all of that kind of comes together."
I asked Swinney who he would like to see step into the leadership void, and the first name he mentioned was rising senior quarterback Cole Stoudt

Cole Stoudt
Jr. Quarterback
#18 6-4, 205
Dublin, OH
View Full Profile .
"We have a lot of guys. You want to see a guy like Cole Stoudt, who has been around here a long time, assert himself. I think he has good respect from all the players," he said. "I think you look at the offensive line, and you have Ryan Norton

Ryan Norton
RS So. Offensive Line
#58 6-3, 270
Simpsonville, SC
View Full Profile , who isn't a senior but he is a guy that has played and established himself. He has the great respect of his teammates. You look at the linebacker position and you have Stephone Anthony

Stephone Anthony
Jr. Linebacker
#42 6-2, 235
Polkton, NC
View Full Profile and Tony Steward

Tony Steward
Jr. Linebacker
#7 6-0, 235
Hastings, FL
View Full Profile . In the secondary, you have Garry Peters

Garry Peters
RS Jr. Cornerback
#26 6-0, 195
Conyers, GA
View Full Profile and Robert Smith

Robert Smith
Jr. Safety
#27 5-10, 210
St. George, SC
View Full Profile and Bashaud Breeland

Bashaud Breeland
RS Jr. Cornerback
#17 6-0, 195
Allendale, SC
View Full Profile ."
Swinney has never had a large senior class during his tenure, and he said that he was excited about how many upperclassmen he will have next season.
"We have a really good junior and sophomore group on this football team that will be juniors and seniors next year, which will be fun because we will have the largest number of upperclassmen that we have had in a while. I am excited about that, because it means you have a lot of experience on your team. This senior group next year has won a lot of ballgames. I really like where we are from an upperclassmen standpoint. We are losing some good players, good people and good leaders, but I like the group that is moving up. "

Tags:
Bashaud Breeland
,
Brandon Thomas
,
Cole Stoudt
,
Garry Peters
,
Robert Smith
,
Roderick McDowell
,
Ryan Norton
,
Sammy Watkins
,
Spencer Shuey
,
Stephone Anthony
,
Tajh Boyd
,
Tony Steward
,
Tyler Shatley
,
Vic Beasley