| | |
| --- | --- |
| Lazy Leggett no more? Dwayne Allen helps young tight end see the light | |
---
| | |
| --- | --- |
| Friday, April 4, 2014 12:09 AM | |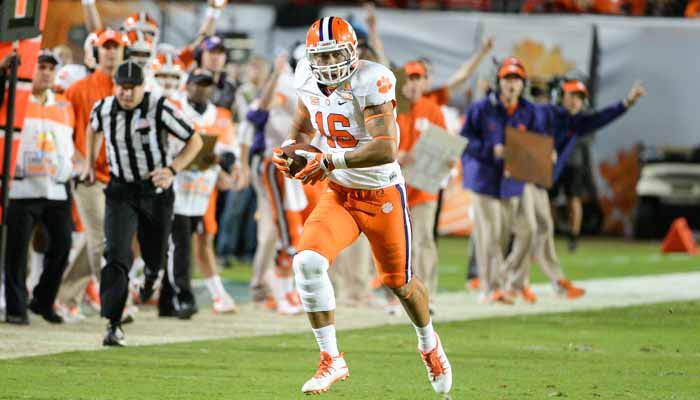 CLEMSON – Jordan Leggett

Jordan Leggett
So. Tight End
#16 6-6, 235
Navarre, FL
View Full Profile made headlines last fall when he admitted to the Clemson media that he was not exactly a ball of energy when it came to practicing and putting in the extra effort needed to be a dynamic player.
In fact, he admitted that he was lazy at times, leading to the nickname Lazy Leggett, a name that resonated with his teammates, who loved to pick on the freshman and remind him of his place in the Clemson hierarchy.
However, a conversation with former Clemson tight end Dwayne Allen

Dwayne Allen
Tight End (2008 - 2011)
#83 6-3, 255
Fayetteville, NC
View Full Profile changed Leggett's outlook, and the Florida native is opening eyes this spring with his work ethic and desire to be a playmaker in the Clemson offense.
Like Leggett, Allen was highly-regarded coming out of high school in North Carolina, but was known at times for letting his talk do more of his talking than his play on the field or his work during practice, drawing the ire of the Clemson coaching staff more than once.
Allen matured into a leader and standout player, and he took time last fall to dispense some advice to Leggett.
"I talked to Dwayne Allen, and he told me that what gets you to the next level is your work ethic," Leggett told the media last week. "Since I talked to him, I've been trying to get myself together and get to his same spot. He told me that the 'good' focus on their strengths, but the 'great' focus on their weaknesses. So that's what I've been trying to do."
Leggett has 12 receptions for 176 yards and two touchdowns in 166 snaps over 10 games (one start) last season, but used the advice from Allen to practice well enough during Orange Bowl preparations to earn the trust of the coaches. He had a 43-yard reception against the Buckeyes in that game.
"It started in bowl practice. I had actually gotten myself together and knew what I needed to do so I could be a part of this offense," Leggett said. "After that, I started getting back to the normal me. I feel like whoever does the best this spring will be the starter. I played as a freshman, but I didn't play a lot and I don't want to go through that again."
He then said it took a lot of introspection for him to realize what he needed to do.
"I am really trying to focus on my weaknesses," he said. "Like I've told you before, I am good in the passing game. But I need to focus on my blocking and things like that. I am taking advice from guys like Sam Cooper

Sam Cooper
RS Sr. Tight End
#86 6-5, 250
Brentwood, TN
View Full Profile on things like that. I am really trying to better myself.
"I've actually gotten myself together. I had a realization and a reality check of what I need to do to play more often. I watched some inspirational videos on YouTube. They are about 'If you want to succeed as much as you want to breathe.' I have really stepped up my game, and right now the tight ends are so close. I've really improved. "
As a result, the moniker Lazy Leggett has disappeared.
"They called me that for a while," Leggett said of his teammates, "but now they just call me J-Legs. "