| | |
| --- | --- |
| Lawson leading by example | |
---
| | |
| --- | --- |
| Saturday, August 29, 2015 8:01 AM | |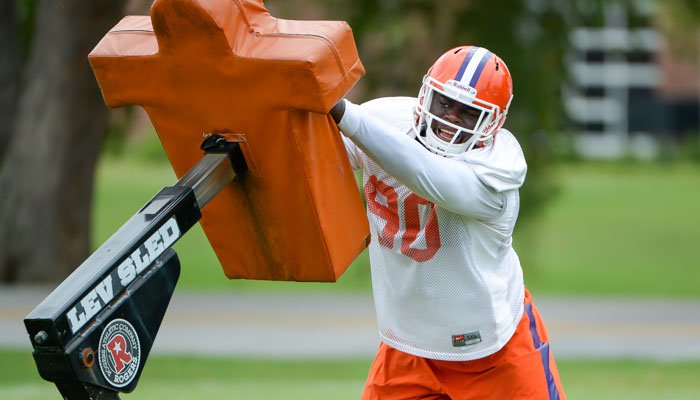 Junior defensive end Shaq Lawson

Shaq Lawson
Jr. Defensive End
#90 6-3, 269
Central, SC
View Full Profile has an intimidating presence on Clemson's front seven, but off the field the new leader of the Tigers' defense is all smiles and positivity. He recognizes his role on the team since Vic Beasley

Vic Beasley
Defensive End (2010 - 2014)
#3 6-2, 236
Adairsville, GA
View Full Profile and some other heavy hitters have made their exits to the NFL.
With impressive freshman and sophomore seasons under his belt, 2015 could be the year for Lawson to prove himself as an elite NCAA player in front of NFL scouts. However, he is more concerned about the success of his current team. He's taking pride and focusing in on his job with the Tigers.
"I've been waiting for two years now, so I'm glad it's finally here," Lawson said of his role. "I take it each day at a time and lead by example on and off the field to some of the players, and I just try to help them get better."
Though there are holes to be filled on the defensive side of the ball, Lawson believes the squad can return to the number one spot in the NCAA again in 2015. He has taken up the responsibility of mentoring his younger teammates, especially those in key positions like freshman Mitch Hyatt

Mitch Hyatt
Fr. Offensive Line
#75 6-6, 270
Sugar Hill, GA
View Full Profile , and sees their potential.
"We just have to come in every day and get better as a team. Then, at the end of the year we'll try to look for that number one spot again. We just try to get better as a whole defensive group."
And concerning Hyatt, Lawson continued, "He's picked up on a lot of my moves now and is blocking me well. I like to challenge him every day to make him better. I want him to be one of the best linemen this year as a freshman."
Lawson hasn't just set the bar high for the young players or the defense as a whole; he also has some steep personal goals.
When asked how many tackles for loss he wants this season, Lawson answered without hesitation that he hoped to get 23. After thinking for a moment, he continued to say, with a laugh, that he guessed that's because Michael Jordan is his all-time favorite athlete. Lawson also wants double-digit sacks.
The comparisons and questions about whether he can perform and make a name for himself following Beasley don't faze Lawson, who has a good handle on what has made each man a great player.
"Me and Vic's game is kind of different. He's more of a pass rusher and I can play the run and the pass. And I have an extra 20 pounds on him [Beasley], so I feel like my game is just different than his," Lawson said. He hopes to surpass Beasley's sack record by the time he leaves Clemson's football program.
This year's defense will have a different identity than it did in 2014, but Lawson still believes they can be the best. The line weighs more than it did last season, and includes larger roles for up-and-coming play makers such as redshirt sophomore cornerback Mackensie Alexander

Mackensie Alexander
RS So. Cornerback
#2 5-10, 190
Immokalee, FL
View Full Profile and junior safety Jayron Kearse

Jayron Kearse
Jr. Safety
#1 6-4, 210
Fort Myers, FL
View Full Profile .
Where Alexander has nailed the technical aspects of his position, Lawson said Kearse has natural athletic abilities.
"Jayron is just fast, long and athletic. He has an NFL body and is going to be ready."
Lawson continued to say that Kearse has added value in the locker room, constantly talking about football and sharing everything he knows about the game.
As a key player on defense, it's likely that Lawson will be double-teamed during certain games. Lawson is counting on the work he and other team leaders have done to coach-up the rest of the defense to ensure this isn't a problem. If he's in double-coverage, it opens up one of his teammates.
"It's up to me, and the front seven, and whoever we need to count on at the time. If we need to make a play, I'm going to try to be there to make the play for our D-line. Or, I'll count on my teammates to help me."