| | |
| --- | --- |
| Late-night meeting following FSU loss fuels Kearse and his development | |
---
| | |
| --- | --- |
| Wednesday, November 6, 2013 2:35 PM | |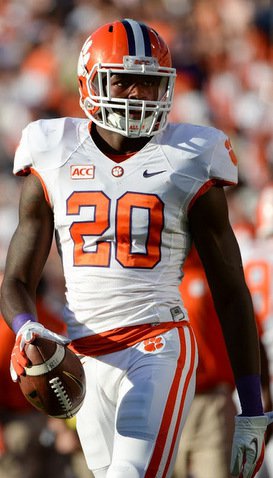 CLEMSON – Jayron Kearse walked out of Clemson's Death Valley following the Tigers' loss to Florida St. and needed to sort through what he had just experienced, to talk about the game and what he as a player could have done better.
Kearse grabbed fellow freshmen defensive backs Jadar Johnson and Adrian Baker, and the trio headed to the IHOP where they spent the next couple of hours rehashing the game, formations they saw, and plays that were made and not made, not leaving until well after four a.m.
In the two games since that impromptu meeting, Kearse has seen his snaps increase, and he has forced three turnovers in those two games, intercepting two passes and forcing a fumble. I asked Kearse about that late-night meeting – I sat a few booths over from the trio, listening in amazement - and he said it was something he has to do in order to be the type of player he wants to be.
"I don't know what everybody else does, but I can tell you what I do," Kearse told me. "We went out to eat – a couple of my freshman defensive backs. We talked over the food. We just talked about what we saw throughout the game, what happened and what we could've done better, and what we can't let happen again. I just go over my gameplan, do what I've got to do to give myself that edge over my competitors. That night, we lost and I just wanted to talk to the guys about what went wrong, what we did, what we could've done better, why things happened like they did and what we have to do to keep that from happening again."
For the season, Kearse has played 207 snaps, registering 24 tackles, and is second on the team with his two interceptions, but says that he is using more and more film study to get a better feel for the game.
"It gives you a better understanding because in your mind you know what you have to do to and you know what you've got to get done to be stronger than you were in the previous game so that in the next game you can play harder, stronger and faster than in the last game," he said. "It has helped because I'm looking at things different, going through my procedures differently, watching film to see the quarterback's tendencies and the team tendencies.
"Just going back and watching film really gives me that edge over my competitors. We watch a lot of film with Coach V, but it's about getting that film in without Coach V being around- coming in when we have free time to watch film ourselves. If we have a class or two cancelled, then we go get that film in as a group.
Kearse was asked what he saw in the Florida St. game tape, and he said that the defense didn't play aggressive.
"We played timid. We were thinking about it too much instead of just going out there and playing football," he said. "We let the gameplan and the crowd get to us instead of going out there and being football players. Through the game - just looking at it when Travis [Blanks] was in – and seeing things, it just looked like guys were playing slow and not as fast as they did. Just looking back at that, you can tell that it was a big problem in the game."
Kearse said that he actually called his interception of Virginia's David Watford last Saturday, based off what he saw on film.
"I was actually talking to the guys and told them that I was going to get a pick this week," he said. "The quarterback has good arm strength, but I saw that he overthrows his receivers from watching film. When I went back and watched all of the interceptions that he threw this season, he overthrew a lot of his receivers or the ball was tipped and floated into the hands [of the defender]. I knew that all I had to do was play deep and wait on him to make a mistake and capitalize."
Kearse then said that he still struggles at times with not being "the man" but knows that if he keeps working hard, his time to shine will come.
"Doing my job is still kind of hard for me and I'm still having trouble with how to do it because in high school I made a lot of plays and I was the main one making plays," he said. "When you get up to the college level, you want to do the same thing, but all of the guys are here because they made plays in high school so just let them do their job and take care of your responsibility and your time to shine will come. That's the way I see it."