| | |
| --- | --- |
| Lakip feeling the pressure of Georgia? Not a chance | |
---
| | |
| --- | --- |
| Wednesday, August 13, 2014 8:23 AM | |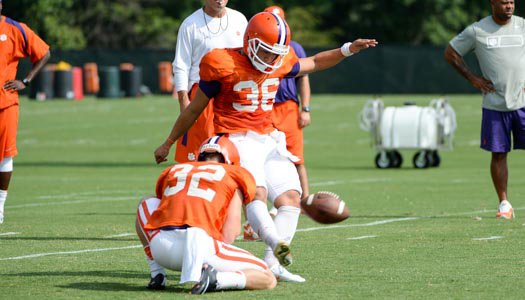 CLEMSON – Three seconds left on the game clock at Sanford Stadium late in the evening on August 30 with Clemson trailing by two, and Ammon Lakip

Ammon Lakip
RS Jr. Kicker
#36 5-10, 200
Alpharetta, GA
View Full Profile lines up for the game-winning field goal that would start off Clemson's season on a high note.
Does Lakip think about that moment? Does he feel the pressure? Yes. And no.
The junior out of Johns Creek, Ga., told TigerNet following Tuesday's practice that he dreams of making the game-winning kick between the hedges, but it doesn't keep him awake at night and if people want him to stress about it, it's just not gonna happen.
"Every night I go to sleep thinking about it. It's pretty exciting, I'm not going to lie," Lakip said. "I look forward to it, to be honest. I've always felt that pressure encourages my abilities. I feel calm in pressure more than anything. It's more difficult for me to show up to practice every day with a strong attitude and ready to go. Game days, I've always felt like I'm ready."
Lakip has the added responsibility of trying to replace Chandler Catanzaro

Chandler Catanzaro
Punter / Kicker (2009 - 2013)
#39 6-2, 195
Greenville, SC
View Full Profile , a reliable weapon for the Tigers over the last four years. Lakip said that while he understands who he is trying to replace, he can't be Catanzaro – he can only be Ammon Lakip.
"A lot of big shoes, that's all everyone wants to talk about, but personally I just do me," he said. "I've always been a little bit of a different kicker, I guess you could say. I've only kicked for five or six years now. I just like to rely on my calm attitude, my strong work ethic as far as showing up every day ready to compete no matter who I'm going against - if it's a real game or practice. I think I've matured a lot over the last three years sitting behind Catman and everyone else."
Lakip played in just seven games during his first two seasons, hitting 1-of-2 field goals and 8-of-8 extra points, and he said he knows he has a lot to prove.
"Personally, I haven't really proven myself on the field in college, but in high school I had two game winners my senior year," he said. "I think it comes with years of experience going against soccer players at whatever high level it was. I played on different All Star teams that traveled to Brazil, Argentina, Portugal, playing against kids who signed professional contracts probably a couple of years after we played them. I've always just felt that I've embraced high competition and people going against me that are better than me. I love proving people wrong, honestly."
Early in his high school career, Lakip turned down the chance to play football so he could concentrate on soccer, but found out that football was worth a try prior to his junior season.
"Freshman year, my kicking coach was my ninth grade English teacher and he was like, 'Hey, I hear you've got a strong leg. Come out and kick.' I was like, 'No, that's not for me. I want to play soccer.' I held that mentality until my junior year when they didn't have a kicker," he said. "I thought, 'You know what I'll do it, but soccer comes first.' My junior year into my senior year, I found out that my ankles weren't going to hold up playing college soccer, so I decided that it was about time I just focused on football. It was the way I had to go. When one door closes, another one opens so I just took it seriously from then on and it got me here."
Lakip said that there isn't a day that goes by that he doesn't miss playing soccer, but his experience on the soccer field led him to trust his instincts and his feet – an essential element to his kicking technique.
"I miss it every day, but I get out here and I kick balls, so it's close enough to it," he said. "You just have to come before a game and watch me kick the football. I just have this feel for any ball - I trust my feet more than my hands, honestly. A lot of kickers are real anal about their technique. I'm anal, but more or less I just trust my instincts to kick a ball where I want it to go. I think that separates me from a lot of kickers who grew up using fundamentals."
Being a kicker can sometimes make you an outsider in the locker room, but Lakip said that over time he has adjusted to being part of the football team and he even uses some of the moves he learned on the soccer field to impress his teammates.
"I've always felt like I was a pretty personable guy, but I definitely had to learn a mindset especially in the weight room, coming here with all of these guys who want to throw up heavy weights and stuff," he said. "It's taken me a while to adapt, but I think I've grown to embrace my niche as "The Kicker" that you see him do some stuff with his feet and you're just like, 'Ok.' Especially with the game FIFA - everyone sees it and is like, 'Wow, you used to do that stuff.' I've grown to become great friends with all of these football players. I know a bunch of guys over there playing soccer. I played against them growing up. I just try to embrace myself as, "The Kicker" because we're different. Any kicker would say that we're different. We're specialist and we have to be ready when called upon in a game."